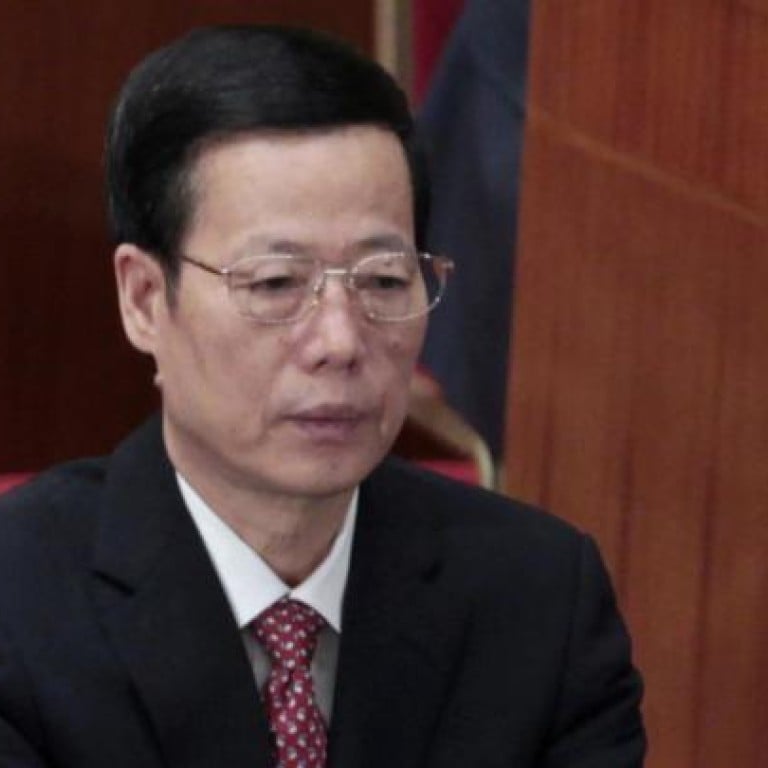 Rising stars clam up when quizzed by reporters on future prospects
Top provincial officials tipped for big things prefer to play it safe when quizzed by reporters
As jockeying for top seats in the Communist Party's leadership entered the final days, several officials tipped as rising stars played it safe yesterday, ducking questions about promotions - or anything else sensitive.
Two heavily favoured candidates for seats on the powerful Politburo - Sun Zhengcai and Hu Chunhua , the party chiefs of Jilin and Inner Mongolia respectively - restricted their public comments to only the most basic provincial matters.
Sun, 49, one of the youngest ministry-level officials, answered only two queries from reporters in a provincial delegation meeting that turned into a press conference on the party congress' sidelines.
One was a harmless question about the province's efforts to restore ageing neighbourhoods, which Sun answered in full. The second was whether he expected to become Chongqing party secretary. He immediately clammed up.
"I don't know," Sun said. He did not say another word, even as members of his delegation proceeded to lavish praise on him, crediting him with improving the province's quality of life.
Hu - known as "Little Hu" because of the surname and Communist Youth League pedigree he shares with President Hu Jintao - is widely tipped to take the helm in Guangdong after the party congress. The two Hu's are not related.
Like Sun, Hu Chunhua sought to avoid controversy during the delegation meeting and press conference. He displayed few facial expressions and sometimes kept his head down, reading documents in front of him.
"I am the party secretary and delegation head of Inner Mongolia and I will only answer questions related to the region," he said.
The party chief, also aged 49 and who has extensive experience in Tibet, even avoided a question about the president's calls for a campaign against corruption. Regional chairman Bagatur told reporters that they should not direct all of their questions to Hu.
Hu, however, did take questions concerning his approach to incidents of unrest, which sprung up in Inner Mongolia last year, and dismissed suggestions that he was soft on rioters.
"We will be tough whenever it is needed, but we will loosen the grip when things are not as serious as we have anticipated," he said. "It would make matters too simple to say our measures are only tough or soft."
Tianjin party chief Zhang Gaoli also did not say whether he expected to become a member of the elite Politburo Standing Committee.
Zhang's performance contrasted to his press conference at the National People's Congress in March, when he answered many questions from non-mainland media and coyly replied, "I am just a poor kid" when asked about his political prospects.
Yesterday, he was stern and only took one question, from a Hong Kong reporter, who asked about his potential for promotion. No surprise, he did not answer it.
"I am the party chief of Tianjin and my duty is to study the party congress report," Zhang said. "We have to get the work in Tianjin properly done and let people in Tianjin get the real benefits."
This article appeared in the South China Morning Post print edition as: Rising stars clam up about future prospects