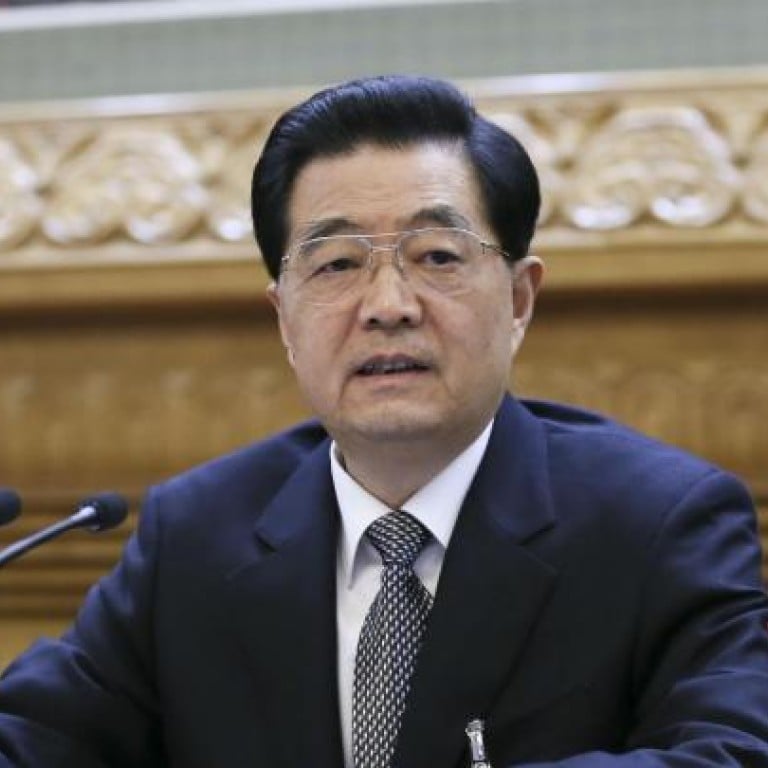 Exclusive: Hu Jintao set to step down as military chief
Outgoing leader decides to retire and clear way for Xi Jinping, breaking from the unpopular precedent set by his predecessor Jiang Zemin
Outgoing President Hu Jintao will formally relinquish his position as military chief at the end of the 18th party congress this week, according to sources.
His decision to opt for complete retirement surprised many analysts, who had expected him to keep the top job at the party's Central Military Commission.
Hu, 70 next month, will also step down as party chief at the congress and as president in March, to make way for his designated successor, Xi Jinping, when the congress concludes on Wednesday.
Marking the first clean transfer of power the Communist Party has seen in two decades, Hu's move will break with a precedent his predecessor Jiang Zemin set 10 years ago.
In 2002, Jiang chose to cling to the top military post for two more years after his 13-year reign as party chief ended. Hu did not take over control of the military until September 2004.
The decision proved to be immensely unpopular and fuelled fierce criticism both inside and outside the party. Many accused Jiang of jeopardising leadership succession plans envisaged by late paramount leader Deng Xiaoping and upstaging Hu, who Deng anointed to succeed Jiang. Hu is said to be keenly aware of the high stakes in his decision on whether to retain the post as CMC chairman.
As was the case 10 years ago, the decision has become a centrepiece issue in the once-in-a-decade leadership succession that remains shrouded in uncertainty due to factional rifts and intense horse trading.
The sources said the image-conscious Hu wanted to avoid such controversy and leave behind a good reputation, knowing he may have more to lose than to gain if he had followed Jiang's precedent. Hu wants to give up power and go into full retirement, according to the sources.
Jiang's prolonged stay had set a bad precedent and party leaders, including retired elders, did not want it to become the norm, the sources added.
There had been rumours that Hu would follow Jiang's precedent to cement his legacy, with some saying he might even stay on for five years until the next party congress. Many previously believed the key reason for Hu to retain the top military job was his much-rumoured failure to secure the promotion of his allies in the battle for top office that will effectively decide the country's direction in the next decade.
"For whatever reasons Hu chooses to relinquish his power, it would be an important incremental step that helps set a new precedent pointing to smooth transfer of power," said Chen Ziming, a Beijing-based political observer.
Despite talk of the institutionalisation of the succession process since the days of Deng in the 1980s, the leadership shake-up this year was largely chaotic due to the lack of transparency and checks and balances, he noted.
"This is definitely Hu's boldest push for political reform, which has been stuck in an impasse during his tenure."
Apart from securing his place in history, Hu's move would also help salvage the image of the scandal-plagued party, which has been mired in the worst political crisis in decades unleashed by the downfall of former Politburo member Bo Xilai and the blanket of secrecy surrounding generational leadership change.
Both Chen and Zhang Lifan, a Beijing-based historian, believed the retirement decision was more to do with personal reasons, such as the possibility that Hu may have lost his fighting spirit, than another much-speculated scenario that he had been upset about his defeat by perceived rivals, such as Jiang.
"[Unlike Jiang,] Hu has never been a very ambitious leader who aggressively promotes personal agenda," Chen said.
Zhang also said Hu appeared to have been exhausted after a decade in power.
"I don't think Hu is really competent to be a supreme leader, but back then he had little option as he was hand-picked by party elders to take up the demanding job," he said.
"Hu may have been fed up with the seemingly endless intrigue and power struggle and just wanted to ensure a safe landing for himself."
Analysts said while Hu may use his full retirement to broker better deals for the promotion of his allies, the impact of his departure on the balance of power among various party factions remains unclear at the moment.
"But I think the implied message behind his move is loud and clear: he will fully retire and so should other party leaders of his generation, and particularly Jiang and other party elders who constantly try to wield their influence long after their retirement," Chen said.
But there is little doubt that Hu's departure would be good news for incoming leaders.
"The full retirement of Hu and other leaders will help strengthen the scope for their successors to run the country the way they intend," Zhang said.
This article appeared in the South China Morning Post print edition as: HU JINTAO SET TO STAND ASIDE AS MILITARY CHIEF