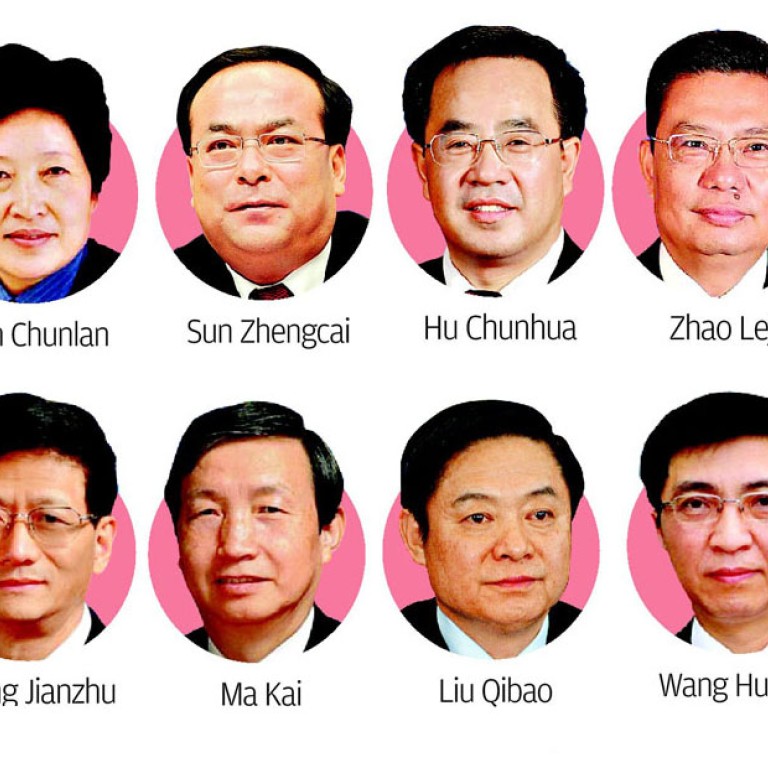 Rising stars in China's new Politburo
Fujian party secretary Sun Chunlan is the only female provincial party chief. She is tipped to be party boss for Tianjin , one of the five national cities, in this round of reshuffles.
One of the few senior women cadres, 62-year-old Sun spent most of her career in trade unions and women's federations. Starting as a worker at Anshan Clock and Watch Factory in Liaoning in 1974, she then rose from director of the Anshan Women's Federation to become the director of Liaoning Provincial Women's Federation and the province's trade union in the late 1980s and the 1990s.
Sun Chunlan
Fujian party secretary Sun Chunlan is the only female provincial party chief. She is tipped to be party boss for Tianjin , one of the five national cities, in this round of reshuffles.
One of the few senior women cadres, 62-year-old Sun spent most of her career in trade unions and women's federations. Starting as a worker at Anshan Clock and Watch Factory in Liaoning in 1974, she then rose from director of the Anshan Women's Federation to become the director of Liaoning Provincial Women's Federation and the province's trade union in the late 1980s and the 1990s.
In 2001, she took over from the recently disgraced politician Bo Xilai to become party secretary of Dalian . In 2005, Sun was moved to Beijing to become deputy chief of the All-China Federation of Trade Unions. During her time in office, Sun was recognised for advancing the work of establishing trade unions in foreign, Hong Kong or Taiwan-invested companies to solve disputes between employees and employers.
In her current position, she impressed Fujian locals with her devotion to work.
Fujian local Xie Huaan , of the Chinese Academy of Sciences and a delegate to the Party Congress, believed Sun would be the right person to oversee Tianjin considering her rich experience in investment promotion, extensive connections and background in commerce.
"I think she will do a good job in Tianjin just like she has done in Fujian. In the past three years she has used every conceivable method to boost the economy in a scientific way," said Xie, adding she would bring the scientific development concept, President Hu Jintao's major legacy, to the busiest portal in northern China.
Sun said Fujian has been strict with environmental assessments when encouraging industrial investment.
"When selecting projects, we have always attached more importance to quality than quantity, and we'd rather develop more slowly to ensure our development was not at the cost of environmental damage," she said, adding that Fujian's energy consumption per 10,000 yuan of GDP is 20 per cent lower than the national average. Mandy Zuo
Sun Zhengcai
One of the youngest provincial party chiefs has joined the ranks of the Politburo, ringing the opening bell for a match in which the winners will advance to the sixth generation of People's Republic leaders in a decade. The move is most likely aiming to clear the way for Sun Zhengcai to lead the troublesome municipality of Chongqing rocked by the downfall of former party secretary Bo Xilai .
Sources in both Chongqing and Jilin , where Sun is party chief, told the South China Morning Post there was a 99 per cent chance he would be Chongqing's next boss.
Political analyst Chen Ziming said Sun's potential new role would in turn secure him a seat on the all-powerful Politburo Standing Committee five years down the road. "It doesn't matter what Sun does in his new post; the important thing is he has been chosen to the Politburo as one of the youngest politicians, which will thrust him into the Standing Committee at the next party congress five years later and make him a strong premier candidate for the generation a decade later," Chen said.
Born in Wulongzui in Rongcheng , Shandong province, in 1963, Sun built up his knowledge base in agriculture, reading undergraduate and postgraduate degrees at various agricultural tertiary institutions.
He was reportedly a top student who would forgo holidays to study. Standing at 1.8 metres, a rare height for top Chinese officials, he used to play basketball at college but gave it up to devote more time to his studies.
In 1997, he was transferred to Beijing's Shunyi district as deputy director, marking the start of his political career.
He was elected in 2002 as a standing member of Beijing's party committee, then led by Jia Qinglin , who himself later joined the Standing Committee. From there, Sun appeared to be fast-tracked for promotion, all the way to agriculture minister in 2006. The posting made him one of the youngest ministers yet.
Sun's ascension to the post of Jilin boss in 2009 was followed two years later by the province's rise to "the trillionaire GDP club", when its economic output hit 1.04 trillion yuan (HK$1.3 trillion). Keith Zhai
Hu Chunhua
The 49-year-old Hu Chunhua is among one of the most closely watched political rising stars in line for China's sixth generation of leaders. He is tipped to take over the helm of Guangdong.
Born in 1963 in the city of Wufeng in Hubei province, Hu graduated from Peking University with a Chinese language major. He turned down job offers in Beijing, and instead chose to work in Tibet .
Hu began his career as a cadre in the organisation department of the regional youth league, then rose to deputy secretary in 1987 at 24, making him the youngest deputy director in the country.
He returned to Beijing in 1997 to serve in the secretariat of the youth league and as a vice-chairman of the All-China Youth Federation. In 2001, Hu left again for Tibet for five years, taking up the post of deputy party secretary and executive vice-chairman and head of the region's party school.
In 2006, Hu was appointed head of the national youth league at 43.
Two years later, Hu was made governor of Hebei , the youngest provincial governor in the country. Hu was transferred to Inner Mongolia , where he was made the regional people's congress chairman in January 2010.
Overseas media called him "Little Hu" because of the surname and Communist Youth League pedigree he shares with outgoing President Hu Jintao .
But even with an extended track record from the remote Tibet and Inner Mongolia regions, Hu Chunhua has huge shoes to fill for Guangdong.
Whether Hu can adapt to Guangdong's complicated economic environment - which is undergoing the challenge of restructuring and lacklustre exports, a vibrant civil society and outspoken media - will closely be watched by analysts.
Dr Peng Peng , a senior researcher with the Guangzhou Academy of Social Sciences, said: "Let's not expect him to have a major breakthrough, but we can be pretty sure that Guangdong under his helm will not be more backward." Staff Reporter
Zhao Leji
Shaanxi party secretary Zhao Leji is a strong candidate to become the Communist Party's personnel chief after joining the party's powerful Politburo in the just-finished 18th national congress.
Born into an intellectual family in Xining , capital of northwestern Qinghai province, in 1957, Zhao's ancestral home is Xian , Shaanxi.
Zhao has spent more than three decades ascending the political ladder in Qinghai, after graduating from the philosophy department of Peking University in 1980. He was among the first batch of graduates after the Cultural Revolution.
In 2000, at the age of 42, he became governor of Qinghai, making him the youngest provincial-level leader.
Starting at a young age has helped him turn into one of the most senior and experienced regional leaders, but it was not enough to help him win a Politburo seat at the party's 17th national congress five years ago.
Zhao's failure to secure promotion in 2007 could have been due to his lack of a strong affiliation to a particular faction. But that might not have been such a hindrance this time around.
Given his ascension to the 25-member Politburo and, at 55, his relative youth, if he does succeed Li Yuanchao as head of the party's central organisation department, he will be in a prime position for membership of the Politburo Standing Committee in five years' time, when several members are expected to retire.
The Beijing-based political analyst Chen Ziming said earlier that Zhao's relatively independent political background gave him a good chance of landing the top job at the central organisation department.
"Unlike past practice, if you take a look at the recent power reshuffles among military officers and regional officials, you will see that those with weak or no associations with a particular political faction have obviously got their rewards this time," Chen said.
Zhao's long service in the remote, arduous and underdeveloped northwest could also stand him in good stead, Chen said. Staff Reporter
Meng Jianzhu
Public Security Minister Meng Jianzhu is widely tipped to succeed iron-fisted security tsar Zhou Yongkang despite the post no longer carrying the weight of a Politburo Standing Committee member.
Analysts say he is likely to focus on policing rather than political campaigns like his predecessor.
Meng was born in Suzhou , Jiangsu , in July 1947. In 1968, as a 21-year-old rusticated youth, or zhiqing, during the Cultural Revolution's "down to the countryside movement", he joined the Qianwei Collective Farm on Changxing Island, Shanghai, and began his climb up the political ladder. He spent 16 years on the farm, set up as the municipality's main food production base in 1958, becoming a party member after three years there. In the first decade, he worked as a sailor, dispatcher, secretary of the farm's Communist Youth League branch and publicity head of the local party branch's political department, before becoming the farm's deputy party head in 1977, at 30.
A rising star in 1984, he was sent to the municipality's party school for two years of management training. He became one of two Shanghai deputy mayors in charge of rural work in the early 1990s and was appointed the municipality's deputy party head in 1996.
In 2001, Meng left Shanghai and became party chief of the southeastern Jiangxi , a post he held for six years. He was transferred to Beijing to head the Ministry of Public Security in 2007, replacing Zhou, who became a Politburo Standing Committee member that year. Meng's role in reinforcing security ahead of the 2008 Beijing Olympics and nationwide celebrations of the 60th anniversary of the founding of the People's Republic the next year earned him enough political capital to ensure promotion, analysts say.
Zhou has been criticised for his heavy-handed tactics in overseeing the judiciary and public security, but analysts say Meng was likely to adopt a different style. "Zhou used them as a political tool to build up his own power base. Meng will adjust some things … and he might concentrate on the internationalisation and professionalisation of China's police and legal systems, said Professor Mao Shoulong of Renmin University. Staff Reporter
Ma Kai
State Councillor Ma Kai, who was elected to the Communist Party's new politburo yesterday, is likely to become a vice-premier in charge of the finance sector after the annual session of the National People's Congress convenes in March.
The 66-year-old Ma has been one of five state councillors - one rank above ordinary cabinet ministers - for the past four years. He is also secretary general of the State Council, dean of the Chinese Academy of Governance and head of the cabinet's west development leadership office.
The former head of the National Development and Reform Commission has built up a rich store of experience in managing the economy over the years.
The well-educated Ma was born into the family of a senior military cadre in Shanghai. The family moved to Beijing when he was nine and he studied at the prestigious Beijing No4 Middle School, a cradle for China's elite. After graduation, he became a teacher at the school and joined the Communist Party.
As an intellectual, he was persecuted during the Cultural Revolution and was forced to work as a labourer in Beijing's suburbs for two years from 1971.
However, he then landed a position teaching philosophy and politics at the party's school in Beijing's Xicheng district.
In 1979, at the age of 33, he enrolled at Renmin University in Beijing, going on to earn a master's degree in economics.
From 1982 to 1988, Ma took up various positions in Beijing's city government, focusing on economic affairs. In 1993, he was transferred to the State Commission for Economic Restructuring and Reform, becoming its deputy director.
The premier Zhu Rongji appointed him deputy secretary general of the State Council in 1998, and in 2003 he became head of the National Development and Reform Commission and director of the energy leadership office.
Ma is likely to work under the next premier, Li Keqiang , and oversee the development of the mainland's finance sector from next year. Jane Cai
Liu Qibao
The surprise elevation of Liu Qibao , party secretary of Sichuan , to the Politburo is seen as a reward for his role in coordinating the recovery of the western province from a deadly earthquake on May 12, 2008.
Liu, 59, also oversaw part of a draconian crackdown against dissidents who tried to link the large number of pupil deaths to substandard school buildings that collapsed in the quake, which killed nearly 70,000 people and left another 18,000 unaccounted for.
Sichuan's annual economic output has doubled to 2 trillion yuan (HK$2.5 trillion) since reconstruction work was completed last year - 12 months earlier than expected, which put Liu on a promotion trajectory yesterday into the Politburo, the party's central decision-making body.
He is also likely to oversee the propaganda machine as head of the party's publicity department.
Wang Xiaodong, an earthquake activist in Sichuan, said Liu was likely to maintain a tough line if he became publicity chief, given his reckless clampdown on dissidents. Tan Zuoren was sentenced in 2010 to five years' jail over subversion charges, while Huang Qi spent three years in prison from between 2008 and last year for "illegal possession of state secrets".
"Liu, more than anyone else, will qualify as head of the propaganda department, given his hard-line approach towards dissidents and his campaign against people who spoke the truth," Wang said.
Liu graduated with a history degree from Anhui Normal University in 1974 at 21. He later became a secretary in the Anhui provincial party committee's general office, working for reformist party secretary Wan Li .
In 1985, Liu was promoted to secretary of the Youth League's central committee - power base of party general secretary Hu Jintao - working alongside Li Keqiang , who is now vice-premier. He joined the People's Daily as deputy chief editor in August 1993. Liu's political career took an important turn in 2000 when he became deputy party secretary of the Guangxi autonomous region. He became its party chief six years later and was credited with boosting its economy. Staff Reporter
Wang Huning
Whether Hu Jintao is visiting farmers in remote villages or meeting heads of state, Wang Huning is usually by the president's side.
He was usually there with Jiang Zemin , too, during the latter's decade at the helm.
In fact, Wang has probably appeared in public more often than any other top official in recent years, although he rarely speaks and often goes unrecognised.
For two decades, Wang, 57, has served as a trusted adviser and wordsmith to the country's most powerful men.
Wang now heads the party's Policy Research Office, where his role is like a combination of national policy adviser and chief speech writer. He is tipped to become vice-premier or state councillor in charge of foreign affairs.
After becoming the mainland's youngest university professor - he stayed on after graduating from Fudan University to teach international politics in 1981 - Wang gained respect in leadership circles for his academic depth, neutral political stance and cautious working style. Jiang reportedly first took notice of Wang after the former president's mentor, ex-mayor of Shanghai Wang Daohan , called the promising academic to his attention.
Wang Huning played an important role in crafting Jiang's "theory of the three represents" as well as Hu's "scientific theory of development", both of which have been written into the party's constitution. Born in 1956 in Shanghai, Wang was spared being sent to rural villages during the Cultural Revolution due to health problems. He studied French at Shanghai Normal University and enrolled in a graduate programme in international politics at Fudan University in 1978.
Wang became a professor immediately after graduation and spent time as a visiting professor at the University of California, Berkeley, in the late 1980s.
He was appointed dean of the international politics department at Fudan University in 1989 and led its law school for a stint ending in 1995. Wang obtained a measure of fame in 1993, when the university debating team he coached won an international competition in Singapore. Along the way, he has married twice. Staff Reporter