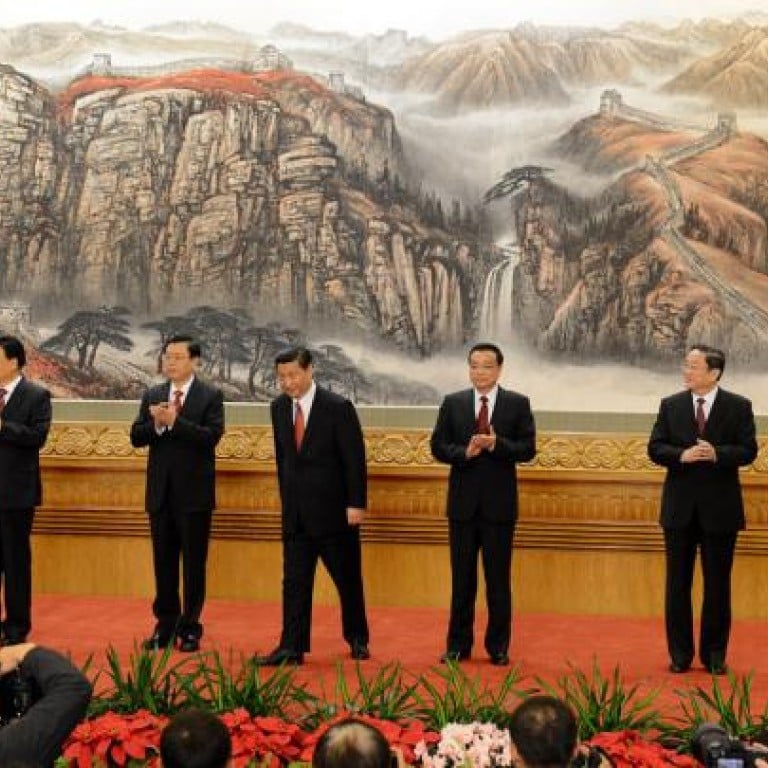 Xi Jinping pledges to tackle corruption
After vice-president is sworn in as party chief, he acknowledges many 'pressing problems' that will have to be resolved within its ranks
Xi Jinping officially took over the baton as the new party and military chief yesterday, marking the climax of the once-a-decade leadership succession previously plagued by political scandals and rampant rumours about splits among top leaders.
Along with Xi, a slate of new leaders was also sworn in as they were elevated to the Politburo and its Standing Committee, the apex of power, after elections by the newly elected Central Committee yesterday.
Their subsequent first media exposure after taking office, especially Xi's maiden public speech as the country's new supreme leader, was widely applauded for showing some positive changes in leadership style.
Confirming a report by the , the party's innermost circle has been reduced from nine seats to seven, which also includes vice-premier and Chongqing party chief Zhang Dejiang , 66, Shanghai party boss Yu Zhengsheng , 67, propaganda chief Liu Yunshan , 65, Vice-Premier Wang Qishan , 64, and Tianjin party chief Zhang Gaoli , 66.
Xi, appearing relaxed and confident, was no doubt aware that apart from assuming immense power, he will also have to deal with the extremely difficult legacy left by his predecessor Hu Jintao .
"Our party faces many severe challenges, and there are also many pressing problems within the party that need to be resolved, particularly corruption, being divorced from the people, going through formalities and bureaucratism caused by some party officials," he said in the nationally televised speech. "We must make every effort to solve these problems. The whole party must stay on full alert," he said.
Domestically, Xi will have to clear up the mess left by Hu's failure to redress the imbalances of the previous 20 years of rapid economic growth, such as widespread discontent over the environment, public health and social security woes.
China has also seen deepening social tensions over corruption, suppression of human rights, unbridled government power and the monopoly of state-owned enterprises.
Johnny Lau Yui-siu, a Hong Kong-based political commentator, said maintaining stability and tackling corruption might prove to be Xi's top priorities.
"Party leaders have repeatedly warned of dire threats of corruption for years, with former president Jiang Zemin beginning to say corruption, if unchecked, may see the demise of the party and the People's Republic. But it simply gets worse and worse," Lau said.
Dr Elizabeth Economy, director of Asia studies at the New York-based Council on Foreign Relations, said the greatest challenge for the new leadership was to meet the mounting public demands for greater democracy and transparency.
Justin Lin Yifu, who recently completed a four-year term as chief economist and senior vice-president at the World Bank, was more confident, saying China's economy would sustain a strong momentum of development in the coming years, despite the system's many drawbacks including a widening income gap and the imbalance between imports and exports.
Internationally, Xi will have to address another great failure of the Hu era - to present a consistent message abroad about what China is and what its vision of the world is where it is an increasingly dominant power, according to Professor Kerry Brown, a specialist in Chinese politics at the University of Sydney.
But many analysts doubt if the new leadership under Xi has the political courage to make changes.
"Without courage, they can only continue to opt for maintaining social stability [with forceful measures] but this is not the way out for China," said Professor Yu Guoming of Renmin University.
This article appeared in the South China Morning Post print edition as: XI PLEDGES TO TACKLE CORRUPTION