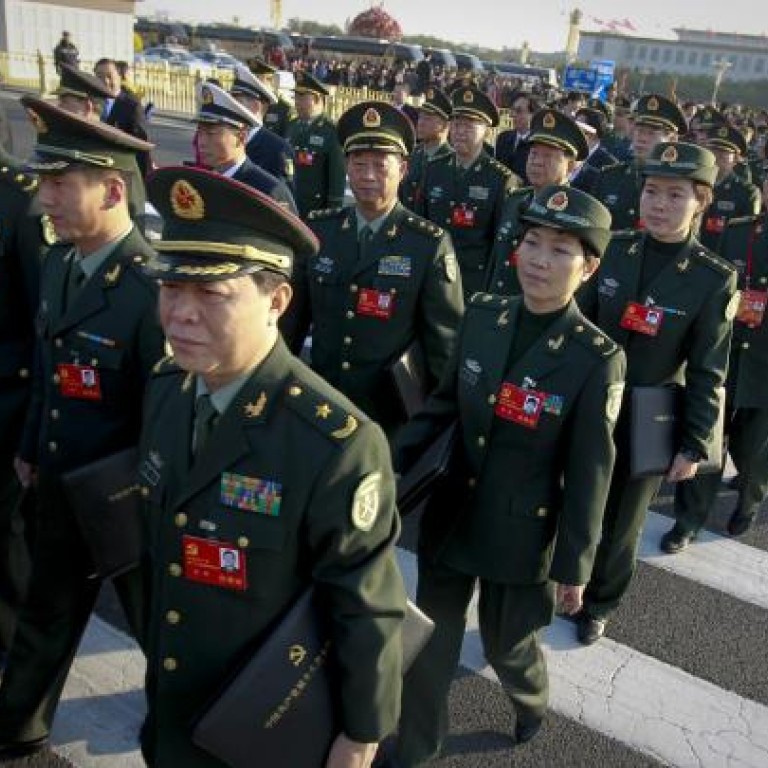 PLA pledges loyalty to military leader-in-waiting
2.3 million-strong force pledges to resolutely follow orders of 'newly elected' CMC chairman
The People's Liberation Army has pledged its allegiance to the Communist Party's "newly elected" military chief, Xi Jinping, and shown its respect to fully retired former chief Hu Jintao.
The 2.3 million-strong force would resolutely listen to the orders of the party's Central Committee, its Central Military Commission (CMC) and CMC chairman Xi and unwaveringly uphold the party's absolute leadership of the army, a back-page article in yesterday's said.
The report lauded the country's achievements under Hu's leadership over the past decade.
"We salute comrade Hu Jintao, along with other leading cadres, who has just retired," it said on behalf of the army.
Unlike his predecessor, Jiang Zemin, Hu chose to give up the posts of party general secretary and chairman of its CMC, winning lavish applause for making way for the new leadership line-up, headed by Xi.
Jiang handed the party leadership to Hu in 2002 but, to the surprise of most observers at home and abroad, clung to the chairmanship of the CMC for another two years.
Meanwhile, Lieutenant General Qi Jianguo, the PLA's newly appointed deputy chief of general staff, delivered a keynote speech in Beijing on Thursday, a day after the closing of the party's 18th national congress, underlining China's intention to push ahead with its development in a peaceful way.
A rising military star who has been named a member of the party's Central Committee, Qi is hotly tipped to succeed General Li Shiming as commander of the Chengdu Military Command in a year or two.
Speaking to dozens of defence experts from 21 countries at the biennial Xiangshan Forum organised by China Association for Military Science, Qi quoted Xi as saying that the Pacific Ocean was big enough for the mutual development of different Asia-Pacific countries and the countries of the region should adopt a new perspective, scrapping a zero-sum, cold-war mindset and pursuing trust through mutual respect.
China and Japan have been embroiled in a territorial dispute in the East China Sea over the Diaoyu Islands - known as the Senkakus in Japan - while China and Southeast Asian countries including Vietnam and the Philippines have argued about competing claims to sovereignty over islands and reefs in the South China Sea in recent years.
Chinese maritime surveillance vessels have patrolled waters near the Diaoyus several times since the sovereignty dispute flared in September.
This article appeared in the South China Morning Post print edition as: PLA backs incoming military chief Xi