CCTV
Get more with myNEWS
A personalised news feed of stories that matter to you
Learn more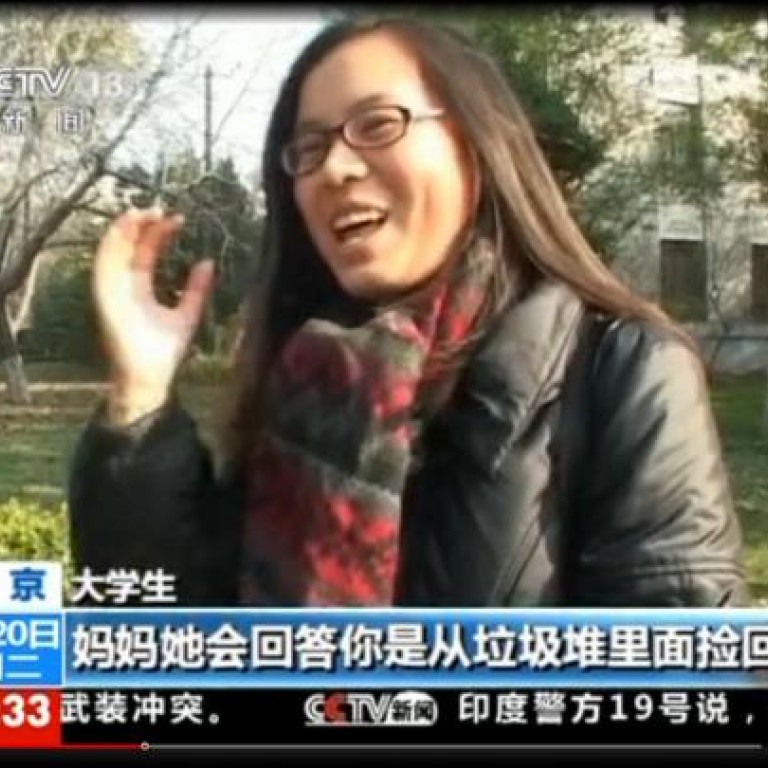 CCTV sex education programme sparks controversy
Reporters elicit embarrassing responses during street interviews assessing parents' attitudes towards sex education for young children
A controversial state television programme promoting sexual education for children as young as kindergarten age has spurred a heated debate about how far mainlanders should go to shed their shyness about sex.
The special report on China Central Television on Tuesday made its case for early-stage sexual education with a series of man-in-the-street interviews in which reporters surprised their subjects with such provocative questions as: "How did you come into this world?" and "When did you first understand sex?"
Some people immediately turned away, while others replied with the untruths their parents had told them about their origins.
One middle-age woman at a breakfast stall said her mother told her that she had been found on a pile of stones, adding: "I don't believe a word of that." She later told her own son he was found on the side of the road.
Two tourists said their parents told them they sprung from holes in the ground. Another said his mother told him he jumped from under a rock while she was herding goats.
A university student said she spent years believing that she had come from her mother's armpit. "I knew nothing about sex until college," she said. "It has taken me a long time to overcome the embarrassment and fear to embrace the idea of sex."
One male shopkeeper said he just laughs whenever his seven-year-old son broaches the subject and, if he persists, tells him to ask his mother.
While attitudes have loosened in recent years, human sexuality remains a touchy subject on the mainland. Sexual education, though required for teenage pupils, varies greatly in quality from school to school. Some teachers just tell pupils to read textbooks.
So it may come as a surprise that some experts are not only advocating increased sexual education, but starting it earlier, even for kindergarteners. Such early-stage sexual education has been advocated in other countries, including the United States, where Barack Obama was criticised for supporting it during his 2008 presidential campaign.
But, with sex still widely seen as a subject of shame and embarrassment, many parents have been wary of the idea. Critics worry that sexual education in kindergarten could encourage children to seek pornography or experiment with sex too early. Others question the need to receive sex education at any age.
Some were particularly shocked by a video circulated on the internet earlier this year that showed a teacher using dolls to show pupils how to identify their sex organs at an experimental kindergarten class in Wuhan , Hubei province. Most internet users who participated in a Sina poll opposed the class.
"I didn't understand sex when I was a child," one parent told CCTV. "In retrospect, it was a good thing. Why can't my son just grow up with the same ignorance as I did?"
Experts in child psychology, however, say such education is necessary to product children from abuse, teenage pregnancy and dangerous experimentation.
"Free sexual exploration is not always a bad thing, but we have seen some extreme cases that could be avoided with proper education," Liu Wenli, a professor with Beijing Normal University's National Key Laboratory of Cognitive Neuroscience and Learning, told the .
Without proper guidance, kindergarten pupils would satisfy their sexual curiosity on their own, she said. Some children have touched their classmates' genitals or masturbated in class, Liu added, citing one case in which a young girl had a battery inserted into her vagina.
Liu is working with other researchers to draft China's first sexual education textbook targeting kindergarteners in hopes that early sex education would soon be introduced across the country.
In the meantime, kindergarten teachers say they are more confused than ever about what they should be teaching. Zhu Yanhong , the head of a kindergarten in Beijing, told CCTV that the debate had been going on for more than two decades with little progress.
"We still don't have a textbook," she said. "We don't have professionals to teach us how to teach. We don't know how and to what extent young children should learn about sex."
This article appeared in the South China Morning Post print edition as: CCTV sex interviews spark debate