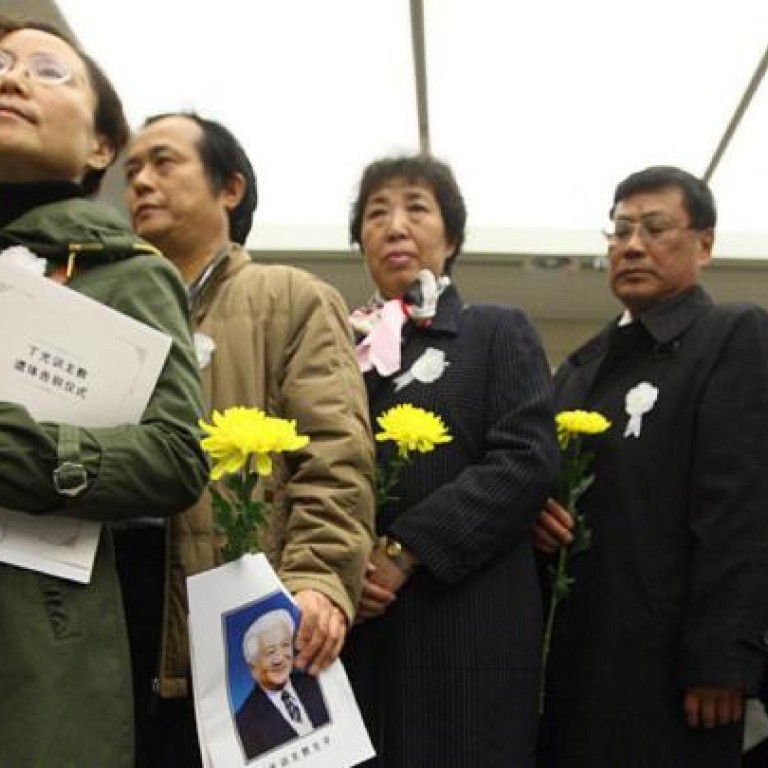 Two settings at Bishop Ding Guangxun's funeral reflect his life
Late leader of the mainland's state-sanctioned Protestant church sent off in different settings to cater separately to party officials and believers
The complex life of Bishop Ding Guangxun, who died last week aged 97, was perfectly illustrated at his funeral on Tuesday.
A controversial figure with both religious and political roles, he was the head of the mainland's state-sanctioned Protestant church and also "a close friend of the Communist Party".
Photographs of the funeral showed two settings. There was a non-religious one, attended by officials, with Ding's body covered by a national flag, a portrait of him in a suit, and a banner reading "Mourning Bishop Ding Guangxun". And then there was a religious one, with his body covered by a white sheet with a cross, a portrait of him in a bishop's robe, and a banner reading "Bishop Ding Guangxun rest in peace in the Lord's arms".
The central government's representative, Yu Zhengsheng, a member of the party's supreme Politburo Standing Committee, attended the funeral in the non-religious setting.
Ding's critics had accused him of collaborating with the atheist Communist regime by advocating a theological campaign that advanced the party's interests. But others paid tribute to his efforts to push for greater religious freedom within the confines of the Communist system.
Apart from being the face of the state-sanctioned church as head of the Three-Self Patriotic Movement and China Christian Council, he was also a Chinese People's Political Consultative Conference vice-chairman for nearly 20 years and a member of the National People's Congress.
Born into a Christian family in 1915, Ding graduated from Shanghai's prestigious St John's University with a theology degree in 1942 and was ordained as an Anglican vicar that same year.
In 1954, he was among 138 Christian leaders who pledged support for the Communist Party. The Three-Self Patriotic Movement mandated all mainland churches sever foreign ties and declare loyalty to the party.
Many Christians reviled his stance that the church "should be in tune with socialism" and his underplaying of the core Christian belief that salvation is achieved through faith in Jesus Christ. He also advocated "theological reconstruction", an attempt to create an indigenous Christian theology devoid of foreign influence.
"He was promoting what was favourable towards advancing the [official] brand of socialism, such as safeguarding Communist rule, ensuring stability, the unification of the country," said the Chinese University of Hong Kong's divinity professor Ying Fuk-Tsang.
Ding's critics accused him of reducing the church's role to one serving the atheist government. They say he deliberately undermined core Christian values in exchange for the state's support.
Reverend Jin Tianming of Shouwang house church, one of China's most influential churches, said Ding stressed "the compromise of faith". "But Christianity should influence society; faith should not be about following [political] trends," Jin said.
Ying said Ding should nonetheless be credited for rebuilding the church after the Cultural Revolution and pushing the government to adopt policies favourable to religious freedom. He said Ding also spearheaded reforms in the state-sanctioned church, making it less political and serving believers' spiritual needs.
"He has made contributions as well as mistakes - and no other Christian figures had as much influence as [he did]," Ying said.
This article appeared in the South China Morning Post print edition as: Bishop's funeral reflection of his life