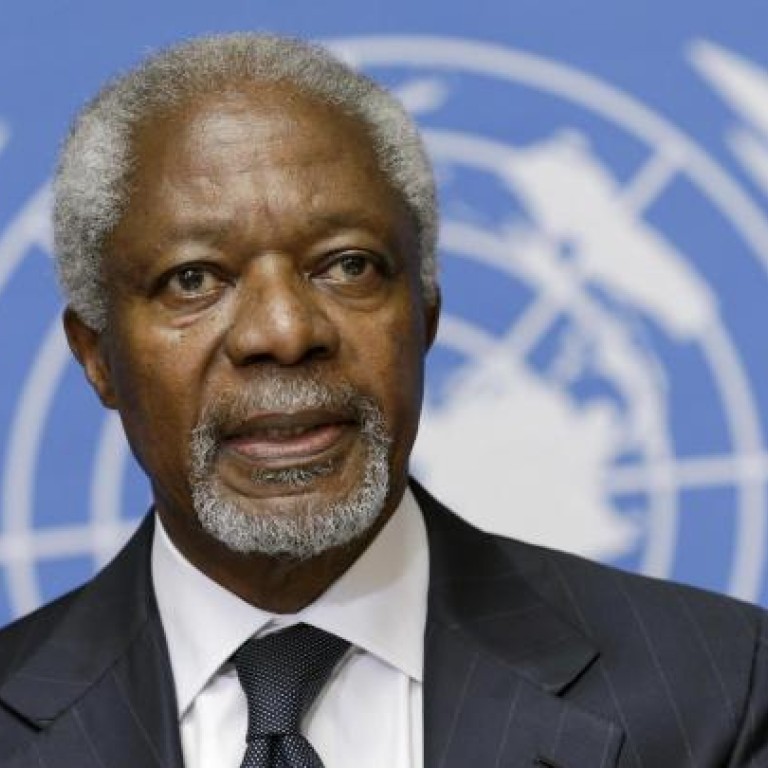 Annan, scientist to share US$1.5m Confucius prize
The two recipients for this year's Confucius Peace Prize, former United Nations secretary general Kofi Annan and Chinese agriculture Professor Yuan Longping, will share a record US$1.5 million cash award, the China International Peace Studies Centre, the prize's organiser said yesterday in Beijing.
The chairman of the Confucius Peace Prize Committee, poet Qiao Damo , said the prize money was a large increase from the 100,000 yuan (HK$123,420) given to the first recipient, former Taiwanese Kuomintang chairman Lien Chan, in 2010. The committee is in charge of nominating the candidates.
"It's also more than the US$1.2 million that the EU, the recipient of this year's Nobel Peace Prize, will receive," he said.
The ceremony will be held in Hong Kong at the end of the month and Yuan was expected to attend, Qiao said.
A 39-member committee selected Annan and Yuan from eight nominees including Microsoft founder Bill Gates, UN Secretary General Ban Ki-moon and Wang Dingguo , the sole surviving woman to have taken part in Mao Zedong's Long March and a figure little known outside of the mainland.
Annan was chosen for "his enormous contribution to the reform and revival of the United Nations", while Yuan, regarded in China as "the father of hybrid rice", was cited for "achieving a historic breakthrough in hybrid rice breeding and solving the problem of food safety for people today".
Qiao said most of the prize money came from sales of his own calligraphy works and the amount in the future might fluctuate.
The committee was considering registering a prize fund in Hong Kong to keep the award amount stable.
The award was hastily launched by a group of mainland academics with official backing in 2010. It came after a decision by the Norwegian Nobel Committee to award the Nobel Peace Prize to dissident Chinese writer Liu Xiaobo .
The prize hit a snag last year after the Ministry of Culture ordered the former organiser, a cultural NGO affiliated with the ministry, to disband over concerns it was poorly organised.
This article appeared in the South China Morning Post print edition as: Scientist, diplomat to share US$1.5m award