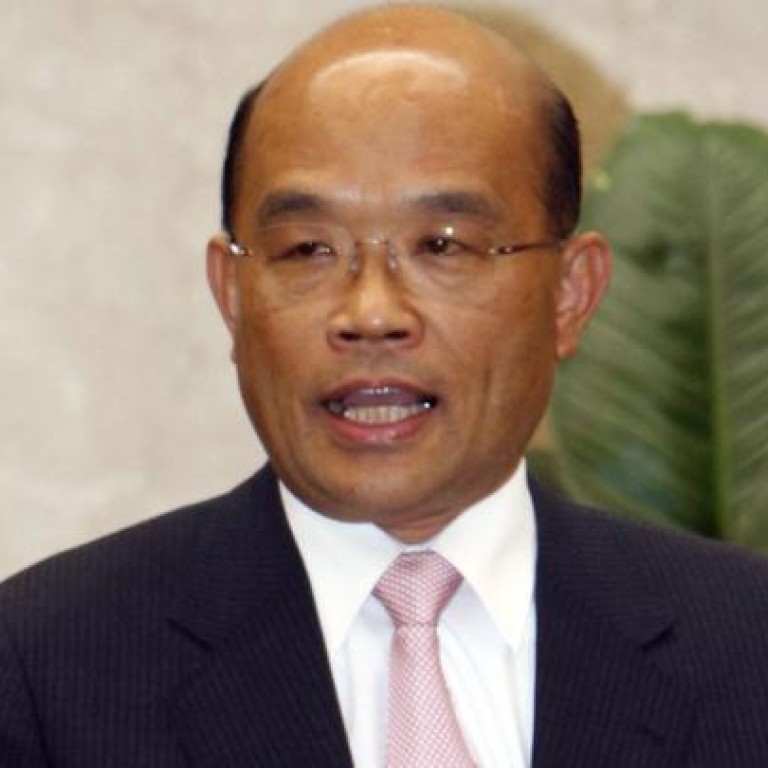 DPP chief Su Tseng-chang's effort to bridge Taiwan Strait falls flat
Bungled China affairs panel appears unlikely to either fix party's relationship with Beijing or placate party hardliners
Moves by Taiwan's main opposition Democratic Progressive Party to form a "China affairs committee" appear to have backfired.
The pro-independence party's central standing committee passed a motion last month to establish the committee to chart a new direction for its ties with the mainland. The idea was the brainchild of DPP chairman Su Tseng-chang, who assumed the party's top post in May and realised that changing its stance on cross-strait relations could help the party - which ruled the island between 2000 and 2008 - return to power.
Many pundits have attributed former DPP chairwoman Dr Tsai Ing-wen's loss in January's presidential election to her failure to convince the Taiwanese public that she could maintain amiable cross-strait relations, given her party's anti-Beijing and pro-independence stands.
Her opponent, Ma Ying-jeou of the mainland-friendly Kuomintang, adopted a policy of engaging Beijing during his first four-year term as president, resulting in the signing of 18 economic and non-political co-operation agreements, and warming cross-strait ties.
Realising that cross-strait ties would still be a key factor in the next presidential election, in 2016, Su decided in July to reinstate the China affairs department, which was merged with the DPP's international affairs department in 2007. "This is our first olive branch extended to China," he said at the time.
But a related decision, to form a policy-formulating China affairs committee, met strong opposition from the DPP's hard-core, pro-independence faction, which warned Su that establishing such a body would result in his own destruction.
Yu Shyi-kun, a former premier in the DPP administration and a staunch supporter of Taiwan independence, said cross-strait affairs were not the DPP's priority and that it should focus on the economy, winning a legislative majority and security its long-term goal of making Taiwan an independent, sovereign nation.
Yu also said no one could be 100 per cent sure that cross-strait policies had been a key factor in Tsai's defeat and that changing the party's pro-independence stand would only scare away party stalwarts.
Su, however, argued that the change of leadership on the mainland meant the DPP could no longer stick to the status quo, and on November 27 he announced the formation of a watered-down version of the new body.
Instead of being a policy-formulating body or a platform for exchanges between the DPP and the Communist Party, as some Taiwanese media had reported, the committee would merely serve as a platform within the DPP to exchange and co-ordinate views on cross-strait issues.
It would have seven to nine members, DPP veterans nominated by Su, and meet once every two months.
He made himself the new body's head, bypassing former DPP chairman Frank Hsieh Chang-ting, who in October became the highest-ranking DPP politician to visit the mainland - where he met senior officials.
In the process Su appears to have lost the chance to build up official contacts with the mainland, while failing to placate DPP hardliners.
"This could have been a card that impacted on the future of Taiwan, but now it has become a bad call," lamented former vice-president Annette Lu Hsiu-lien, a DPP heavyweight.
To date, only Tsai has agreed to join the committee, with both Hsieh and Yu saying they were not interested. Hsieh said the committee was merely a nominal body, while Yu said it would seem odd for him to join after strongly opposing its establishment.
Interestingly enough, an opinion poll conducted last month by the Taiwan Thinktank, headed by DPP legislator Lin Chia-lung, found that 55.7 per cent of opposition supporters - members of the so-called pan-green camp - supported the idea of party-to-party exchanges between the DPP and the Communist Party.
Such exchanges would lead to a better understanding between the two sides and prevent the KMT from monopolising cross-strait issues.
That is something Su will have to take into consideration if the DPP is to return to power.
This article appeared in the South China Morning Post print edition as: DPP chief's effort to bridge strait falls flat