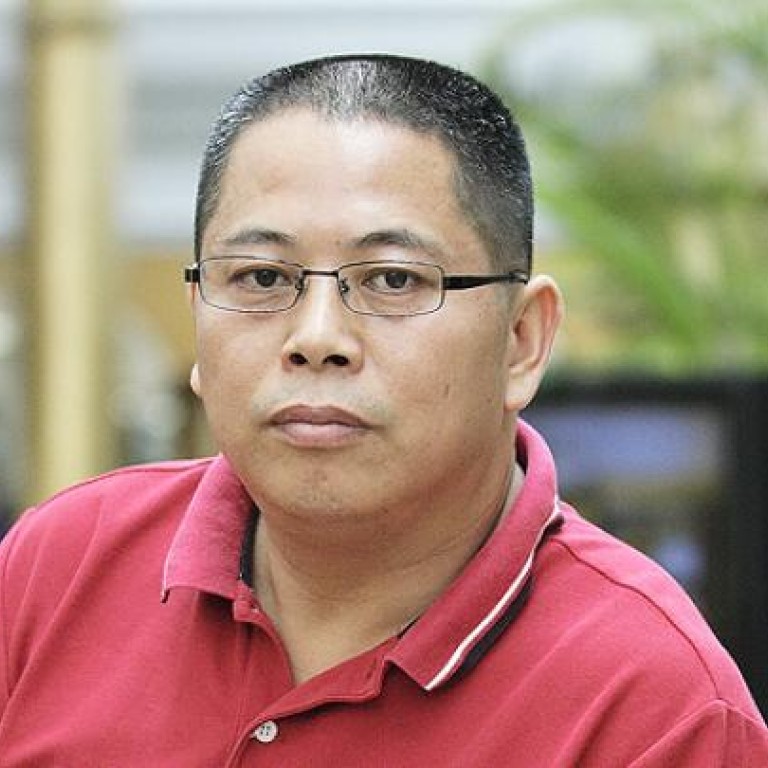 Mainland tycoon fined HK$40m after launching 'clean government' bid for mayor
A Henan property tycoon who revealed bold plans to contend in the Zhengzhou city's mayoral race on a "clean government" independent slate last year was handed a fine of 34 million yuan (HK$42.2 million) by the state tax administration, according to a report by Guangzhou-based  21st Century Business Herald.
Cao Tian, 43, a real estate developer, author and former 1989 political prisoner announced a high-profile bid to run for mayor of Zhengzhou in June last year, vowing to take a hard line against government corruption, stop urban management staff from abusing their power and to bring down housing prices.
Cao, said he was willing to spend 100 million yuan (HK$124 million) on the campaign as a "deposit for clean governance"  and promised to forgo a state salary if he was selected into office. He stressed that all of the money was to be donated to poor schoolchildren if he was ever found corrupt
News of Cao's candidacy quickly spread across the internet after a Hong Kong-based journalist and friend of Cao's put up the following post on Sina Weibo, China's answer to Twitter. 
"Prominent author and commentator Mr Cao Tian revealed that he is willing to invest 100 million yuan in campaign funds to run for mayor of Zhengzhou city. Cao states that if he was selected, he will not take a penny in wages and pledges to fight official corruption by imposing severe punishment."
Cao added on his on weibo account, "Please don't suspect my intentions, I will use the electoral law to pry open the rigid appointment/selection system of cadres."
Cao's bid for office was hailed by netizens and pro-democracy supporters.  
"Cao's high profile candidacy is a challenge to the [Communist regime's] unspoken rule," said
Yao Lifa
, a democracy advocate from Hubei in an interview with advocacy website
canyu.org
. "With more [independent] candidates, the power of local authorities in China will change."
Others urged him to reconsider the move, including a close friend who was a local official; a conversation that Cao posted on his blog.
"Are you crazy? Do you think someone like you - a businessman, and a man who spins phrases for a living - can compete in the Zhengzhou mayoral race?" asked the man.
"I'm not fooling around here. I'm just tired of making all the money I've made. I just want to drop a hundred million yuan for the chance to serve the people. You've been a public servant for all these years, how come you can't give someone like me a turn for once?" Cao replied. (
Read entire transcript
)
One week after the high-profile announcement, Cao had turned off his mobile phone and left town. It was at this point that Zhengzhou police, tax and land resources officials launched a "task force" to investigate Cao and his company.
Canyu.org reported that Cao had disappeared, which immediately led many to suspect foul play. The Southern People's Weekly ran a headline labelling Cao a "billionaire-turned-fugitive".
"From the outsider's perspective I'm on the run, from my perspective I am just taking a moment to renew my outlook on life," Cao told a Chinese newspaper in Germany while he was visiting the University of Heidelberg.
After earning a PhD in law, the outspoken Cao worked as a lawyer and reporter, before finally moving into real estate, starting his own .
A self-professed poet, Cao spent three years in jail for 'political reasons' when he was a 21-year-old university student.
The upper echelons in Beijing are known to be wary of "independent candidates" entering politics as they are seen as potential threats to the Communist Party.
According to China's electoral law, an individual may submit a candidacy for mayorship after receiving recommendations from 20 members of the National People's Congress.