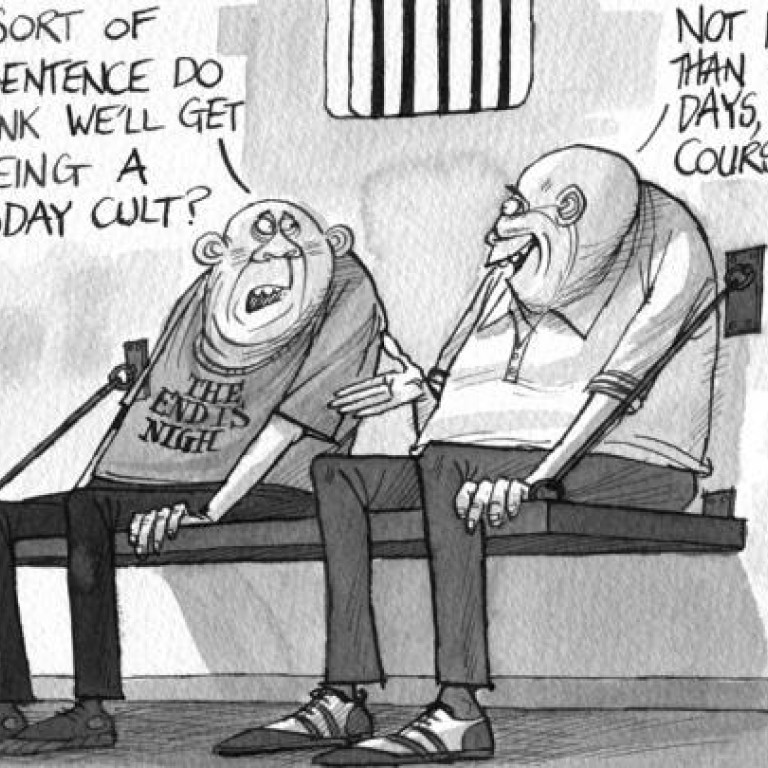 Qinghai officials crack down on Church of Almighty God cult
Authorities in Qinghai detain core members of cult that promises to save those who give up all possessions before the impending 'apocalypse'
Authorities on the mainland have stepped up their crackdown on a radical religious sect promising salvation to people who give up their belongings before "doomsday" strikes on Friday.
Police in Xining, capital of the northwestern province of Qinghai, have detained seven "core" members of the Church of the Almighty God, also known as Lightning of the East, and 30 other members in a raid on Thursday night, Qinghai provincial government's official news portal qhnews.com reported yesterday. Police confiscated a lot of illegal material, including pamphlets on the cult, banners, discs and printing equipment, the report said.
Officials in northern Shaanxi province last week detained several sect followers for handing out pamphlets on buses, parks and other public areas. They were asking recruits to hand over all their possessions, according to the Huashang Daily, of Xian.
The report did not say how many people had been arrested, although the Xian Evening News reported on Tuesday that seven people were arrested for handing out doomsday-themed pamphlets on a bus last weekend.
An officer at the Shaanxi Public Security Bureau's publicity office confirmed a crackdown against the group, but declined to provide further details.
The sect did not respond to an inquiry from the Post.
The sect, founded in 1989 in northeastern Heilongjiang province, has denounced the Communist Party as the "great red dragon". It is listed as an "evil cult" by the central government.
The sect, which says a mainland woman is the second coming of Jesus Christ, is notorious among Christian communities for its strong-arm tactics when recruiting.
By emphasising the coming of judgment day, the sect has attracted thousands of Christians over the past two decades. Its recruiting efforts appear to have intensified as anxiety grows over December 21, the date according to the ancient Mayan calendar on which the world will end.
Christians, fearing that the group could undermine their own standing, have campaigned against them.
"They have created an illusion that the church was spreading the 'doomsday' rumour, and such activities have deeply tarnished the reputation of the church," said Chen Dingliang , secretary general of the Shaanxi Christian Society.
On its website, the society says the sect is controlled by a high priest who extracts favours from followers that only he and the group's claimed prophet can enjoy. It accuses the group of recruiting followers with promises of sex, money and drugs and even threatening violence.
This article appeared in the South China Morning Post print edition as: Crackdown on doomsday sect