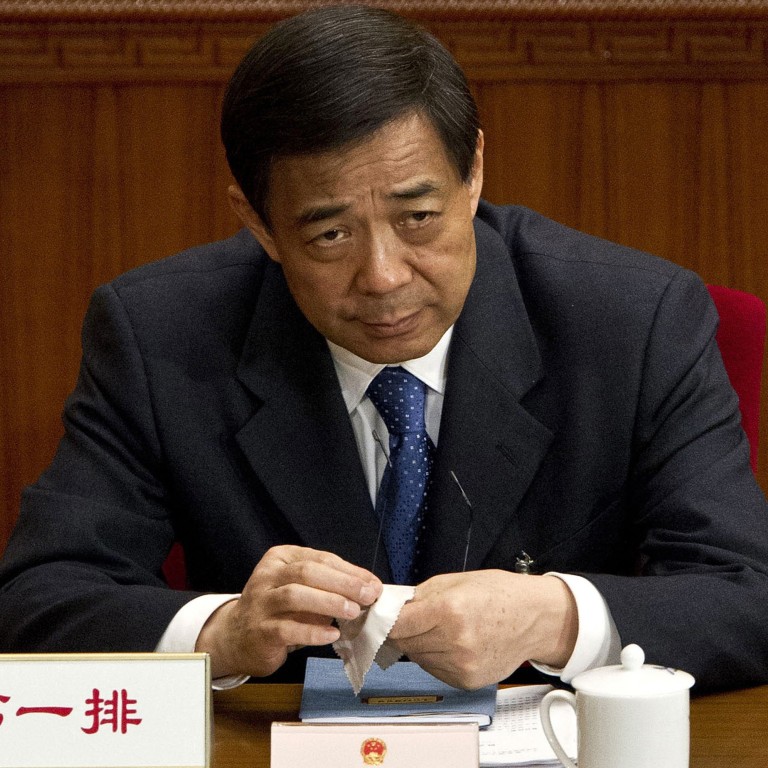 Inside Bo Xilai's dungeon: victims reveal ruthless torture
In the first of a four-part series, Revisiting Chongqing, we look at one of the earliest and most high-profile victims of the disgraced party chief's crackdown on so-called gangsters
In mid-July 2009, 21-year-old Li Jun, freshly graduated from an American university, tried to call her father in Chongqing from a Greek restaurant in downtown New York.
She could not reach him but thought, "that's all right, maybe he's in a meeting".
In fact, her father Li Qiang, once one of the southwestern municipality's most successful businessmen, had been shackled to a metal chair by police mounting the mainland's largest anti-triad campaign in decades. A stocky man with a round face and big eyes, he was forced to sit in the straight-backed, custom-made chair which was too small for him, for 76 days. In addition he had heavy leg irons around his ankles and his wrists were in manacles, his daughter and a fellow prisoner said.
A black robe was often draped over his head most of the time. For the first five days and six nights he was not given any food or water, or allowed to go to the bathroom.
The fellow prisoner said Li was scared to sit on a bed after weeks on the chair, introduced by then Chongqing police chief Wang Lijun and widely used to torture suspects in the ruthless crackdown he oversaw. Many victims and police sources said that after weeks on the chair a suspect's feet became totally numb, and left them with long-lasting damage. Some had permanent spinal damage.
Li Jun tried to call her mother, her aunt and many other members of her family, but none of them answered. She began to grow more concerned.
"The wildest guess I had was that they had been in a car accident, but I could never have imagined they were all detained as gangsters," she said.
Most of the people she called were shackled to the same kind of chair as her father at that moment, undergoing interrogation in various motels in rural parts of Chongqing, leased by the police and used as torture centres during the crackdown.
Li Qiang, 51 at the time, was a local people's congress representative when he was detained and the biggest private operator in Chongqing's transport system. The authorities said he owned a fleet of 1,000 taxis and operated 100 bus routes.
He and six members of his family were later accused of being members of a criminal syndicate. They received sentences ranging from fines to 20 years in jail.
Li, sentenced to 20 years in prison in 2009, remains incarcerated while the family appeals against his conviction.
The case announced the arrival of then-Chongqing Communist Party secretary Bo Xilai's massive anti-triad crackdown, which nabbed thousands of people, including the municipality's powerful police chief, Wen Qiang, and was widely seen as an attempt to tap into widespread anger over the corruption that accompanied the mainland's economic boom.
However, since Bo's downfall in March, many of those jailed in the crackdown have said they were tortured into making false confessions. They have also blamed Bo and Wang, his right-hand man, for tampering with evidence and a lack of due process when their cases went to trial.
Li Ping, Li Qiang's younger sister, said police detained her without showing any documentation or police identification.
"Many undercover police took me to a motel far from the city on the afternoon of July 14 and shackled me on a chair," she said. "They forced me to stay awake. I wasn't able to sleep for seven days."
She said her husband was subjected to similar treatment for more than a week.
An accountant with Li Qiang's Chongqing Yuqiang Group, founded by her brother and his wife in 1992, Li Ping was jailed for 18 months and fined 100,000 yuan (HK$123,000) for hiding details of its accounts. Her husband was jailed for 18 years for playing a supporting role in her brother's gang.
"I told the police investigators where the documents were," Li Ping said. "I don't understand why the accusation was made."
When she was in detention, a police officer told her she had only been picked up because she was Li Qiang's sister.
A Chongqing businessman who knows both Bo and Wang, said Li Qiang's forceful personality had led to his downfall. He said Li Qiang had clashed with Bo twice.
The first time was in early 2008, shortly after Bo arrived in Chongqing, when the municipal government offered to buy Li Qiang's bus lines for about 70 million yuan. He knocked back that offer and said the government should double the price.
The second time was at a meeting after a strike involving more than 8,000 taxi drivers in November 2008. During the meeting, Li Qiang interrupted Bo, saying: "Secretary Bo, you may not be familiar with the situation in Chongqing as you are still new here."
"Bo was very unhappy about that, plus he believed Li Qiang was the organiser of the strike," the businessman said. "Bo didn't allow any challenge to his authority, or any kind of protest under his rule."
Police later accused Li Qiang of using violence and intimidation against competitors in various businesses, and said he orchestrated the strike by hiring gangsters. However, at his trial in October 2009, the prosecutors did not provide any evidence showing that Li Qiang was connected with the strike.
Zhao Changqing , Li Qiang's defence counsel and a law professor at Southwest University of Political Science and Law, said the case "had nothing to do with organised crime" and the prosecution was not able to prove its case despite presenting nearly 2,000 pieces of evidence.
"It's very important to identify the difference between a criminal syndicate and a private company that engaged in illegal behaviour," Zhao said.
Zhao, 78, was one of the people who drafted the mainland's Criminal Law in 1997, which made membership of a criminal syndicate a new crime. He also led a Supreme People's Procuratorate team studying organised crime.
Chongqing officials were apparently nervous about his involvement in Li Qiang's defence. He and Li Qiang both complained during and after the trial that they had only been allowed to meet twice. Zhao also said he had been given only a few sheets of paper before the trial, even though the prosecution had prepared documents running to half a million words to support its case.
"Those are normal practices for other trials as well," Zhao said. "Lawyers have very few rights."
Li Jun said Zhao was the only Chongqing lawyer who dared to stand up for her father.
A person with knowledge of the case said Bo had visited Zhao twice and threatened him to stay away. He said Bo warned Zhao that he had a daughter who should not be affected by his defence of gangsters.
"Zhao was told that even though he was old and might fear nothing, he still had a family to take care of," the source said, adding that Bo and Wang started to realise the power of lawyers after Li Qiang was only given a 20-year jail sentence rather than the death penalty faced by most other gang leaders.
Bo, one of China's most charismatic politicians and the son of a former state leader, became party secretary of Chongqing, a municipality of 30 million people, in 2007. Once there, he embarked on a series of spectacular campaigns to stay in the national limelight, including the staging of mass public gatherings to sing nostalgic, revolutionary songs and the heavy-handed crackdown on organised crime. He made Wang head of the municipality's public security bureau in March 2009 to lead the crackdown.
The campaigns appeared to be successful but Bo's plan started unravelling in February this year, when Wang fled to the US consulate in Chengdu , the capital of neighbouring Sichuan province. Bo was removed as party secretary a month later and now faces trial for corruption and obstruction of justice in his wife's murder of British businessman Neil Heywood, which Wang helped cover up.
Wang has been jailed for 15 years. His victims and Chongqing police sources said he was a bigger criminal than those he pursued, and a man with contempt for human rights and the rule of law.
Two people who were asked to help the investigation said they perjured themselves after being put under pressure by police while in detention. One of them said the police told him that if he refused to commit perjury, they would arrest his wife. Another person said police had put two pieces of paper - an arrest warrant and a piece of written testimony - on a desk and said: "You have to pick one of these to sign."
Their testimony became part of the 240 volumes of case files that helped the police accuse Li Qiang of creating disturbances and vandalism by hiring gangsters. Li Jun said the accusations against her father were not true and that the prosecution had told only half the story. She said some of the conflicts her father was blamed for were simply reactions to deliberate provocation by public transport companies.
During the trial, Zhao said the crime of creating disturbances should not be applied to Li's case because most of the evidence presented related to disputes with competitors.
Li Qiang was also accused of corruption in his dealings with municipal officials with prosecutors, giving the example of an official dealing with public complaints who had received about 10,000 yuan over a decade after becoming Li Qiang's friend in 1995. The official, Jiang Chunmei, was jailed for five months for conniving with gangs.
"Given the cultural context in China of gift giving as part of building a relationship, the small amount of money is really not a big deal but a label that the police stuck on people they wanted to jail," the businessman said.
Li Jun said that while in detention, her father had been forced to confess to offering Jiang 20,000 yuan in bribes "so he could get out of the chair". During his trial, Li Qiang disputed the amount of money given to Jiang.
The court imposed fines of more than 30 million yuan on Li and his company, but the police confiscated every fen the family had. Li Jun said even her grandmother's personal savings were confiscated. When a policewoman went to the bank to transfer the money to the police account, weeks before the trial, she did not even bother to fill in the amount on the form, simply writing "all".
Li Jun returned to China in June 2010, a year after her parents were labelled as gangsters.
"I wanted to come back earlier but I was afraid the police might use me as a hostage to coerce my parents," she said. The police told her parents during their detention that she had already returned and would be jailed if they did not confess to more crimes.
This article appeared in the South China Morning Post print edition as: In the dungeon of Bo Xilai