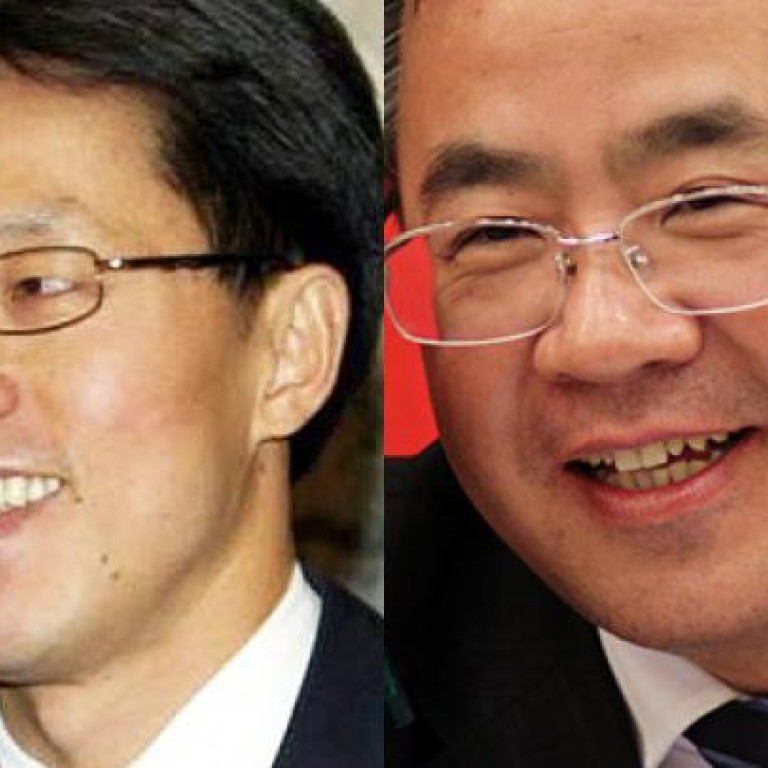 Beijing confirms Zhang Xiaoming and Hu Chunhua in top regional positions
Zhang Xiaoming and president's protégé Hu Chunhua take up top regional positions
The new face of Beijing's leadership in the region came into focus yesterday as Zhang Xiaoming was appointed head of the central government's liaison office in Hong Kong and Hu Chunhua was named to lead the economic powerhouse of Guangdong.
Hu - a top protégé of President Hu Jintao and the second-youngest member of the new Politburo - was officially appointed to replace Wang Yang at the helm of the southern province, a post long seen a stepping stone for future leaders.
The former Inner Mongolia party chief's promotion was one of five provincial party posts announced by the Central Committee's Organisation Department yesterday. Four of the five, including Hu Chunhua have served in roles in the Communist Youth League, a core power base for the outgoing president.
In addition, the State Council promoted Zhang, the deputy director of its Hong Kong and Macau Affairs Office, to lead its liaison office in Hong Kong. His predecessor, Peng Qinghua, is widely tipped to take up a regional government post on the mainland.
Just a few weeks ago, Zhang drew outrage with a newspaper commentary accusing external forces of interfering in Hong Kong's elections and calling on the city government to pass the controversial national security law required under Article 23 of the Basic Law "in due course".
The selection of the 49-year-old Hu to replace Wang was announced by Communist Party Organisation Department chief Zhao Leji during a meeting of senior Guangdong cadres yesterday. Wang, 57, is expected to move into higher office.
Hu Chunhua has sometimes been called "little Hu" due to his shared surname with the president and the similar track of their political careers. Both began their rise in the Youth League and spent time in Tibet.
In part, because of that pedigree, the younger Hu has been seen as a front runner to join the Politburo's elite Standing Committee during the next national leadership election, in 2017, when five members will reach retirement age.
Meanwhile, Wang Jun, 60, who was made deputy party secretary of Shanxi last year, will replace Hu Chunhua in the top post in Inner Mongolia. Wang's job is expected to be taken up by Li Xiaopeng, son of former premier Li Peng. He has been promoted to vice-party secretary of Shanxi.
Dr Peng Peng, a researcher with Guangzhou Academy of Social Sciences, said Hu Chunhua's priority would be avoiding economic stagnation and continuing the reform work praised by new party chief Xi Jinping during his tour of the province this month.
"We will need to wait for his first meeting in Guangdong to unveil his policy direction," Peng said. "But his open-minded reputation and relatively young age give us every reason to remain optimistic over the new leader."
In a departure from tradition, Wang wrote a farewell letter to internet users.
"Thank you for all your criticisms, opinions and suggestions to Guangdong party committee, provincial government and myself," he wrote.
Xia Baolong, 60, has been appointed party secretary of Zhejiang province, where he has served as governor since January. He replaces Zhao Hongzhu . Wang Rulin, 59, will replace Sun Zhengcai as Jilin party chief. Zhao Zhengyong, 61, was promoted to top spot in Shaanxi province.
This article appeared in the South China Morning Post print edition as: Beijing confirms leadership reshuffle Beijing confirms leadership reshuffle