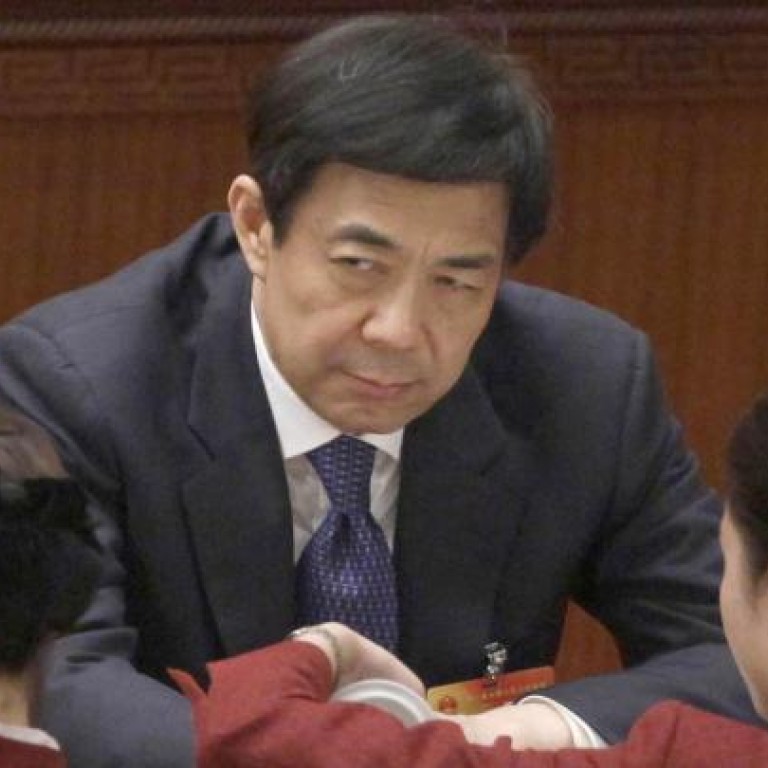 Surviving Bo Xilai's reign of red terror
In the second part of our Revisiting Chongqing series, we meet the people punished harshly for even the smallest gesture of dissent against Bo Xilai
On a two-hour flight from Beijing to Chongqing early this month, Ren Jianyu spent most of the time with his face pressed against the window, watching the clouds streak past. At one point he murmured: "This is freedom."
The 25-year-old former village official was freed late last month after serving 15 months in a Chongqing labour camp for reposting numerous microblog comments criticising the policies of the southwestern municipality's former Communist Party boss, Bo Xilai .
In his more than four years in Chongqing, the now disgraced Bo introduced a series of political campaigns echoing Mao Zedong's 10-year-long Cultural Revolution, which began in the mid-60s.
Under Bo, Chongqing's police, headed by Wang Lijun , relied heavily on an old system of punishment known as or re-education through labour, to incarcerate petty criminals and activists without trial.
Ren and many others thrown into labour camps as the authorities tried to muzzle dissent remember those years of "red terror" with loathing.
The police at first wanted to charge Ren with inciting subversion after he posted a photograph online showing him wearing a T-shirt bearing the words "Give me liberty or give me death".
"That was ridiculous," Ren said. "It was just a normal T-shirt from an online store."
But after spending more than a year in the labour camp, Ren said he had become more reticent.
The same "red terror" still haunts Xie Suming , a 41-year-old factory owner who was arrested in late 2009 after he commented on a popular internet forum about a posting that Chongqing's highest officials might have connections with local businessmen.
His comment was less than 30 characters long. Police detained him and searched his house without a warrant.
Then he was sent to a labour camp for a year for "creating a disturbance" and "disturbing social order".
Xie told authorities: "Are you really going to send me to jail for a reply?" A police officer replied: "Don't blame us. It's Wang Lijun you should blame."
Xie is now afraid to talk to people using the mainland's mobile phone services, preferring to make most of his calls via Skype on an iPad that he carries everywhere. "They monitor all the calls we make," he said. "And I don't want to go back to that camp."
Xie moved to Guangdong after his release, not knowing whether he would ever return to Chongqing.
"People can so easily lose their freedom for ridiculous reasons," he said.
Tian Hongyuan, a 30-year-old former stock analyst who was packed off to a labour camp for two years in 2010 for joking in an online chat group that then vice-president Xi Jinping was set to visit the city, said such treatment was just part of daily life for Chongqing residents.
Tian, who was preparing to get married, wrote the post on December 4 and was arrested two days later - when Xi actually did visit Chongqing. Police grilled him about the source of his information. He was strapped to a chair and tortured for nearly three days, kicked and punched by guards and denied sleep and water.
He said he was threatened and forced into "agonising positions" to make him divulge his source.
"I was afraid. I told them it was a joke but they just didn't believe it," Tian said. His fiancée broke up with him months after he was sent to the camp.
The labour camp system was introduced by the newly established communist regime in the 1950s to purge "counter-revolutionaries" and "class enemies". Police can impose sentences of up to four years without a court hearing.
Pu Zhiqiang , a human rights lawyer, said that although was widely used by local governments across the mainland, Chonqing had made the most use of the system.
"Opposition views were anathema to Chongqing's rulers," he said. "Anyone could end up in a labour camp by saying something insignificant online."
Peng Hong still remembers the rainy October night three years ago when police knocked on his door at midnight to take him into custody. He had reposted an edited picture online, which implied that a top Chongqing official was involved in corruption.
"[The officers] all wore black raincoats," he said. "They frisked my wife [who was three months pregnant at the time], confiscated my computer and mobile phone, and took me to the police station."
He was later declared to have committed libel and sent to a labour camp for two years.
Peng blames his daughter's sickliness when she was born on the pressure his wife was put under during her pregnancy.
Pu, the lawyer, said such abuses could be prevented if the labour camp system was reformed. "It lacks openness, fairness and procedural safeguards," he said. "The existence of the system contravenes the constitution by restricting citizens' personal freedom."
Hopes for change were rekindled after Wang sought refuge at the US consulate in Chengdu in February, eventually triggering Bo's downfall.
Bo was expelled from the party last month for "serious breaches of party discipline" and is awaiting trial. Wang was jailed for 15 years in September.
The downfall of Bo and Wang was welcomed by former labour camp inmates. Xie was working in a friend's factory in Guangdong when he heard the news and decided to return home to Chongqing.
"I felt the time had finally come for justice," he said.
Xie and many others like him who filed appeals to the Public Security Bureau's administration office of re-education through labour received letters in response to the unjust treatment they received.
The administration started to pay compensation in September, admitting that many of the punishments had been "misconducted".
Peng received about 110,000 yuan (HK$135,000) in compensation for his two years in the labour camp - 166 yuan for every day he served. Others, however, were not placated by simple payouts. Xie said: "It was horrible. Who would want to stay in the camp for that amount of money?"
A police source with direct knowledge of some of the cases said Wang estimated in early 2009 that Chongqing, a sprawling municipality of 30 million people, had at least as many criminals as Beijing or Shanghai. "If we can't meet the assigned quota, then it means we are the 'protective umbrella' for the criminals," he quoted Wang as saying.
The police source said that in many cases, the families of innocent victims suffered greatly.
Ren said the violence inflicted by Bo and Wang had left a profound legacy on the people of Chongqing.
"During the past five years, people like me just tried to stay alive and prayed that the wrongdoing would stop," he said.
"We didn't dare fight against those in power and had to wait for so long to seek justice for ourselves. The past is like a gaping wound and it may take a long time to heal."
This article appeared in the South China Morning Post print edition as: Locked up for wearing a T-shirt