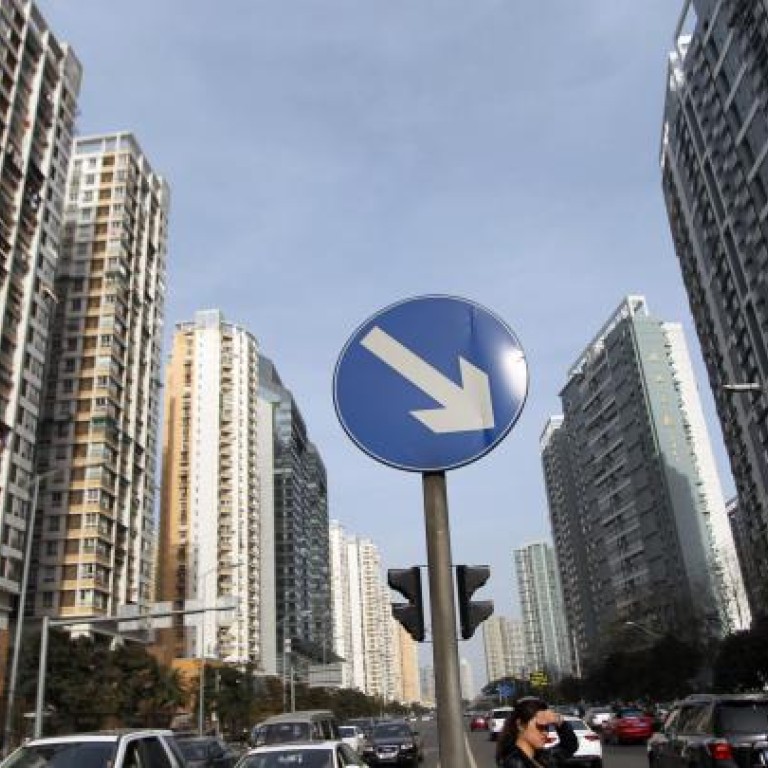 Wenzhou's once-hot housing market comes crashing down
Wenzhou, in Zhejiang, went on a speculative homebuying craze, many on borrowed cash, until market curbs caused prices to plummet
Stroll down the streets of Wenzhou and it doesn't take long to realise how dead its once red-hot property market has become. In property agencies, brokers take an afternoon nap or watch television in offices that once buzzed with activity.
"Wenzhou's housing market is not so good now," says an agent at one of the many property agencies on Minhang road.
"Home prices have plummeted by about 60 per cent since 2010. No one wants to buy flats when their prices are declining. Everyone is just watching the market now," he added as he flicked through a newspaper while waiting in hope for clients.
Wenzhou, the entrepreneurial hub in coastal Zhejiang province, is home to wealthy businessmen who are famous for buying - or speculating on - properties and are blamed for inflating mainland property prices.
The city's property market peaked in 2009 and 2010, when almost everyone, from manufacturers to taxi drivers, in Wenzhou was a home owner, if not a speculator. Some high-end homes were priced at as much as 70,000 yuan (HK$86,000 at current rates) per square metre (or around HK$8,085 per square foot), which is more than double the annual income of the average Wenzhou resident, according to agents.
"No one really focused on their own job and almost all were involved in speculative activities at that time," Wu Yuanzong, who has worked as a property agent in Wenzhou since 2008. About 80 per cent of his friends were making money through speculation before the city's property bubble burst about two years ago.
"When the market was still rosy, one of my clients - who was a speculator - stuffed his briefcase with about 30 home ownership certificates. He could easily earn as much as 500,000 yuan a day from buying and selling a flat," Wu said.
However, as the central government stepped in in October 2010 to cool soaring property prices by imposing a series of measures, such as restrictions on purchases and higher down-payment requirements, Wenzhou investors were hit hard as the number of buyers fell significantly. Many owners were unable to sell their flats while sales and prices dipped quickly.
Even worse, many businessmen and manufacturers - who were lured into the property development and speculation game and borrowed money from private or underground lenders - found themselves lumbered with developments they simply could not sell. According to the city's Small Business Association, about 60 per cent of private loans went into the real estate market between 2008 and 2010. The property crash forced some businessmen to flee or commit suicide to evade debt after going bankrupt.
"It's like a roller coaster ride, and the crash has hit Wenzhou severely," Wu said.
He said the small property agency he worked for used to handle nearly 50 sales a month two years ago, but that fell to only one or two sales a month after the crash. The situation has improved slightly as some users return to the market.
But prices are still declining. Latest National Bureau of Statistics data revealed that among the 70 largest mainland cities, Wenzhou posted the largest decline in new flat prices year on year last month, down 12.4 per cent.
Wu said Wenzhou's average home price had fallen to below 29,000 yuan per square metre, from above 40,000 yuan last year.
"The government's measures are strong and they effectively cool down Wenzhou's property market which is now only supported by end users," Zhou Dewen, chairman of the Wenzhou Small and Medium-sized Enterprise Development Association, said
Zhou believes it is unlikely the government will relax its house-price measures in the near future. He said it was only natural that Wenzhou's housing market had fallen harder than those in other cities, because prices there had simply been too high.
Chen Yongfeng, the deputy chairman of the Wenzhou Real Estate Developers Association and deputy general manager at the Zhongliang Real Estate Group, said although flat prices in the city had fallen significantly, the prospect of the government loosening its grip on the market next year remained slim.
"The winter for this city's property market might have already gone, but there is not yet any room for policy easing here because everyone is watching Wenzhou, which has been grabbing a lot of attention in the past year," Chen said.
Chen expects sales for smaller flats up to 90 square metres in area to remain stable because they attract first-time homebuyers unaffected by the measures, while slightly larger flats of more than 100 square metres will attract families wanting to improve their living conditions.
But flats bigger than 300 square metres or with lump-sum prices of more than 10 million yuan will still be difficult to sell, he said, because those who can afford such flats are tied by the government's purchase and mortgage limits. Therefore, his company is selling projects with flats ranging in size from 90 square metres to 150 square metres, which can draw buyers.
"For pricey projects, even if you cut the price it is still difficult to sell," he said. For example, a luxury developer slashed prices at its project by half, to 20,000 yuan per square metre, but still failed to sell any.
"Cash-strapped developers are facing pressure to clear their stock quickly. Some of them just offer the entire project, which is still under construction, for sale in order to cash in," he said, adding that only the larger developers would still be able to survive in the Wenzhou home market.
This article appeared in the South China Morning Post print edition as: Lessons from a property crash