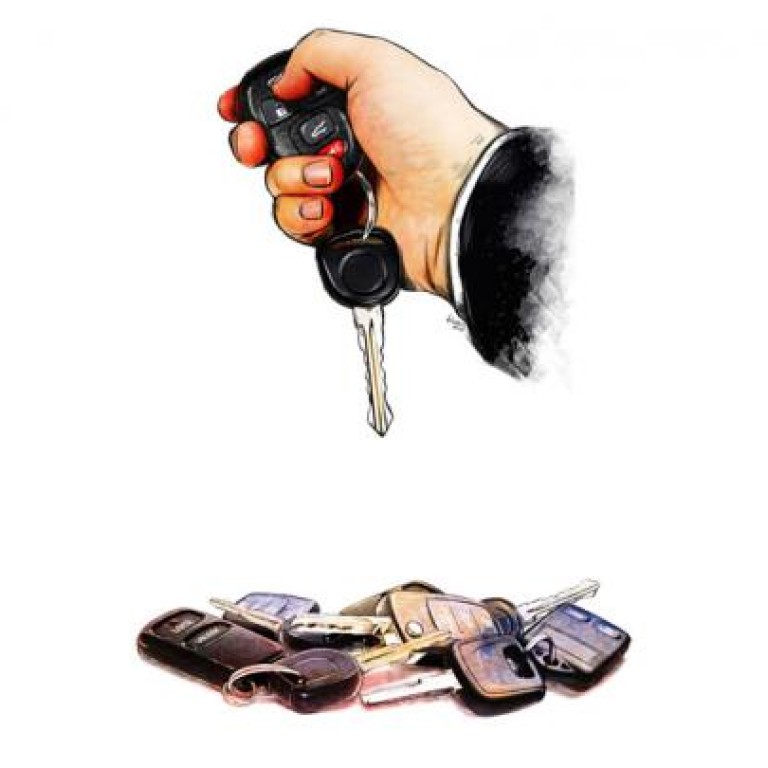 Growing numbers of urban dwellers switch on to convenience of carpools
Carpooling has emerged as a way to beat traffic jams that make travel a nightmare in big cities, but there are legal and regulatory hurdles
After becoming pregnant three months ago, Sonia Shi started looking for a new way to make the daily 20-kilometre journey to work at a bank near Beijing Financial Street.
Driving on the capital's notoriously gridlocked roads felt increasingly dangerous. Hailing a taxi proved too expensive and too difficult. Pushing her way onto a crowded subway carriage was painful.
She eventually reached the same conclusion as a growing number of urban mainlanders: it was time to carpool. More specifically, Shi "vanpools".
For 50 yuan (HK$61) a day - half the price of a taxi - Shi is carried door-to-door in the back of a seven-seat van. The driver, whom she found after a week of searching, has a decade of driving experience.
Now, while her colleagues fume on the packed highways or squeeze into the subway, Shi sits calmly in a small van, letting someone else deal with the stress of rush hour.
"I've never thought of carpooling before, but now I am pregnant," Shi said, describing the experience as, "great. Very convenient."
Growing traffic problems are slowly leading more mainlanders to leave their own cars at home and carpool to work. The trend has grown despite concerns over liability and regulations in some cities that put the practice in a legal grey area.
Over years of rapid economic growth, China has become the world's largest car market and manufacturer.
By July, there were more than 72 million privately owned cars on the mainland- up from just 10 million in 2003 - according to the Ministry of Public Security.
An estimated five million of those cars are in Beijing alone. So, it's not surprising that Beijingers endure the nation's longest daily commutes, at just under one hour each way, according to a 2010 report by Chinese Academy of Social Sciences.
In response to the traffic crunch, governments have vowed to improve access to public transport. In October, the State Council issued a nationwide call for more spending to improve urban transport.
But the expansion of bus and train lines may do little to slow the increase in traffic congestion. Beijing built 13 subways - for a total of 15 - in the last decade, but its traffic problems have only grown more serious. Meanwhile, it has become one of the world's most polluted cities.
Authorities have begun looking for other ways to ease traffic. In the run-up to the 2008 Olympics, city leaders began restricting cars to six days a week on the road, based on the last number on their licence plates.
In 2010, planners curbed new car purchases by requiring to drivers to enter a lottery for licence plates.
The capital is now considering extending its driving ban. The Beijing Municipal Committee of Communication is weighing whether to restrict cars with either odd or even number plates during rush hours on alternating days.
Other cities, including Guangzhou and Chengdu , have enacted similar traffic controls.
So it's not surprising that some drivers have started looking for their own solutions, such as carpooling. IT engineer Xu Zhiqing has saved much time and money since becoming a regular carpooler in 2007.
It takes less him less than half an hour to make the 50-kilometre trip in a shared car, compared to two hours by bus and subway. He spends about 10 yuan each way, including tolls and fuel.
Neighbours set up an online chat group to manage requests and "in most of cases, all seats are taken", Xu said.
Nonetheless, carpooling has been slow to catch on. Two companies that opened in 2006 to provide matches to potential carpool partners in the Zhejiang province cities of Hangzhou and Shaoxing folded within two months.
Three years later, Hangzhou became the first mainland city to actively promote carpooling with a pilot car-sharing programme. But the programme received tepid response, logging only two requests a month.
People often cite the same reason for the hesitancy to participate in carpools: regulations that often equate charging co-workers and neighbours for rides with running an illegal taxi service.
Last month, a Shenzhen man was accused of running an illegal taxi operation and had his driver's licence suspended for accepting 50 yuan to drive a pregnant colleague to the office, according to the .
He faces a fine of up to 30,000 yuan for accepting the money, which he says was only intended to cover fuel.
There are other risks involved in carpooling, including legal liability. Drivers and owners are usually liable for damage or injuries incurred in car crashes.
Because of that, Xu said he and his neighbours have an understanding about liability. For example, the passengers would use their medical insurance should they be injured in pooled car.
"Fortunately we've never had an accident, but [legal liability] is still a big concern," Xu said.
Li Xudong , another Beijing IT engineer who sometimes offers free rides to neighbours, said legal issues still gave him pause.
"There are no legal rules about liability of drivers and riders, which is not fair to drivers, even when we are doing good deeds," Li said.
But increased carpooling may be inevitable, with the rapid development of highways and the continued practice of national holiday weeks that have been blamed for massive traffic jams.
The website
58.com
one of the country's biggest classified portals, saw a 30 per cent increase in carpool requests before the recent National Day holiday.
Traffic experts like Pang Shihui , a researcher at the Beijing Academy of Social Sciences, said carpools deserved more government support.
"Rather than treating it as an illegal operation, the government should give carpools a legal identity and official support to offer more carpooling services, which have proved to be an efficient way to ease traffic jams in many foreign cities," Pang said.
This article appeared in the South China Morning Post print edition as: Key to fast commutes