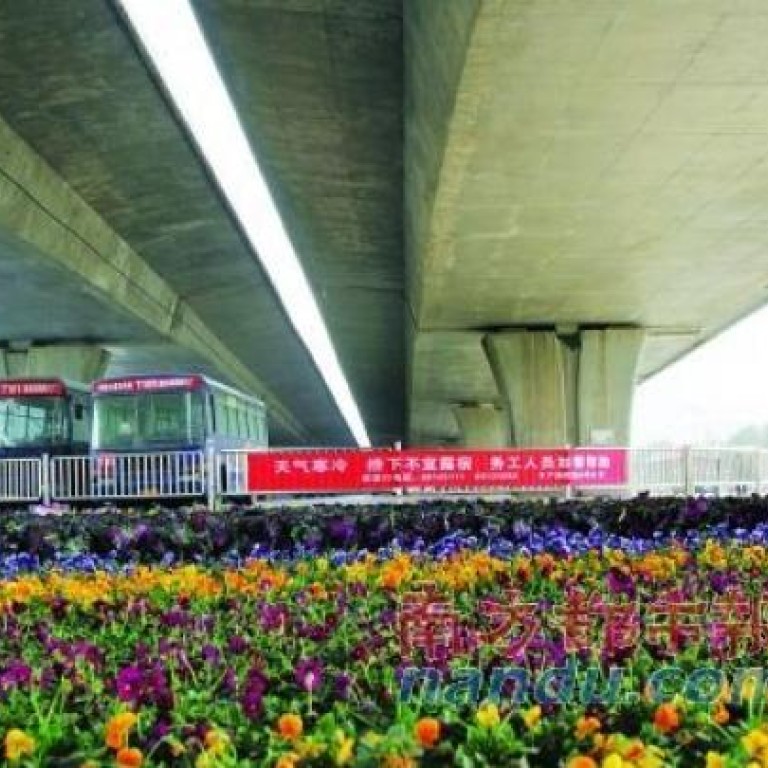 Flower pots force homeless migrant workers to move on
In Zhengzhou the open spaces beneath many express bridges used as shelter by migrant workers have been filled with hundreds of flower pots, in a bid to force them to use shelters.
In Zhengzhou city, Henan province, the open spaces beneath numerous express bridges were filled with hundreds of flower pots overnight.
Previously, many migrant workers in the city took shelter under these bridges, unwilling or unable to afford proper housing.
The death of migrant worker Liu Hongwei under Lijiao Bridge last month caught the media's attention. He is believed to have died from hunger and illness amid extremely cold weather. Another migrant worker was found dead at the same spot a few weeks later.
The incidents generated public outcry over the plight of rural migrant workers and the lack of social assistance in China.
Pressured by the media attention, the Zhengzhou government has stepped up efforts to provide shelter for homeless migrant workers.
"People in uniforms came to confiscate quilts and force us to settle in shelters," one migrant worker said. The government started to remove workers from sleeping in the open a week ago.
Migrant workers can now walk a hundred metres south of the bridge to a homeless shelter of about a thousand square metres, housed in a former a bus company warehouse. The government has installed several dozen beds, with additional space on the floor.
Of the several banners hanging at the intersection of Dongfeng Road and Nongye Roads, one reads "The life and health of migrant workers are our concern." Another says "Beware of the cold weather; do not sleep under bridges."
Another banner labelled Fengcan Road Sub-district Office has an emergency number for migrant workers written on it.
Li Baojun, a migrant worker in Zhengzhou, said that homeless shelters are not what they need. "We are not homeless," Li said, "it is just easier for us to find work if we stay under express bridges. Trucks are unloading there night and day."
Some internet users criticised the measures, saying that the government has no authority to remove workers. "What the government should do is to make sure that migrant workers are able to earn a living with convenience," said one Weibo user.