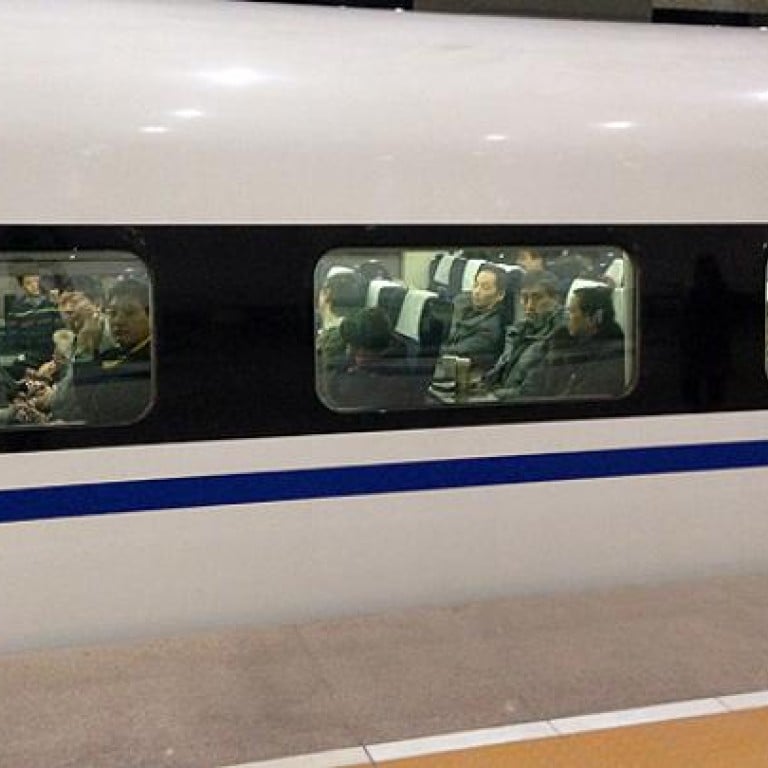 Live updates: from Guangzhou to Beijing on the new bullet train
SCMP's Mimi Lau and Simon Song bring you the latest reports from the maiden voyage of the Guangzhou-Beijing high-speed train.
Updated 7.15pm
Thank you all for staying tuned to the maiden voyage of the speed rail and my first live reporting. Its freezing in BJ gotta
run! Goodbye!
Updated 7.07pm
The journey of over 2,000km by high speed train finally took 9 hours to complete. With improved catering and punctuality, the Beijing-Guangzhou rail link is set to be a comfortable journey in the future.
Updated 6.55pm
We have finally arrived at Beijing West Railway Station, a delay of about an hour.
Updated 6.44pm
The train is beginning to slow down we will be are arriving in Beijing soon, the final stop of our high speed train trip from Guangzhou.
Updated 5.48pm
We have just left Shijiazhuang station in Hebei province, which is about 290km from Beijing. We are looking at a one-hour delay.
Updated 5.21pm
The sun is about to set in northern China. It's certain that we won't arrive Beijing on schedule. Passengers are stretching their legs and strolling between the carriages.
Updated 5.07pm
We are about to arrive Shijiazhuang in 30 minutes where it will be minus 7 degrees celsius, so its good time to pile on extra clothes. In just a few hours, I will have changed my clothes twice and travelled from temperatures around 19c in Guangzhou to possibly minus 10 celsius in Beijing.
Updated 5.58pm
After being delayed by snow and icy conditions, our high speed train is trying to make up for lost time by running at a speed of 309km/h. A comparison between China's top three mobile phone networks shows that China Telecom and the China Unicom outperform China Mobile, which has shown almost no signal for most of the journey.
Updated 4.25pm
Snow has delayed our arrival to Zhengzhou East station by 50 minutes already. The train doors are starting to ice up.
Updated 4.14pm
The train is accelerating again and has just reached 302km/h after leaving an area affected by snow.
Updated 4.45pm
My editor asked me how lunch was. I told her it was only so-so but when there is nothing else to eat, anything edible seems like a gourmet meal.
Updated 3.41pm
The train's speed has been constant for the most part  but now its somewhat shaky and running at just 184km/h in snow. I wonder if we'll make it to Beijing West at 17:59pm, as scheduled?
Updated 3.34pm
The train has slowed down to 185km/h for the past 30 minutes which even train attendants could not explain. "Its probably due to the snow but we are unsure at the moment as we have yet to be notified by train captain," said one attendant.
Updated 3.26pm
Its nearly 3.30pm but people are still lining up for lunch.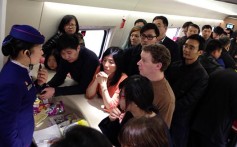 Updated 3.13pm
Supplies of cupcakes and herbal beverages run out in the dining car.
Updated 3pm
Chewing gum left on the window sill of the new train.
Updated 3.13pm
Our long-awaited luxury lunch box arrives, costing 45 yuan.
Updated 2.41pm
During the journey, we have passed the Pearl River and Yangtse River. Soon, we will be arriving at the Yellow River in Henan province. In just four hours, we have seen three world-famous rivers that have been nurturing the nation for thousands of years.
Updated 2.19pm
A mixture of Chinese accents can be heard on board the train, from tongue-twisting Beijing dialects to Cantonese and everything in between as the train travels across the nation at high speed.
Updated 13.57pm
My stomach is starting to grumble on this food-deprived high speed train.
Updated 13.48pm
Its snowing in Wuhan... very cool for a Hong Kong girl!
Updated 13.44pm
Unlike conventional train stations, there are no food vendors on Speedrail station platforms.
Updated 13.41pm
We are arriving Wuhan of Hubei province in a minute, that's three provinces in three-an-a-half hours.
Updated 13.38pm
Shocked to learn that there are only empty 38 seats and only 4 staff scrambling to heat up curry lunch boxes in the dining carriage. Will I get my lunch by sunset, I wonder?
Updated 13.36pm
Our train is travelling at steady 304km/h and the landscape has changed from green to silver. It has been a comfortable journey so far, but there has been no wifi or lunch for us yet.
Updated 13.14pm
Watered-down curry lunchboxes at 40 yuan each? Many passengers commented that this was a rip-off.
Updated 12.59pm
The joy of train travel, a beautiful white landscape. By conventional train it would have taken eight hours to have seen this. For us today, it only took 2 hours.
Updated 12.48pm
After departing from sub-tropical Guangzhou around two hours ago, the scenery outside train window has changed from greenery to a rustic landscape covered with snow. We have just reached Hubei province.
Updated 12.42pm
Lunch box crisis onboard the first Beijing-Guangzhou fast train. Disgruntled passengers have to wait for up to an hour as cold lunch boxes are reheated  one-by-one in a single microwave.
Updated 12.30pm
Anxious smokers rush out of the train for a puff as soon as the train pulled to a stop at Changsha station for its scheduled 2 minute stop.
Updated 12:11pm
We are about to reach our first stop at Changsha, provincial capital of Hunan province, two hours after departing from Guangzhou on the new high speed rail service. Many passengers are amazed how little time it took to get here.
Updated at 11:58am
Most of the seats on the train are full now.The trip from Guangzhou to Beijing in second class has proved comfortable so far, with good service standards.
Proud mother Ms Ren from Hebei's Baoding is using the train to visit her two daughters who work as doctors: one is stationed in Guangzhou and one in Beijing.
Some passengers on board the first high speed train from Beijing to Guangzhou are growing frustrated with questions from journalists. One man who just returned from the train's dining car complained, "Just let me finish my meal in peace!I was interviewed every 2 minutes."
Updated at 11:20am
The train reached Hunan province an hour after departing Guangzhou. We just met the youngest passenger on board, a baby girl just two and a half months old from Beijing, accompanied by her granny and parents, who said the air pressure on the high speed train is kinder to baby's ear drums. . 
Updated at 10:35am
In the second-class seater carriage that SCMP reporters are travelling in, seat sizes are a bit wider than economy class on commercial airliners, but with plenty of legroom. A train attendant with the looks and voice of a TV presenter just announced he would begin checking tickets soon. 
Updated at 10:20am
Zooming across the mountainous northern Guangdong region, the train is now travelling at a steady speed of around 300km/h. But our reporters feel an uncomfortable pop in their ears every time the train enters a tunnel, causing a sudden change in cabin pressure. Mobile phone signals are becoming unstable. The compartment hallways are packed with journalists photographing and filming passengers. 
Updated at 10:16am
Just 15 minutes after it left the Guangzhou station, the bullet train has reached a speed of 291km/h. But mobile phone signals disappeared immediately after the train entered a tunnel. 
Updated at 9:50am
Updated at 9:30am
SCMP photo by Simon Song