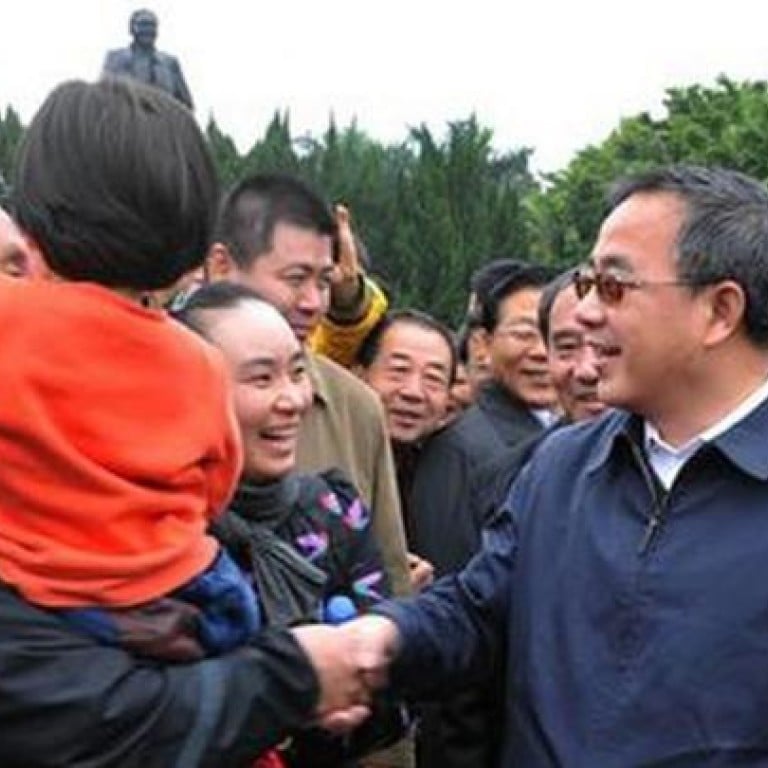 New Guangdong party chief makes first visit to province
Hu Chunhua visits Shenzhen on his first inspection tour of the province, emulating the visit paid by nation's president-to-be earlier this month
Guangdong's new party chief Hu Chunhua followed in the footsteps of president-to-be Xi Jinping when he headed to Shenzhen for his first inspection tour after taking over the powerful job from Wang Yang last week.
Hu visited the Qianhai experimental zone and the statue of late paramount leader Deng Xiaoping on Lotus Hill on Tuesday - both featured stops on Xi's trip earlier this month.
Shenzhen Satellite TV showed Hu shaking hands with the locals - just as Xi had done.
Hu - known as "Little Hu" because he is usually regarded as following in the footsteps of President Hu Jintao - later spoke of Xi when he met with provincial officials.
"The general secretary Xi Jinping spelled out his expectation to Guangdong in his speech … and this will be the roadmap and guidelines for the future works," quoted Hu as saying.
Yesterday, Hu visited Dongguan , once a booming manufacturing hub. His ports of call there indicated he was looking at how to upgrade the area's economic structure.
After paying a visit to the Hong Kong-invested TTI Group, an electronics manufacturer, and Yishion Fashion, a privately owned garment clothing company, Hu visited Songshanhu Hi-tech Industrial Zone.
Today, he is expected in Guangzhou.
Analysts said the trip would help prepare Hu for the provincial people's congress plenary next month, a possible opportunity to lay out his own policies for the province.
Dr Peng Peng , a researcher with the Guangzhou Academy of Social Sciences, said Hu was obviously "catching up on a missed lesson" by visiting Shenzhen as he was absent from Xi's tour. "By highlighting Guangdong's leading role in reform, it is fair to say Hu has accepted the idea of reform. But how far he will go is yet to be seen," said Peng.
Professor Yuan Weishi , a Guangzhou-based historian, said it would usually take several months or even years for a new leader to settle down in Guangdong, as the pro-market, relatively liberal environment proved to be challenging.
Hu's previous postings have been in remote inland areas and his last job was party leader of the restive Inner Mongolia autonomous region. Both analysts said Guangdong's open-minded spirit would help to shape Hu's policies.
"At least Hu will have to demonstrate his willingness to reform if he wants to secure support from both reformists and conservatives within the Communist Party to move into higher positions," added Peng.
This article appeared in the South China Morning Post print edition as: New boss follows in Xi's footsteps