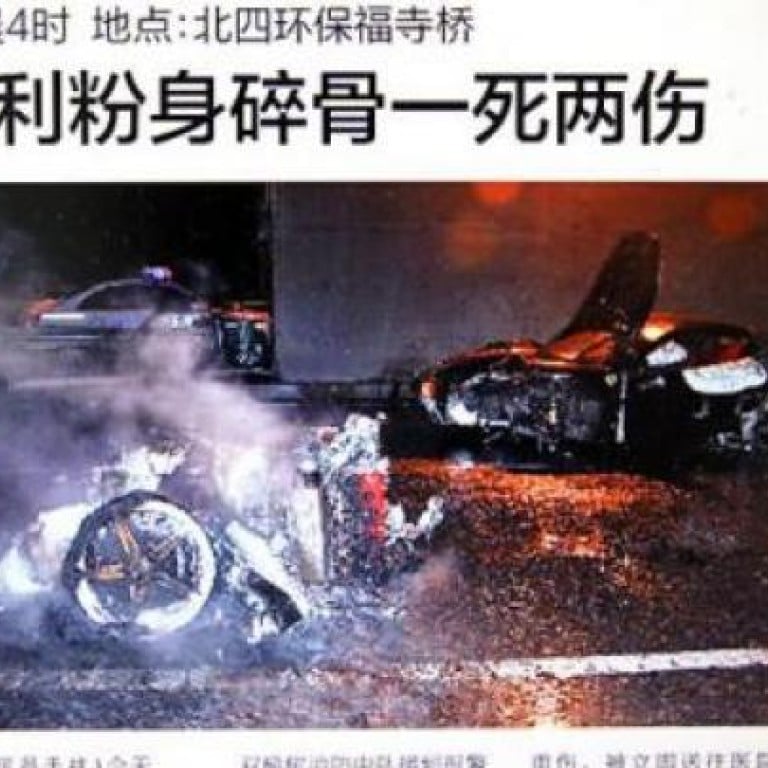 SCMP.com's top 10 most popular China stories of 2012
When it came to China news stories, cover-ups, riches and a beautiful First Lady dominated readers' interest on SCMP.com. Here are the 10 most popular stories based on reader visits.
When a half-naked man in his 20s died in a high-speed Ferrari crash in Beijing in March, it might have passed without comment. But the man, it later transpired, was Ling Gu, the son of Ling Jihua, chief of the General Office of the Communist Party's Central Committee and President Hu Jintao's principal aide.
Two girls were also seriously injured in the crash and different versions of who was driving and who was in the front and back seats became the subject of gossip in Beijing's corridors of power. Ling's chances of securing a seat at least on the Politburo were shattered in a reshuffle that saw him take over as head of the United Front Work Department, a largely symbolic post.
Chinese Communist "princeling" Bo Xilai, expected by many to take a key leadership position in the leadership transition of 2012, was expelled from the Communist Party in September after a career that saw him as Mayor of Dalian City, Minister of Commerce and Party Chief of the Chongqing municipality. His wife Gu Kailai received a suspended death sentence in August 2012 for murdering British business partner Neil Heywood, while he has been accused of torture and corruption.
A plan to flatten 700 mountains to build a new state-level development zone captured the attention of readers after it was billed as the largest 'mountain-moving' project in its history.
The Lanzhou New Area, a provincial capital in China's arid northwest, will see a staggering 700 mountains flattened to level the area Lanzhou, allowing developers to build a new metropolis on the outskirts of the north-western city.
The communist party leadership launched a probe in November into the alleged family wealth of Wen Jiabao at the premier's request.
A New York Times report on October 26 alleged his family had amassed at least US$2.7 billion of assets during his premiership. It cited regulatory filings and corporate documents, said that in 2007 Wen's family had a US$2.2 billion stake in Ping An.
Lawyers for Premier Wen Jiabao's family hit back at The New York Times for its explosive exposé about their wealth - the first time a top Chinese leader has issued a rebuttal to a foreign media report.
Two lawyers released a statement on behalf of Wen's family shortly before 11pm denying, among other things, that the premier's 90-year-old mother ever held a US$120 million investment in Ping An Insurance, a central claim of the Times' report.
The Post exclusively revealed that the line-up was dominated by Conservatives as furious horse trading continued ahead of the transfer of power in Beijing.
SCMP.com readers couldn't get enough of China's next first lady Peng Liyuan, a dazzling singer whose profile long eclipsed that of her husband Xi Jinping, and who will bring a touch of glamour to a role hidden in the shadows for decades.
The Ferrari crash scandal gripped readers in 2012. A Post exclusive revealed that Jiang Jiemin, chairman of China's biggest oil and gas producer, was questioned by the Communist Party's top discipline watchdog in relation to the Ferrari crash in Beijing.
The crash of a black Ferrari on Beijing's North Fourth Ring Road involved far more than sex, a fast car and a playboy. It also put the political career of Ling Jihua, President Hu Jintao's top aide for more than two decades, at stake.
SCMP's award-winning graphics team created an at-a-glance guide to the Wen family's riches which proved a hit with readers.