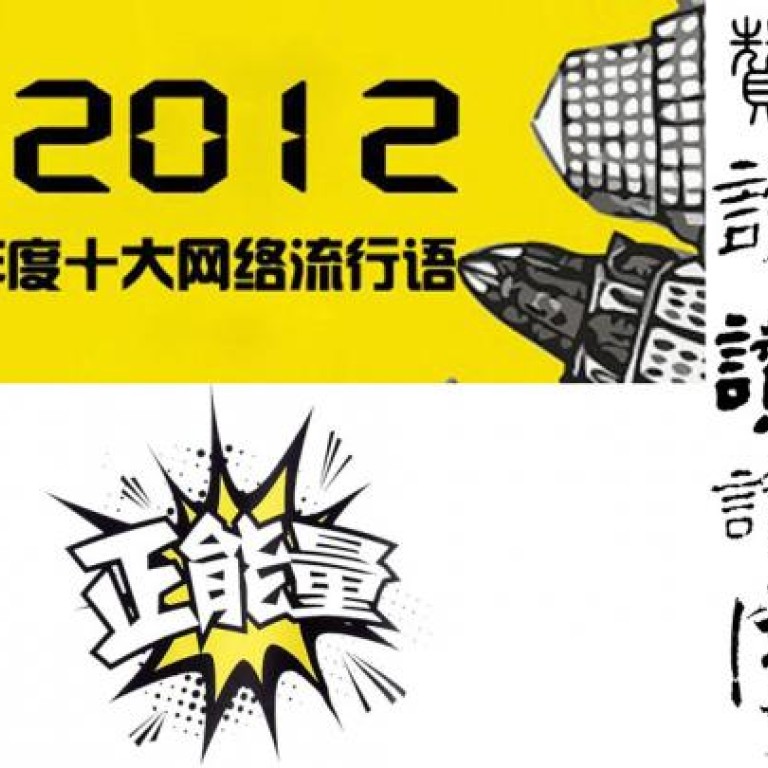 'Positive energy' chosen as number one Chinese catchphrase of the year
The phrase was picked by a leading language publication as the number one saying of 2012 in its compilation of top 10 catchphrases of the year
A catchphrase meaning "positive energy" has been named the most popular phrase of 2012 on the mainland, reflecting growing public demands for sweeping change amid disenchantment with corruption, pollution and widening wealth and social divides.
Based on an online survey, the annual list of the top 10 phrases of the year was compiled and released at the weekend by , a linguistics magazine.
As in previous years, the list includes several popular phrases coined from movies, television and documentaries, and others using phonetic puns or homonyms, all of which were widely quoted online and offline to express sarcasm, disapproval or disdain about a certain situation or life in general.
For instance, the phrase , "what do you think about it?" - a line from a non-prime-time crime series set in the ancient Tang dynasty in which a renowned detective often consulted his chief assistant, Yuanfang - was the second-most popular catchphrase.
The phrase, initially hard to comprehend out of context, has gone viral online in recent months and is frequently used by internet users to express doubt or disbelief about incompetent officials and their inept handling of investigations.
While Xinhua hailed the phrase as highlighting the public's desire for the truth, Professor Zhu Lijia , of the Chinese Academy of Governance, said it actually underlined the deep-rooted mistrust between the people and government.
"China has already seen a full-blown credibility crisis, with declining trust among the people and mounting public distrust of government," Zhu said.
"I think the question on everyone's mind is not whether we still have a bottom line on social morality, but if all of us will plunge deeper into societal moral decay."
Some of the popular phrases also found their way into formal remarks by top leaders. In a meeting with former US president Jimmy Carter last month, new Communist Party chief Xi Jinping said Beijing and Washington should "accumulate positive energy" [] in developing their ties.
"Alexander" which sounds like , a phrase describing a huge amount of pressure, was widely used in humour over the past year.
, a word showing support or praise that is similar to the thumb-up "like" button on Facebook, is also included.
, , , a combination of three adjectives meaning tall, rich and handsome and widely used to refer to attractive people who are privileged, powerful and well-connected, also made it to the list.
However, a similar and arguably more popular word, , referring to a very different group - youths who describe themselves as struggling to make a living, with humble origins, ordinary looks and poorly paid jobs - was deliberately omitted.
Amid mounting questions and criticism, the linguists behind the survey said they were aware that was popular, but it had to be excluded because it was deemed tasteless, indecent and even vulgar.
"We have to find a balance between their popularity and linguistic ethics and, as always, we try to send positive energy to our readers," China News Service reported them as saying.
Not surprisingly, that response met with further scorn, with many saying that the mission of and the defence provided by the magazine underlined the deep-rooted hypocrisy of a mainstream culture that despised the under-privileged, the poor and vulnerable.
" was left out, but , , have been included. , what do you think about it?" one internet user commented on the popular Sina Weibo microblog.
Lei Yi , a historian with the Chinese Academy of Social Sciences, said the furore about yet again highlighted the extent of social stratification, exacerbated by the yawning income gap.
The list was also attacked by many for excluding political terms and news jargon.
Compared with a previous list of the top 10 catchphrases of the year, released earlier last month, the absence of some of the most talked about events, such as the party's five-yearly national congress and the diplomatic row between Beijing and Tokyo over the disputed Diaoyu Islands, was conspicuous.
"The 18th party congress" and "Diaoyu Islands" topped the list of the most popular phrases of 2012 jointly compiled by a language monitoring centre at the Ministry of Education, the state-run Commercial Press, state television and several universities based on another online survey.
Lei, who was involved in finalising that list, said a fair and accurate list should reflect the fact that 2012 was an eventful year that witnessed the generational leadership reshuffle and a spate of scandals.
"We have been bombarded by coverage of the party congress and the personnel changes and despite tightened media and internet control, we all talked and gossiped about them, whether we remain hopeful or not," he said.
Lei said the ancient Greek city state of Sparta, which sounds similar to the shorthand name of the congress (), became a substitute for the party congress when the latter term was banned from online discussions.
Zhu said the lists had been rendered meaningless by politically correct restrictions and the absence of several keywords that reflected public opinions, from tackling corruption, pursuing equity and social justice, to a list of concerns about the people's livelihoods.
"Despite extensive media and public discussions, it's a pity that we haven't seen catchwords such as disclosure of officials' assets, equal access to education and healthcare, housing prices and job opportunities," he said.
Instead, both lists were packed with phrases singing the praises of individuals who had been handpicked as role models by the propaganda apparatus, such as the most beautiful mother, teacher, soldier, driver and judge.
"It is a huge waste of resources and totally unconvincing to launch nationwide propaganda in a bid to glorify ordinary people and make them look like saints," Zhu said.
"The lists should not only be a feast of popular words and phrases, but also serve as an alarm bell to remind people and the government that we must refrain from complacency with so many daunting challenges ahead."
This article appeared in the South China Morning Post print edition as: Linguists charged by 'positive energy'