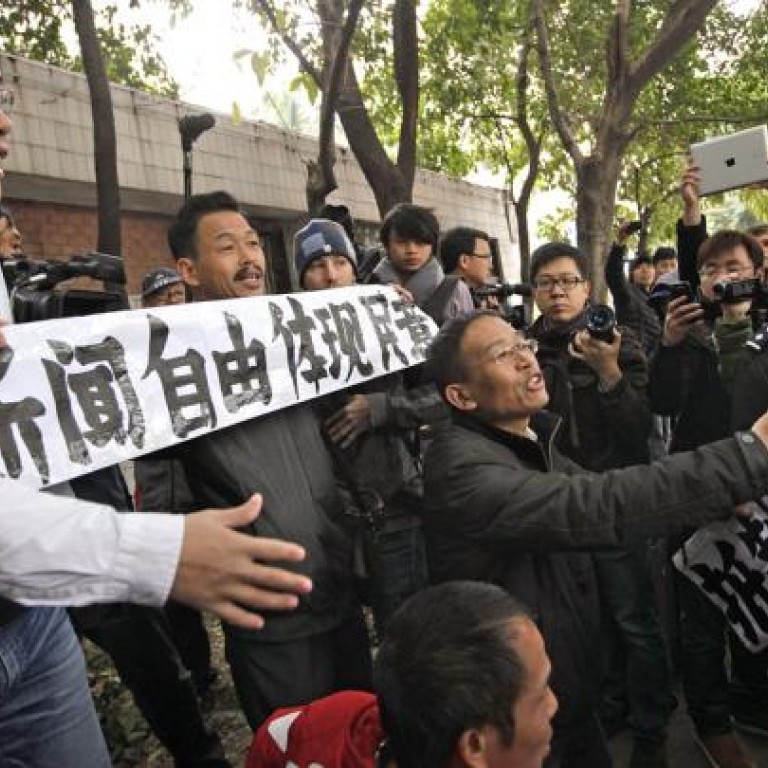 Activists are held for supporting Southern Weekly
Police move against protesters and bloggers after show of solidarity for Southern Weekly
Police detained at least a dozen people on charges of subversion and illegal gathering for participating in activities in support of the embattled Guangzhou-based this week, activists said yesterday.
Crowds have gathered daily since Monday outside the Guangzhou headquarters of the popular liberal newspaper, sometimes known as the , in a show of solidary after the provincial propaganda chief, Tuo Zhen, censored a new year editorial urging respect for the constitution. Many gatherers have called for his resignation.
Activists said they have been detained or summoned by police in an attempt to silence them.
Three members of the banned Chinese Democracy Party in Hangzhou said they were detained for "allegedly inciting subversion of state power". Writer Lu Gengsong said police raided his home on Tuesday night and detained him overnight. Mao Qingxiang was also held overnight, and Ren Weiren was held for five hours
Lu and Ren said police interrogated them over a photograph circulating online showing seven Chinese Democracy Party members holding up pieces of paper that said: "In support of ".
"They said we were creating social chaos," Ren said. "They said if I do anything similar again, they will lock me up."
In Guangzhou, a handful of protesters said police detained them on the charge of "illegal gathering". The group included writer Ye Du, poet Langzi, and activists Huang Bin, Ye Yin, Yuan Fengchu and Liu Yuandong. Some bloggers were also reportedly summoned and warned by police.
Ye Du said he was detained for seven hours on the charge of "illegal gathering" on Tuesday. He complained that he was forced to take all his clothes off during an inspection apparently intended to check whether he possessed drugs or weapons.
"I was locked up for three months during the 'jasmine revolution' [rallies], and even then I never had to go through such humiliating treatment," he said. Ye, who posted messages on his microblog account throughout the protest on Monday, said his microblog had since been closed by the authorities.
Huang said he was detained for three hours yesterday and was interrogated over who organised the rallies in front of 's headquarters. He said he attended the protests on Monday and Tuesday and held up a placard that said: "China's dream: a dream for constitutional rule". Huang, a Jiangxi native, was made homeless after local police ordered him to move out of his rented accommodation in Guangzhou.
"We were hoping that we could use this opportunity to spread the message of democracy and freedom and to push for press freedom. … But it looks like the authorities were just trying to shrink the size of the crowd," Huang said.
Langzi said on his Twitter account that he was detained for seven hours yesterday.
There were around 300 protesters outside Southern Weekly's office on Monday, but  fewer than 100 yesterday. Police in Guangzhou and Hangzhou declined to comment.
This article appeared in the South China Morning Post print edition as: Activists are held for supporting newspaper