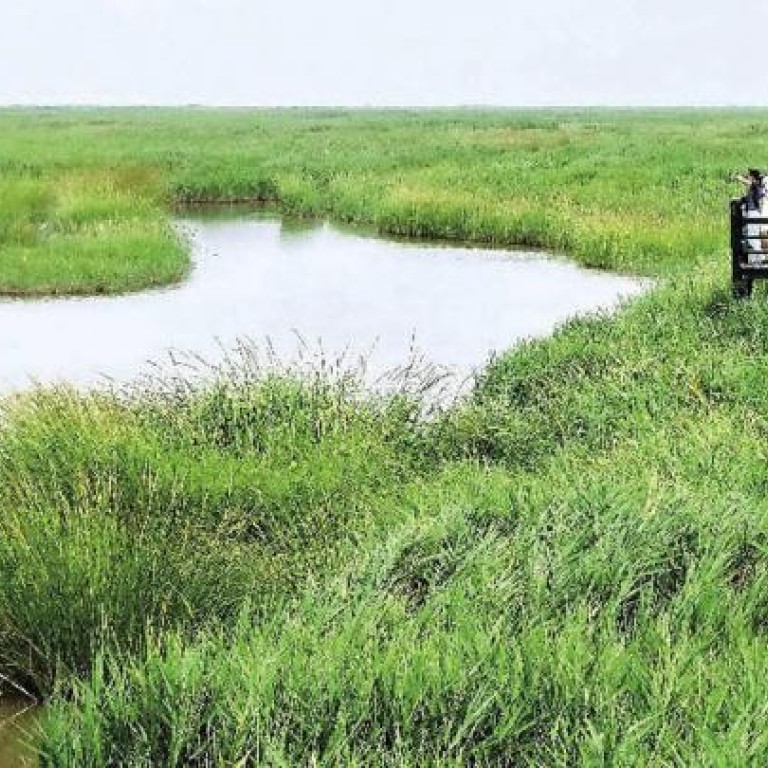 Shanghai mulls growth plan for 'last virgin territory' Chongming Island
As Shanghai considers turning 'virgin territory' of Chongming Island into eco-tourism hub, some are worried its natural beauty will be spoiled
Shanghai is grappling with the difficult question of how to develop its "last virgin territory" - Chongming Island - as city officials rack their brains to strike a balance between economic growth and environmental protection.
The mainland's commercial capital has drawn up a blueprint to develop Chongming, covering more than 1,400 square kilometres, into a prosperous "eco city", supported by "modern and green industries", by 2020.
However, Shen Xiaochu , a deputy director of Shanghai's Municipal Development and Reform Commission, has admitted that the municipal government has yet to find any suitable industries that could sit well with the millions of migratory birds - some endangered - which take a break on the alluvial island during migration.
Addressing a government conference, Shen said Chongming, located at the mouth of the Yangtze River, would only accommodate environmentally friendly industries. He said the city would take a forward-looking attitude in implementing the blueprint, without elaborating.
Chongming, with a population of more than 700,000, is the only district-level area in Shanghai described as a "county". The mainland defines a county as a rural area where most residents are farmers.
The county chief, Zhao Qi , said the island's farmers were keenly anticipating major changes, hoping that industrialisation could help them get rich quickly.
The municipal government views Chongming as a cherished possession. In private discussions, government officials call it the "Long Island in the East", envisioning the developments of entertainment complexes including casinos, horse-racing tracks and amusement parks.
Gambling is illegal on the mainland, and such plans appear far-fetched. But several Shanghai civil servants say it has not fully abandoned plans to build a special zone on the island where casinos and race tracks could be allowed to operate legally.
Shanghai began building a tunnel-bridge project linking Chongming Island with the city in 2005 and completed the 25.5 kilometre project in late 2009. In 2011, a bridge connecting the northern part of Chongming with Qidong in Jiangsu province was also opened.
The projects made it easy for urban residents in Shanghai and Jiangsu to travel to Chongming, which is known for unspoilt beauty. But city officials have said that a flood of tourists could be a threat to the "eco city".
Millions of birds, including swans, geese, cranes and tufted ducks, rest in Chongming's wetlands during their migrations, with about 300 species identified.
The island's Dongtan Wetlands, with an area of more than 300 square kilometres, is now a national-level protected nature reserve for birds.
Zhao said priority had been given to protecting Dongtan as an untouched, natural reserve.
The "environment first" pledge has a cost. The city government could raise billions of yuan by selling vast areas of land to property developers.
Shanghai, the mainland's most affluent city, has been among the slowest-growing provincial-level regions on the mainland since 2008 because its economic growth has been hit by weak external demand.
The city that hosted the extravagant World Expo in 2010 is also feeling the pinch of slowing infrastructure construction. The city government shelled out some US$95 billion on infrastructure before the World Expo.
Shanghai's then mayor, Han Zheng , told a government conference last year that the city would have to seek new growth engines to develop its economy. He has since become Shanghai's Communist Party secretary.
Chongming, which is bigger than Hong Kong, is one place where the city could chase further rapid growth.
Aside from the tunnel and bridges linking the island to the mainland, Shanghai also has plans to extend its metro rail network to Chongming, though it has yet to settle on a start date.
A handful of housing speculators, betting on an upsurge in home prices on the island, have begun snapping up newly built apartments and dilapidated old houses.
They have turned a deaf ear to the government's promise to pursue only green and sustainable growth on the island, contending that the infrastructure projects demonstrate the city's real intentions for the virgin territory.
Their punts might prove correct. The island's promotional materials and its urban planning museum already feature tall buildings that are expected to sprout from its shore in the future.
This article appeared in the South China Morning Post print edition as: Last rural enclave marked for growth