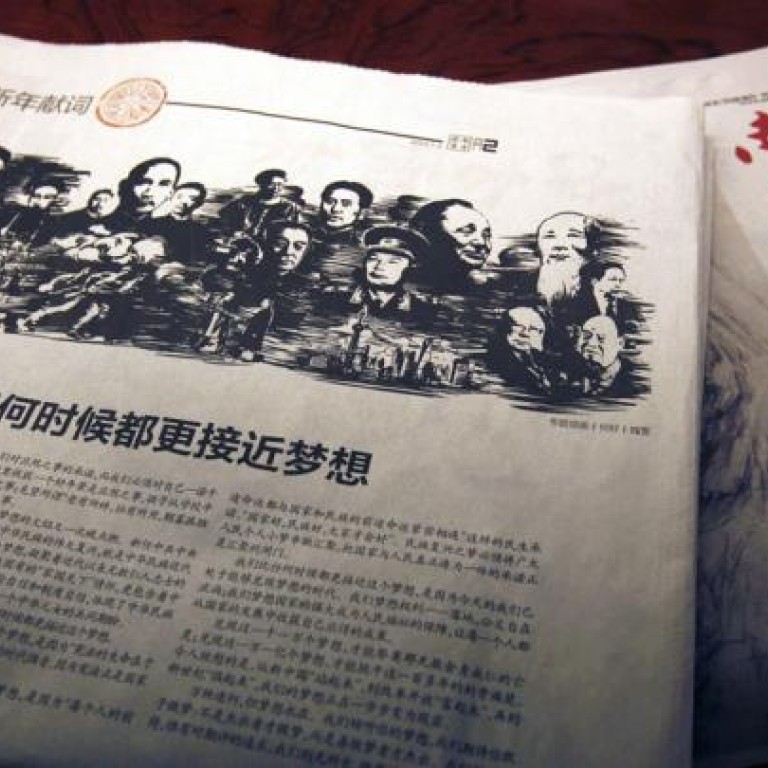 New editor appointed at paper to calm dispute over censorship
Owners of Southern Weekly make leadership change to resolve dispute between editorial staff and propaganda officials, which spurred protest
A more open-minded editor-in-chief has stepped in to run the daily operation of in the aftermath of the row between its editorial staff and propaganda officials over interference in editorial operations.
The newspaper's latest edition yesterday included a correction for blunders that appeared in the introductory message in the paper's New Year edition, the first formal response since the censorship row.
Meanwhile, the new provincial party boss told cadres yesterday that the authorities should firmly maintain the initiative in "ideological works".
A source close to Guangdong's provincial government said Wang Genghui , a deputy editor-in-chief of Nanfang Media Group, which owns the newspaper, had taken over from Huang Can , editor-in-chief since 2009. Huang had been sidelined and was likely to be transferred to another post in the group.
"Wang has a rather popular image as he is more willing to listen to editors and journalists," the source said. "But this is likely to be a transitional role to restore normal operation at the newspaper as soon as possible."
This week's newspaper included a veiled protest saying that editorial procedures should be respected and made corrections - a typographical error, the erroneous numbering of the edition and a factual flaw that said flood control work by "Yu the Great" happened 2,000 years ago, instead of 4,000 years ago.
A comment below the corrections, signed by editorial staff, read: "Newspaper mistakes are always in black and white. In every link of editing and publishing a newspaper, its standard processes should always be respected and followed. We have never been more keenly aware of this."
A member of the paper's marketing staff said editors and journalists used the comment to protest against the last-minute changes, ordered by censors. "They tried to print the corrections in last week's issue, but were rebuffed by censors."
Speaking at a Guangdong provincial party plenary yesterday, the new provincial party secretary Hu Chunhua said the reform-minded province faced more "complicated" public opinion. "[Guangdong] has to tightly grip the initiative in ideology works," China News Service quoted Hu as saying.
Hu personally helped broker a deal between newspaper staff and the authorities, but details remain sketchy.
Dr Peng Peng , a researcher with the Guangzhou Academy of Social Sciences, said the rare show of defiance by the journalists could herald a wind of change, with Hu trying to work out new ways to manage the media. "Hu is not likely to be high handed with journalists," he said. "Meanwhile, the authorities will not be hands off either."
This article appeared in the South China Morning Post print edition as: New editor to calm censor row