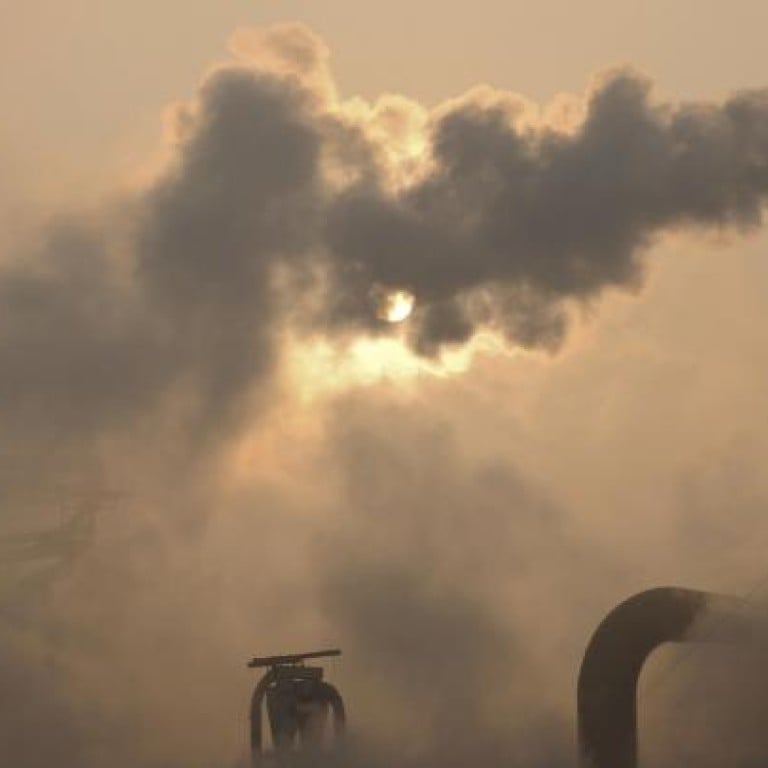 Ex-minister blames China's pollution mess on lack of rule of law
Above-the-law leaders passed up chance to avoid environmental woes decades ago, choosing frenzied growth instead of protecting resources
China had a chance to avoid environmental disasters some 40 to 30 years ago, the country's first environmental protection chief has lamented amid worsening air and water pollution.
But Professor Qu Geping, who has overseen environmental policymaking since the early 1970s, said pollution had run wild as a result of unchecked economic growth under a "rule of men", as opposed to the rule of law. Their rule imposed no checks on power and allowed governments to ignore environmental protection laws and regulations.
"I would not call the past 40 years' efforts of environmental protection a total failure," he said. "But I have to admit that governments have done far from enough to rein in the wild pursuit of economic growth … and failed to avoid some of the worst pollution scenarios we, as policymakers, had predicted."
Qu, 83, was China's first environmental protection administrator between 1987 and 1993. He then headed the National People's Congress environment and resource committee for 10 years.
After three decades of worsening industrial pollution resulting from rapid urbanisation and industrialisation, China has accumulated huge environmental debts that will have to be paid back, Qu said.
He said recently he regretted that some of the very forward-looking strategies - emphasising a more balanced and co-ordinated approach to development and conservation, that were worked out as early as 1983 - were never put into serious practice when China was still at an early stage of industrialisation.
In 1970, premier Zhou Enlai had invited a Japanese journalist to give a lecture to senior government officials on the lessons Japan had learned from a series of heavy metal pollution scandals that killed several hundred people during a period of rapid industrialisation in the 1950s and 1960s, Qu said.
"But looking back, China fell into the same trap again," he said. "In some cases, the problems are even worse now given the country's huge population and the vast scale of its economy."
Less than a month into the year, the mainland has recorded never-before-seen levels of air pollution in a number of northern cities, including Beijing. Concentrations of PM2.5 - tiny particles that are particularly damaging to health because they can penetrate deep into the lungs - reached more than 40 times recommended safety levels.
Wang Jinnan, a deputy director at the Chinese Academy for Environmental Planning, warned recently that "the worst is yet to come" in terms of the mainland's pollution woes because the health impact would only gradually unfold.
Responding to the record-breaking smog, premier-to-be Li Keqiang once again vowed that the country's industrial production and consumption patterns would be changed.
But, Qu said, if the central government had respected a policy that it released in 1983, China could be in a much better place now.
"The State Council published a document that year, stipulating that economic and urban construction should synchronise with environmental protection, so that the three legs of social development could reach a co-ordinated benefit," he said. "It was a pragmatic and feasible strategy, even more approachable than the notion of 'sustainable development' enshrined by the United Nations years later."
Sustainable development was a concept officially defined by the UN in 1987.
However, the mainland has witnessed at least three waves of pollution since then.
The first was caused by the boom in so-called township enterprises - businesses run by farmers in the countryside - that started 1984 and led to the chaotic spreading of pollution across the mainland.
The second was the rush to develop infrastructure and industrial projects after paramount leader Deng Xiaoping's southern tour in 1992 that resulted in pollution of major rivers and lakes and the degradation of urban air quality.
That was followed by a renewed wave of building of energy-intensive and highly polluting heavy industries, including petrochemical, cement, iron and steel plants, among others, in the past decade under Hu Jintao's reign - dubbed a "golden decade" - which turned the mainland into the world's biggest polluter.
"In the face of such mounting pressures, all the administrative orders and technical solutions on pollution control became inadequate," Qu said.
There was an obvious contradiction in the central government's claim to co-ordinate growth with conservation and its unchecked thirst for economic development rooted in a political system, Qu said.
"Why was the strategy never properly implemented?" he said. "I think it is because there was no supervision of governments. It is because the power is still above the law.
"I've always felt ill at ease whenever I was recognised for my contribution to China's environmental protection, because the country now faces so many environmental problems," Qu said, becoming emotional. "But looking back, there was not much more I could have achieved as an individual. Without actions from the whole government and without changing the system, nothing could be done."
This article appeared in the South China Morning Post print edition as: Top adviser says weak ruleof law fed pollution mess