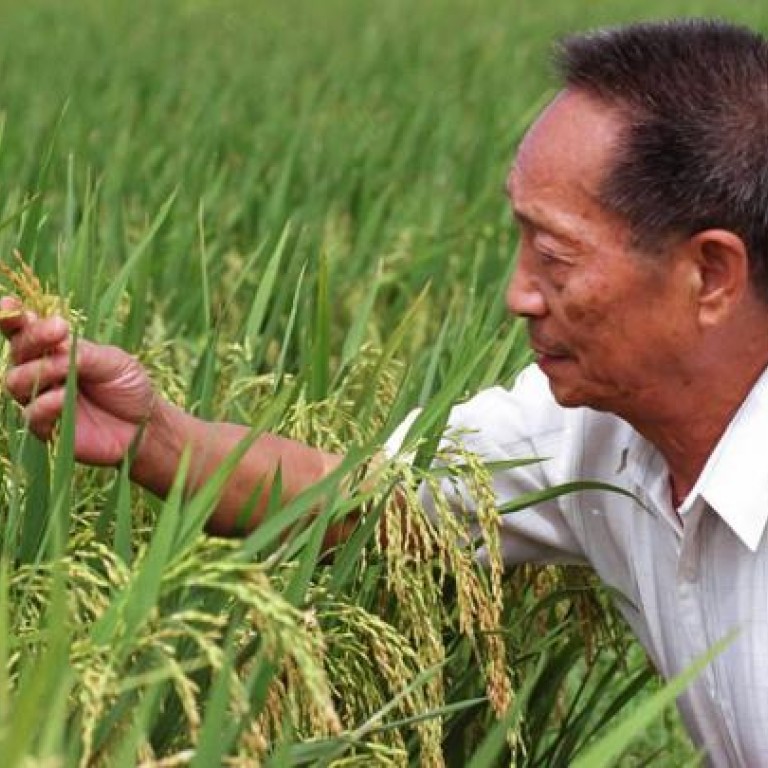 Fine people who waste food, says pioneering rice scientist
'Father of hybrid rice' slams the excess of sumptuous official banquets
Agricultural scientist Yuan Longping has called on Beijing to stop people wasting tens of thousands of tonnes of food each year by issuing fines.
Yuan, a member of the Chinese Academy of Engineering who is known as "the father of hybrid rice", said he had seen too many sumptuous banquets that ended up with many leftovers.
"I suggest the government prohibit wasting food by treating it as a kind of crime and shameful behaviour," he said. "Many banquets I have attended offered dozens of different dishes to the guests, who only briefly tasted each dish and then threw them away. The authorities should fine them."
Yuan said squandering food was unforgivable, especially because China had to pull out all stops to provide enough food for its 1.3 billion people due to its limited arable land. "It was difficult to improve rice's output, but after we did we found the food was being wasted," he said.
China News Service has reported that the country's leftover food could feed more than 200 million people a year. The State Council Leading Group Office of Poverty Alleviation and Development said about 128 million people were living below the official poverty line in 2011.
Meanwhile, 28 million undergraduates studying at mainland universities throw away enough food every year to feed 10 million people, according to research by China Agricultural University.
The extravagant publicly funded official banquets are one of the major sources of leftovers. Officials often order many more expensive dishes than needed to impress superiors or investors with their hospitality.
Last month, the standing committee of the Beijing Municipal People's Congress told officials they could only have buffets during inspection visits.
In Xinjiang, authorities now said receptions should not last longer than 45 minutes, while officials in Henan have been told to limit themselves to buffets, featuring no more than four dishes.
Five-star hotels have seen many banquet bookings cancelled, with Xinhua reporting that officials now prefer to banquet in secret in luxury restaurants in government compounds.
This article appeared in the South China Morning Post print edition as: Fine people who waste food, says scientist