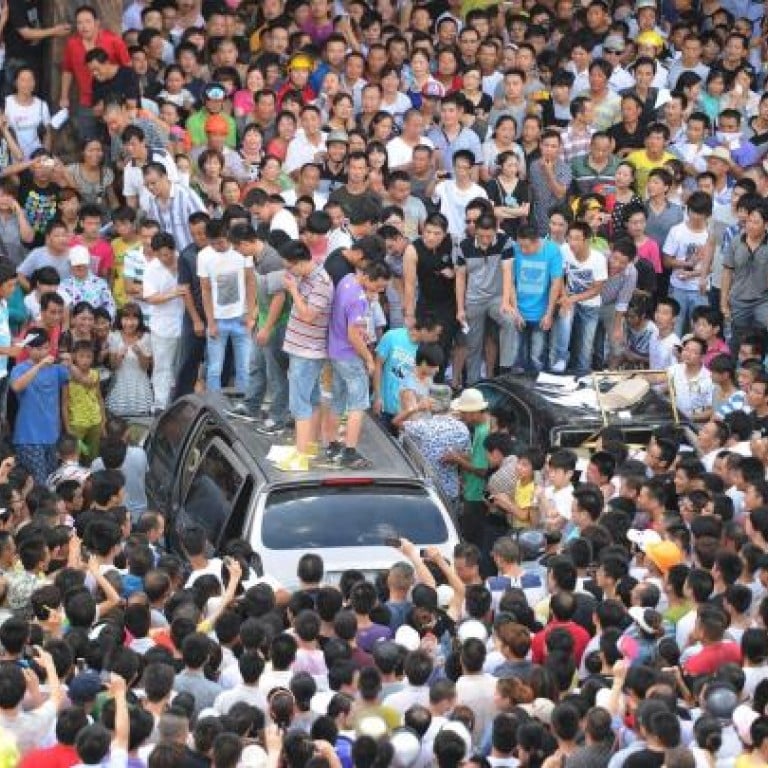 Zhu Baosheng among more than 10 protesters who face criminal charges
Zhu Baosheng is among more than 10 who face prosecution for storming a government building
More than 10 people who participated in a mass demonstration in July against plans to build an industrial sewage pipeline in a port city near Shanghai face criminal charges for offences that include overturning cars and ransacking government offices, according to mainland media reports.
Among those facing charges in Qidong, Jiangsu, is Zhu Baosheng, who allegedly forced the city's mayor, Xu Feng, to wear a T-shirt with anti-pollution slogans during the protest. Zhu, 43, is accused of "assembling crowds to attack a state organ" and will stand trial today, according to his lawyer, Zhang Peihong .
"Local prosecutors indicted Zhu as an active participant in the alleged offence, which could land him in prison for up to five years if he is found guilty," Zhang said. "Under mainland law, a suspended sentence could be given … but it seems that the local government does not want to grant him probation, based on the feedback I've received so far."
It was unclear whether Zhu is the first among the protestors to be put on trial, but the reported on Saturday that the trials for about 10 others would begin this week.
According to the indictment, Zhu is accused of leading a crowd that broke through a police cordon and rushed into the city government headquarters on July 28.
"Together with others, Zhu smashed a clock in the lobby inside the building," the indictment says. "He then climbed on top of a black sedan and displayed and distributed items taken from the building to the surrounding crowd … Zhu also assaulted a government official."
Tens of thousands demonstrated against a Japanese-owned paper factory's wastewater pipeline plan, fearing it could pollute a nearby fishing port. After breaking into the building, the mob threw documents out windows and seized cigarettes and bottles of wine from offices.
The protest was seen as a victory for local residents, because the Qidong government then scrapped the plan soon after the protest. But putting protesters on trial suggests the local government is seeking retribution.
Zhu was detained in August for "disturbing social order", a lighter accusation, but is now being prosecuted under a more severe charge, Zhang said.
"The local government should also bear some responsibility for the protest, due to its poor transparency on industrial plans," Zhang said. "It will anger the public again if Zhu, as well as other protesters, are handed heavy sentences."
This article appeared in the South China Morning Post print edition as: Qidong protest leaders facing criminal charges