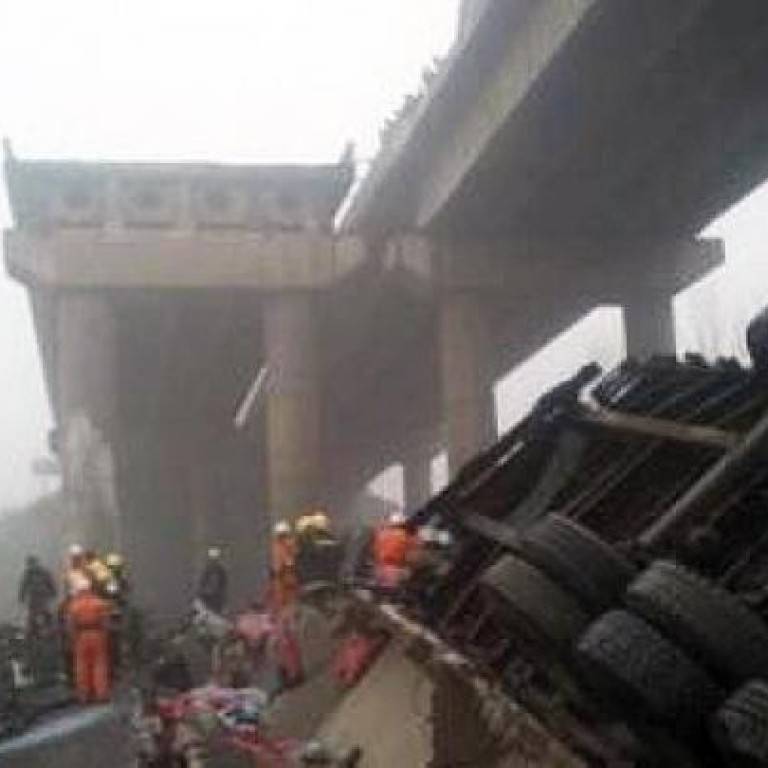 26 killed in bridge collapse after fireworks truck explodes on Henan highway
At least 26 people were killed when a truck carrying fireworks exploded and destroyed part of an elevated highway in central China's Henan province, state media reported on Friday.
Rescue crews are working frantically to find survivors who may have been trapped under more than a dozen vehicles that crashed off the bridge. 
Witnesses said more than a dozen vehicles, including heavy freight trucks, plummeted more than 30 metres to the ground. The Liaonhuo highway is a major national motor route running east-west across central China. 
Twenty-six people were killed in the blast, China National radio reported. At least 15 people were injured and sent to nearby hospitals, the Henan Commercial Daily newspaper reported.
There could be survivors trapped in the wrecked trucks that had plummeted off the damaged bridge, according to People's Daily. More than 200 rescue personnel had been dispatched to the site, it said. 
Photos posted by netizens on the popular social media service Weibo showed a stretch of elevated highway gone, with a truck perched precariously at the broken edge.
Other photos showed damaged trucks below the bridge span and blackened chunks of scattered debris, including collapsed sections of the highway and cargo containers.