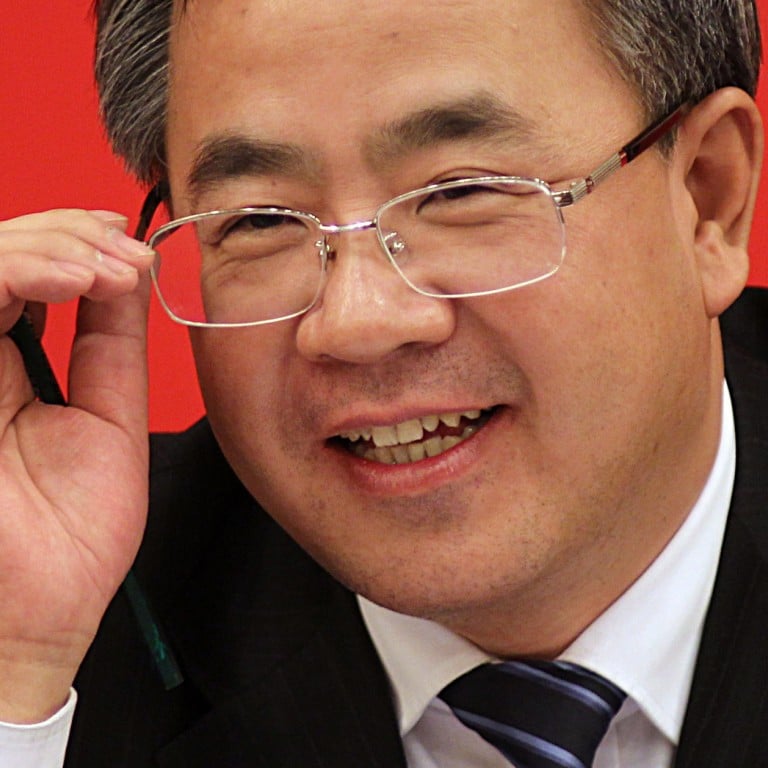 Hu Chunhua eager to maintain Guangdong's engine of growth
Provincial party chief Hu Chunhua determined to keep its place among top three economic regions amid stiff competition from elsewhere
Beijing, Shanghai and Guangzhou remain the top three cities on the mainland in terms of economic status and living standards.
But Guangdong's new Communist Party chief, Hu Chunhua, is worried that the southern city may be losing its glamour and becoming increasingly irrelevant.
At the recent meeting of the provincial People's Congress, Hu told Guangzhou officials to stay alert and be prepared because the city's economic status was under threat. Not only was the gap with Beijing and Shanghai widening, he said, but Guangzhou was also facing stiff competition from the port city of Tianjin in the north.
"Last year, Tianjin's total economic output was only 60 billion yuan (HK$74 billion) less than Guangzhou's, and if looking at other indicators, Guangzhou is already falling behind," , the provincial party mouthpiece, quoted Hu as saying last week.
Unlike his predecessor Wang Yang , who told Guangdong officials that the quality of growth was more important than the quantity, Hu, a rising political star who has been in his new post for fewer than two months, has made the province's economic ranking a higher priority.
Echoing his concerns, senior Guangdong officials at the People's Congress meeting vowed to speed up growth amid worries the province might lose its economic pole position as the mainland's most productive region to Jiangsu as early as 2015.
Maintaining Guangzhou's status as a top-tier city is seen as a must-win battle in Hu's quest for the province to retain the top spot it has occupied for the past 24 years, as it contributes a quarter of Guangdong's total economic output.
Hu warned local officials that Guangzhou would be no different from any other sub-provincial mainland city if it was overtaken by Tianjin and Chongqing , and would lose its allure for investors.
As party chief of Inner Mongolia for five years before moving to Guangdong, Hu boosted economic growth, lifting the autonomous region's per capita gross domestic product to more than US$10,000 - almost triple the figure when he took office in 2007.
But Professor Niu Haipeng , from Renmin University, said Hu established a worrying environmental record in the process, with growth achieved at the cost of environmental degradation and the public's health.
Hu has urged Guangzhou officials to "get the job done" and push ahead with proposals.
"The plans for Nansha new zone and Sino-Singapore Knowledge City are all good ones, but the key is when they can be delivered and generate profits," he said.
Dr Peng Peng , a researcher at the Guangzhou Academy of Social Sciences, said Hu's concerns were not unwarranted, given that he could not afford to see Guangdong lose its leading economic role on his watch, as he still had his eyes on future promotion to the next generation of top leadership.
Peng said Tianjin's new coastal economic zone was gradually maturing with high-end manufacturing and heavy industries such as oil refineries and petrochemical plants.
In contrast, Guangzhou relied less on heavy industry.
"Also, the Nansha new zone and the knowledge city are still in their infancy," Peng said. "Whether they can become new growth engines will depend on how Guangzhou officials kick the game off."
Currently, the focus still seems to be on accelerating infrastructure development. Guangzhou rolled out an urban plan for Nansha on Wednesday and is soliciting public opinions. The plan includes a new airport and a subway system, with seven lines and 34 stations linking Nansha to airports in Shenzhen, Guangzhou and Hong Kong, and Guangzhou South railway station.
However, a massive sinkhole that opened up at a subway construction site in central Guangzhou on Monday should give city authorities pause before they make hasty decisions solely for the sake of the province's economic growth.
Five shops and a three-storey building were swallowed by the nine-metre-deep hole, which covered an area of 300 square metres. No casualties were reported, but local residents said it was the second large instance of subsidence since 2004.
And even though a 2008 report by the Guangdong Geology Institute found the surrounding area was not geologically stable, plans for two subway lines passing through the area still proceeded.
Some environmentalists have also questioned whether such a rush for economic growth would be viable in Guangzhou, which boasts stronger civic awareness than most mainland cities, thanks to having a relatively freer media.
Guangzhou's city government recently had to shelve a plan to build a tunnel cutting through the lush Baiyun Mountain, known as the "lung of the city", due to opposition from university students.
"Obviously, the new leader is eager to prove himself with tangible economic growth figures, which is understandable, but do not forget that Guangzhou is not a place where the will of officialdom rules," said the director of a local green organisation.
This article appeared in the South China Morning Post print edition as: Guangdong 'must maintain engine of growth'