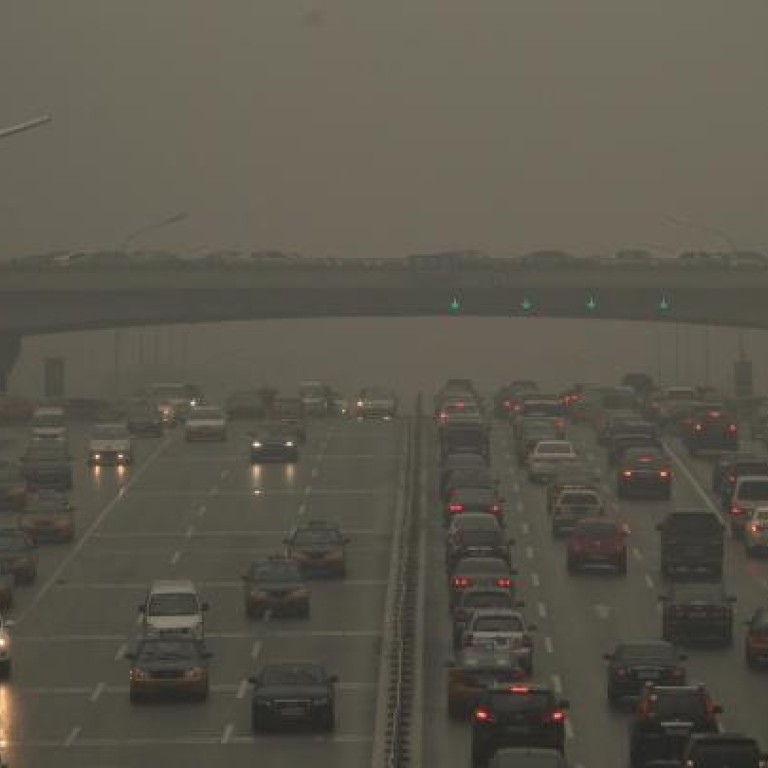 State oil and pollution politics blamed for bad air in China
Bureaucratic fighting between the environment ministry on the one hand and China National Petroleum Corp and Sinopec on the other has thwarted stricter emission standards for diesel trucks and buses – a main cause of air pollution blanketing dozens of China's cities.
The search for culprits behind the rancid haze enveloping China's capital has turned a spotlight on the country's two largest oil companies and their resistance to tougher fuel standards.
Bureaucratic fighting between the environment ministry on the one hand and China National Petroleum Corp (CNPC) and Sinopec on the other has thwarted stricter emission standards for diesel trucks and buses – a main cause of air pollution blanketing dozens of China's cities.
With widespread and rising public anger changing the political calculus, it also poses a broader question of whether the incoming administration led by Communist Party chief Xi Jinping will stand up to powerful vested interests in a country where state-owned enterprises have long trumped certain ministries in the quest for economic growth at all costs.
"I think the Communist Party's new government should weaken CNPC and Sinopec," said Wang Yukai, a professor from the National School of Administration. "These interest groups have too much power."
Delays in implementing stricter emission standards are rooted in money – chiefly, who should pay for the price of refining cleaner fuels? By some estimates, auto emissions contribute as much as a quarter of the most dangerous particles in Beijing's air.
To supply cleaner diesel, the oil firms must invest tens of billions of yuan (billions of US dollars) to remove the sulphur content, said Xiaoyi Mu, a senior lecturer in energy economics at the University of Dundee in Scotland.
PetroChina, the listed arm of CNPC, said in a statement sent to Reuters that all automotive diesel produced by PetroChina last year met existing Chinese emissions standards.
It added PetroChina would "push forward upgrading of fuel quality, and supply clean, good quality and diversified products".
Sinopec did not respond to repeated phone calls from Reuters seeking comment.
Sinopec chairman Fu Chengyu, quoted in state news agency Xinhua last week, acknowledged that China's refineries are one of the main parties that should bear responsibility for air pollution. Even so, he added that was not because fuel failed to meet standards but rather because fuel standards were not sufficient.
 
An ongoing feud
The bureaucratic tug-of-war has been going on for years.
Frustrated by the repeated delays in enforcing existing environmental standards, China's deputy environment minister, Zhang Lijun, called a meeting in late 2011 with officials from the country's two biggest oil companies.
In unequivocal statements, he sought to lay down the law: The ministry was not going to further delay the cleaner China IV emission standard for trucks and buses, despite reluctance by CNPC and Sinopec to supply the fuel that would cost more to produce.
"If the sulphur content in your oil is too high and does not meet the standards, and if cars break down, it'll be your responsibility. The environment ministry will have nothing to do with it," Zhang said, according to Tang Dagang, director of the Vehicle Emission Control Centre, who was present at the meeting.
The officials from the oil companies responded by promising to supply the cleaner fuel after the Lunar New Year last year, a traditional holiday that fell in January that year.
But a few months later, a spot check by the environment ministry showed the companies were still supplying ordinary diesel, said Tang, whose policy research group is affiliated with the ministry.
With media focusing on a sudden worsening of the air quality in Beijing at the start of this year – 21 days in January recorded "heavily polluted" levels or worse – urban residents are increasingly impatient with the political wrangling.
"The air pollution is terrible," said Beijing resident Zhang Shuqing. "They need to sort it out, the department responsible needs to sort out the environment."
The environment ministry, however, faces formidable odds in the face of China's complex bureaucracy and weak enforcement of laws.
 
Bureaucratic barriers
At least 10 government entities such as the powerful National Development and Reform Commission (NDRC) and the Ministry of Industry and Information Technology (MIIT) shape policies that affect the environment.
Unlike the US Environmental Protection Agency, the environment ministry has no power to set fuel emission standards, and sometimes it is not even consulted on decisions taken by other government departments that would affect the environment.
For example, when the MIIT and the NDRC held a meeting to deliberate on a policy subsidising energy-saving cars, they never contacted the environment ministry, said Ding Yan, deputy director of the Vehicle Emissions Control Centre. As it turns out, some of these cars are actually relatively heavy polluters.
In 2008, China promoted the State Environmental Protection Administration to a full ministry in a bid to give it more weight in the country's fight against pollution.
Yet the ministry still lacks the authority to force big state-owned enterprises and local governments to toe the line. The ministry did not respond to a request for comment.
"Even a powerful environment minister is of no use," Ding said. "You need the highest leaders like Xi Jinping and Li Keqiang to really value the work of the environment ministry."
Excessive pollution levels have already prompted the Beijing government to roll out a series of temporary emergency measures such as shutting down 103 heavily polluting factories and taking 30 per cent of government vehicles off roads, but the capital's air has remained hazardous.
It remains unclear whether Xi will restrain the influence of the oil firms, but with public anger rising, and with a normally compliant media joining in the calls for action, political pressure is growing.
The problem for oil firms such as PetroChina, the listed arm of CNPC, and Sinopec is that central planners set prices at the pump, even when global energy costs remain high.
Tang said both CNPC and Sinopec have told the environment ministry that they would have supplied the fuels "if they had gotten a reasonable price".
Jiang Kejun, research professor at the NDRC's Energy Research Institute, says it is unreasonable to demand that CNPC and Sinopec bear the cost of refining cleaner fuels.
"I'm an environmentalist and I also hate the actions of CNPC and Sinopec," Jiang said. "But we have to tell the public: energy prices will rise significantly. There's no way you can enjoy both low energy prices and fresh air."
With no supply of cleaner diesel fuel, Beijing had to delay the implementation of the China IV emission standard for diesel trucks and buses twice – first in 2011 and then later last year, when it was extended to this July.
The new standard aims to cut emissions of particulate matter and nitrogen oxide.