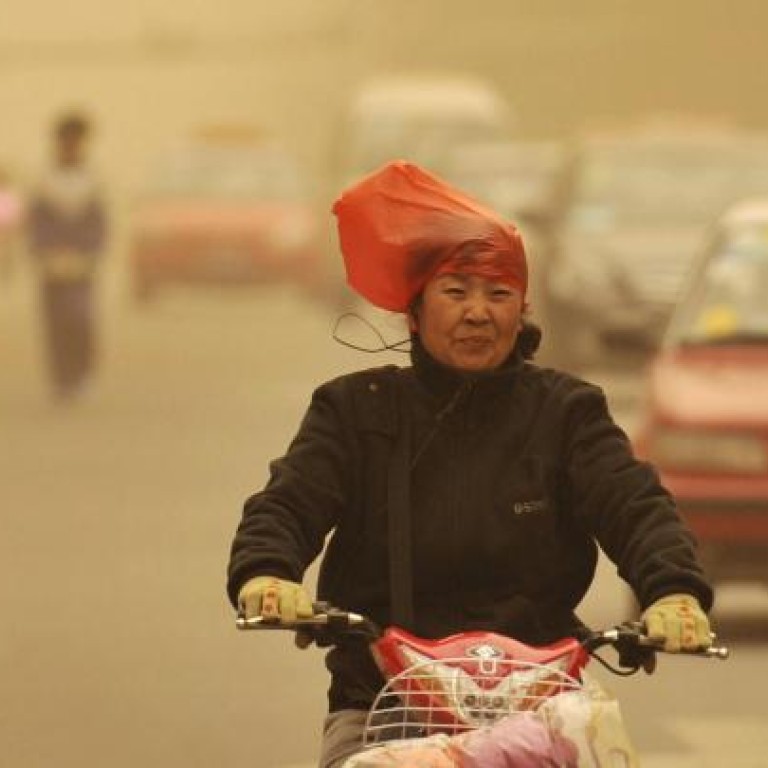 Darkness at noon as worst dust storm in months mixes with morning smog
An acrid mix of desert dust and urban smog pushes capital's air quality index off the scale before arrival of lung-saving northwesterly change
The sun vanished and nearby buildings disappeared from view across northern China yesterday morning as the worst dust storm in months combined with thick, stagnant smog to create an acrid mix of air that deepened health concerns.
Just days before the opening of the National People's Congress (NPC) - a time when authorities are particularly keen on positive publicity - early risers saw Beijing shrouded in "hazardous" smog that reduced visibility to a few hundred metres.
Both the US embassy's Twitter feed and the official Beijing figures showed the air quality index reached the scale's maximum level of 500 in the late morning and early afternoon.
More than 20 flights were delayed or cancelled at Beijing Capital International Airport.
Similar, if not worse, conditions were seen across the region, including Tianjin , Shijiazhuang in Hebei , and across Shaanxi and Shanxi provinces. Most highways in Hebei were closed.
Many people commented in Beijing and online that the air quality was the worst in weeks.
As forecast by the Beijing Environmental Protection Bureau, strong northwesterly winds arrived at midday, improving things considerably. The index reading dropped below 50 to "good" levels, according to embassy readings, but not before the winds brought a wall of thick dust from Inner Mongolia .
While the level of health-threatening PM2.5 pollutants improved, the level of larger PM10 pollutants exceeded 1,000 micrograms per cubic metre in the early afternoon.
Weather authorities said the dust storm - the first this year and the worst in months - affected a vast swathe from Inner Mongolia to Hebei.
The combination of smog and dust renewed public concerns about China's air pollution.
Niu Di , who grew up in Beijing and now lives and works in the Chaoyang business district, said he was surprised by the conditions yesterday.
"I've never had a day like this, having breakfast with smog and then lunch in a dust storm. I've never seen that kind of weather, but it makes me worry more about the city's future," the 35-year-old said.
Chang Hong , a real estate agent from Jilin province, said the bad air quality had emboldened her to leave the city as soon as she saved enough to start a business in her hometown.
"What puzzles me is that real estate prices in Beijing have been increasing as rapidly as the air pollution for months," she said.
Retired pro-basketball player Yao Ming , who was in Beijing as a delegate to the NPC and Chinese People's Political Consultative Conference next week, was photographed frowning at the sky outside his hotel.
Professor Chen Tian , from the Institute of Geographic Sciences and Natural Resources Research, has been puzzled by China's abnormal air pollution in recent months. He said the usual pollution sources like car emissions and deforestation were no worse than in previous years.
This article appeared in the South China Morning Post print edition as: Dust storm adds to air pollution