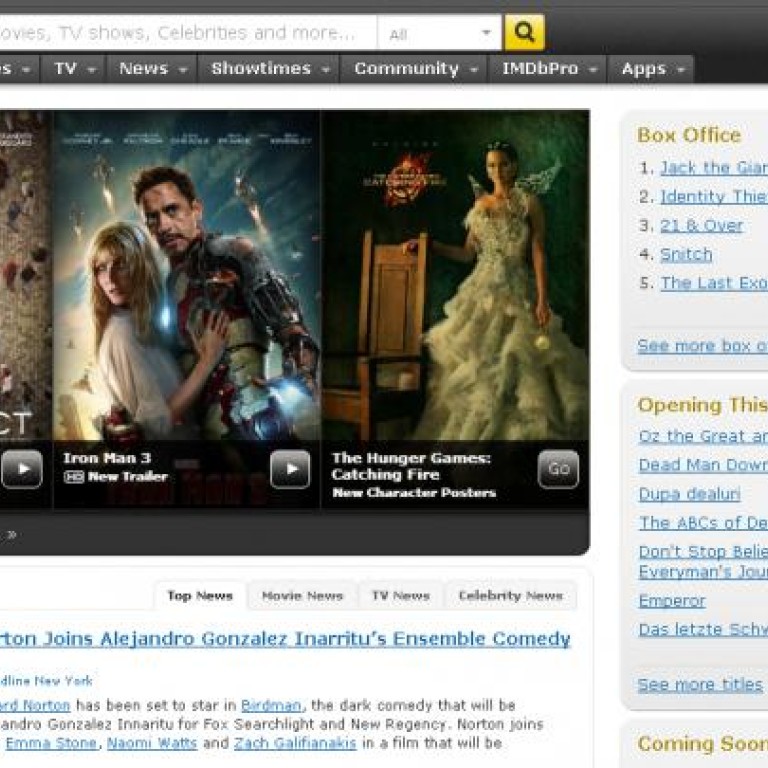 Film buffs thrilled after China unblocks IMDB movie database
IMDB site blocked since January 2010 after movie site's homepage featured a preview of a documentary about the Free Tibet movement
China's movie fans were thrilled and baffled after finding out on Wednesday that popular movie website
IMDB (Internet Movie Database)
had been unblocked by censors - an unexpected move many consider a signal that more changes are coming.
Both the English- and Chinese-language websites of IMDB were blocked by the government in January 2010. Given no official explanation, many believed IMDB had offended Chinese authorities when its homepage featured a preview of
When the Dragon Swallowed the Sun
, a documentary about the Free Tibet movement led by the Dalai Lama.
The 2010 move had angered and frustrated netizens, especially avid fans of foreign movies.
On Wednesday, many debated why the site was unblocked. In particular, they questioned its timing - as the National People's Congress (NPC) and People's Political Consultative Conference (CPPCC) were holding their annual legislative meetings in Beijing.
"Thank you, China's new leaders, this is wonderful," wrote a blogger on Sina Weibo, China's Twitter-like service.
Many speculated on the next sites to be "freed".
"What's next? Facebook or Twitter?," commented a blogger.
"Don't have any expectations for the censors," advised another. "Unblocking a movie site means nothing."
China's "Great Firewall", a system of internet restrictions, blocks access to websites the government considers a threat, among them Facebook, Twitter and Youtube.
Authorities last year blocked the
New York Times
website after 
the newspaper reported
 on Premier Wen Jiabao's family wealth, amounting to US$2.7 billion. Both its English- and Chinese-language websites still remain unavailable on the mainland.
"Is China really going to change?", asked a blogger on Weibo.