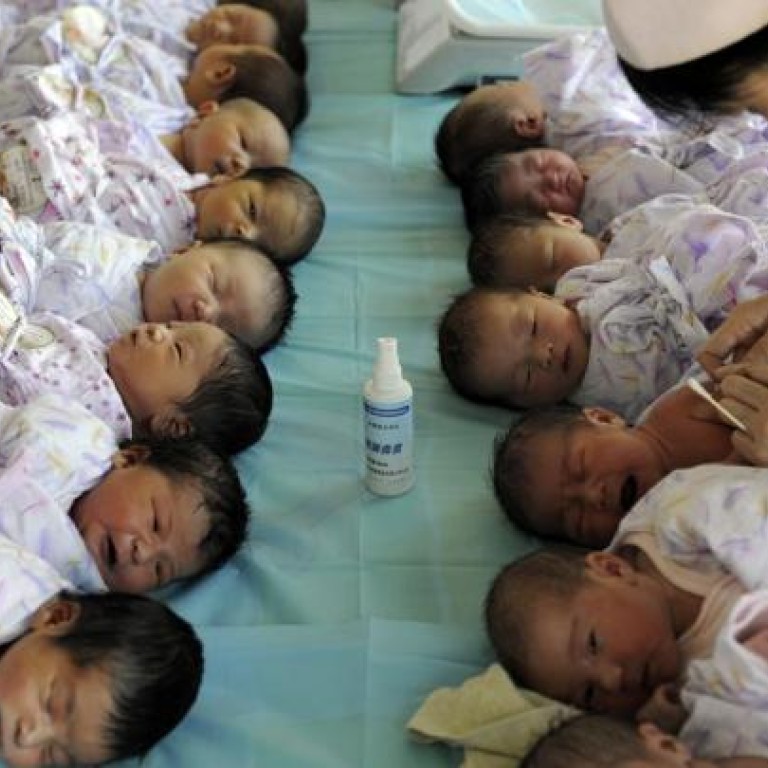 New realities drive population policy, experts say
Axing of family planning commission reflects economic, demographic changes, experts say
The decision to dissolve the National Population and Family Planning Commission demonstrates changing attitudes about population control after nearly a half of century of successful - if often brutal - efforts to control the mainland's birth rate, population experts said.
"Social conditions changed, the economy changed, demographics changed," said Huang Rongqing, a professor of population at the Capital University of Economics and Business.
"But what changed most was the administration's understanding of the population issue, that it is an important factor, but not the most decisive factor of the social economy, and that birth control was no longer the most important thing."
Zhai Zhenwu, a demographer with Renmin University, said placing population policies under the powerful National Development and Reform Commission showed the continued importance of demographics in economic decision-making.
The State Council established the original Family Planning Commission in 1964 to promote birth control as the birth rate peaked after the great famine of the early 1960s. Still, the population continued to soar, reaching 800 million in 1970.
The commission was abolished during Mao Zedong's Cultural Revolution in 1968, with family-planning work passed to the Health Ministry and, after 1973, the State Council's Family Planning Leadership Task Force.
The issue took on new urgency in the late 1970s as the post-famine baby-boomers approached child-bearing age.
"It was believed the high birth rate would have an impact on the economy and China's grain output would not be able to feed so many people," Huang said.
In 1979, the central government implemented its controversial one-child policy. Two years later, family planning was made a basic state policy and the National Family Planning Commission was created.
For the next two decades, the commission enforced the country's strict birth targets, encouraging many officials to resort to forced abortions, even late into pregnancy. After 2000, the commission banned the practice, although in reality local officials continue to carry it out.
"That target resulted in much brutal work, especially in the rural areas," Huang said.
The effectiveness of the one-child policy has been a matter of great debate. But defenders of the commission say it has prevented more than 400 million births.
On the flip side, mainland society is now rapidly greying. By 2000, the number of people aged 60 or over had surpassed 10 per cent of the total population, and almost 7 per cent of the population were aged 65.
Reflecting the changing demographics, the commission was renamed the National Population and Family Planning Commission in 2003. Ten years on, the agency's family-planning workload has declined and increasingly overlaps with that of health authorities, Huang said.
This article appeared in the South China Morning Post print edition as: Population policy driven by new attitudes, realities