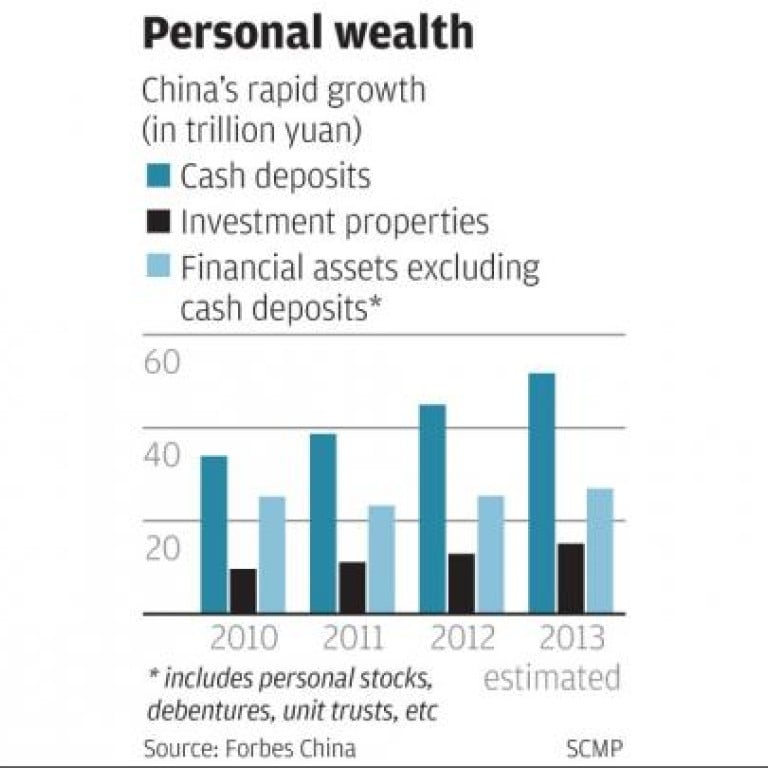 Below the super-rich, Forbes counts 10.3m Chinese as wealthy
Forget the super-rich; how did the merely wealthy mainlanders – with liquid assets of US$100,000 to US$1m – fare last year, magazine asks
Reports about China's uber-rich have become common, with magazine and the regularly compiling lists of the wealthiest and their relative fortunes
In September, for example, Hurun published its list of the 1,000 richest people in China, who had average wealth of US$860 million. The list was topped by beverage magnate Zong Qinghou, worth an estimated US$12.6 billion.
Three weeks later, issued its annual list of the 100 richest mainlanders, again topped by Zong, whose fortune it estimated at US$10 billion.
Now has turned its focus on the lower rungs of the wealth ladder, calculating that the number of people with liquid assets of between US$100,000 and US$1 million reached 10.26 million last year, and is expected to top 12 million this year.
More than a third of them were born in the 1970s and the top three industries they were involved in are finance, trade and manufacturing, its study said.
Three-quarters of respondents surveyed said they had no plan to emigrate, but the same percentage expressed a wish to send their children to study overseas. The United States was their first option.
Forbes, which surveyed 1,196 people with the required disposable assets and extrapolated the total based on statistical models, said private investable capital on the mainland totalled 83.1 trillion yuan (HK$102.7 trillion) by the end of last year, up 13.7 per cent from 2011.
The assets of the mass affluent came mainly from salaries, bonuses and investment income; the most popular investment channels for them were wealth management products, stocks and property.
Around 55 per cent were male, more than half were university graduates, and they had average disposable assets of 1.33 million yuan.
According to , around 54 per cent of the respondents had annual household incomes of 110,000 yuan to 500,000 yuan, 27 per cent had incomes of 510,000 yuan to 1 million yuan, and 14 per cent earned 1 million yuan to 5 million yuan.
Two-thirds said their annual household spending was below 300,000 yuan, and their three major expenditure items were daily expenses, their children's school fees and investments.
Most had increased spending on travel, a major leisure activity for them. Other popular pastimes included exercising, driving cars and collecting antiques, luxury goods and modern art.
The survey found 40 per cent owned at least three properties.
For many of the respondents, achieving financial freedom was their ultimate goal. Nearly six out of 10 said they had yet to realise this, and more than half said it would take 6 million yuan to 30 million yuan to get there.
This article appeared in the South China Morning Post print edition as: China's averagely rich 10.3m and rising