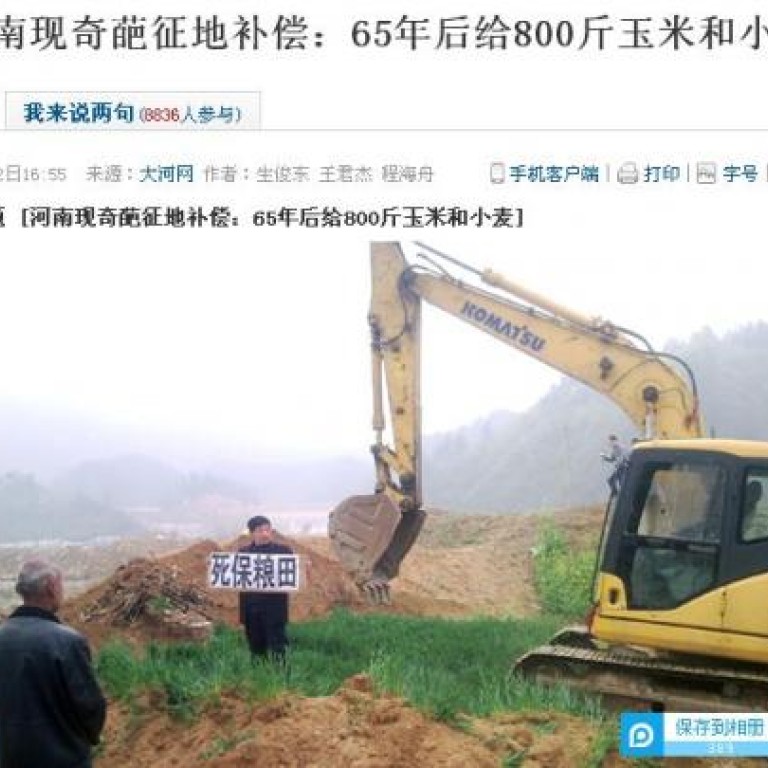 Henan farmers reject proposed land-grab compensation
Henan farmers have angrily refused to recognise a local government land requisition in which famers were offered compensation in crops after 65 years.
Shuanglong villagers attempted to break into a Miaowanzu construction site on requisitioned land on Sunday, leading to conflict as villagers vowed to protect their farms from a government land grab, Henan provincial news portal dahe.cn said on Wednesday.
The farmers said that they had to provide 18.7-acres of land in exchange for 12,982 square metres of storage space. As compensation, Shuanglong government would give the villagers 66.7 kilograms of wheat and corn for every acre of land, but payment would not be made for 65 years.
The villagers said that the proposal was no different from handing the land to the government for free.
The government wanted to use the land to construct government and municipal buildings as well for real estate development, the report said.
The prolonged standoff began in November 2011, villagers said, when Shuanglong party cadres pressed them to sign the agreement. The report said that confrontations between officials and villagers had resulted in violence several times in the past two years, but the villagers said that they had consistently refused to recognise the agreement.
Villagers said they had voted 53 to 26 against the agreement in August last year, but this had not stopped authorities from continuing to carrying out construction work at the site.
One comment under the news report read, "Chinese farmers have already sacrificed too much for the nation's development and prosperity. But they are to sacrifice again this time. Why are they always hurt?"