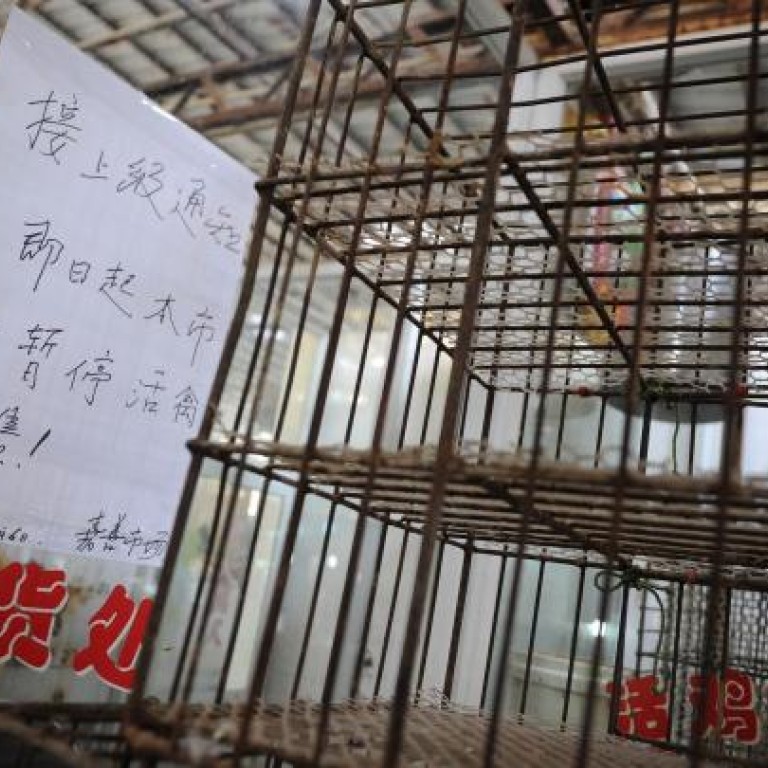 Shanghai considers permanent ban on sale of live poultry
As death toll from H7N9 bird flu rises to nine, with 20 others infected, Shanghai considers permanent ban on selling birds in wet markets
Shanghai authorities are considering a permanent ban on the sale of live poultry in the city, as the death toll from the H7N9 avian flu virus continues to rise.
Authorities said yesterday the virus had claimed its eighth and ninth victims - an 83-year-old man from Suzhou , Jiangsu , who died a week after testing positive for the virus, and a 35-year-old woman from Chuzhou, Anhui.
Four more infections with the new bird flu strain were also confirmed yesterday. In Shanghai, authorities said two local men, aged 62 and 77, were being treated for the virus and were in stable condition. In Zhejiang province, a 51-year-old woman in Huzhou and a 79-year-old man in Hangzhou were found to have the viris.
Twenty-nine people have now been diagnosed with the bird fllu.
The director of Shanghai's agriculture commission, Sun Lei , said it would consider a public consultation on a permanent ban for the live-poultry trade, after 20 samples taken from wet markets tested positive for H7N9, according to the .
A total of 7,185 samples were collected by yesterday and included pigeons, chickens and feathers, the reported. More than 111,000 birds have been culled in the city since Thursday.
Many mainlanders prefer buying live poultry and having it butchered in a market or at home, as they believe the meat is fresher and tastes better.
However, Sun said that meat kept at temperatures between zero and 4 degrees Celsius "is more tasty than that which is butchered and cooked immediately", because acidity in the meat is reduced by chilling it first.
He acknowledged that banning the sale of live poultry would require consumers to change their cooking habits, but said: "I believe Shanghai residents will make the right choice as long as the chickens are safe and tasty."
Beijing banned all trade in live poultry in 2005, and the ban became permanent in 2006 after the Ministry of Agriculture issued a directive urging big cities to phase out such sales. The directive was not widely followed.
Cities in Zhejiang and Jiangsu have temporarily closed wet markets because of H7N9.
The authorities appear to have their work cut out convincing the public to give up buying live poultry. An online survey of internet users on Sina. com yesterday showed nearly 1,000 people were in favour of only a temporary closure of live-poultry markets, while only 600 said markets should close permanently.
Zhao Deming, a professor of veterinary medicine at China Agricultural University in Beijing who studies diseases that infect both people and animals, wants to ban the live-poultry trade.
"Having live poultry in a crowded market is bad for human health," Zhao said. "The virus might spread to nearby animals and then to humans. It presents a great challenge for disease control and prevention."
The Ministry of Agriculture yesterday ordered local governments nationwide to collect samples from poultry markets, poultry farms and slaughterhouses to test for the presence of H7N9.
After the Shanghai Carrier Pigeon Association told its members to stop flying some two million homing pigeons, its Hangzhou counterpart said 60,000 pigeons in the care of its members would be caged for up to two months and vaccinated.
Meanwhile, criminals tried to capitalise on the outbreak.
Jiangsu police said there had been at least nine types of scams reported, including one in which parents were called by swindlers posing as teachers asking them to deposit money into a bank account supposedly belonging to a hospital because their children had been quarantined.