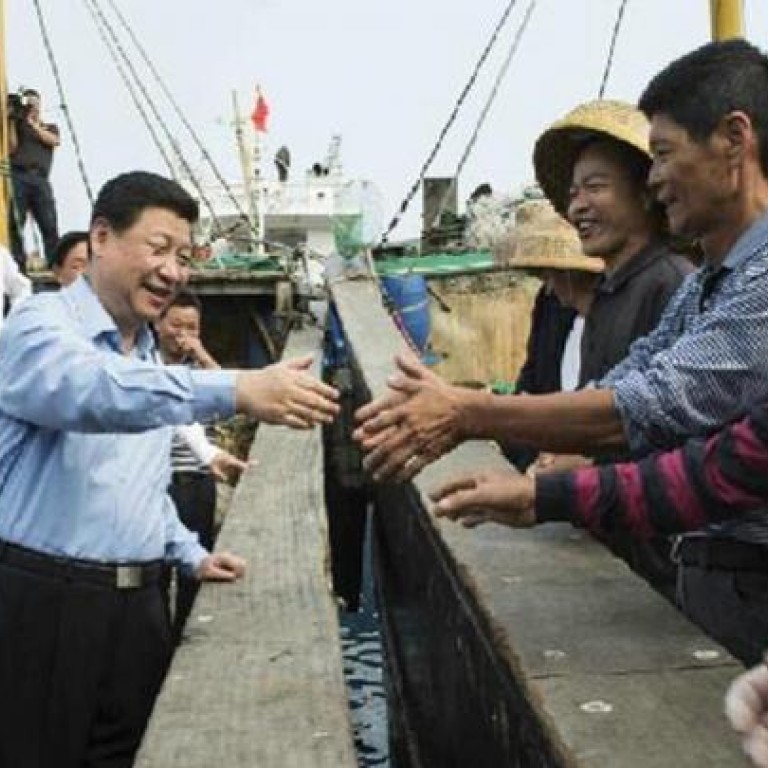 Xi's fishermen visit seen as warning to South China Sea neighbours
President's surprise visit to fishing village and pledge of support for boat crews seen by analysts as strong warning to South China Sea neighbours
President Xi Jinping made an unprecedented visit to fishermen who spend most of their working lives in disputed waters in the South China Sea in what analysts said was a move aimed at sending a strong message to China's neighbours.
Xi's visit to Tanmen, a fishing village in the city of Qionghai in Hainan, on Monday came a few days after the People's Liberation Army Navy's South Sea Fleet finished a 16-day drill and patrol mission in the South China Sea.
The published an interview yesterday with fleet commander Rear Admiral Jiang Weilie who said naval training on the high seas would become routine for the navy.
The visit was given wide coverage by state media outlets, including Xinhua, with Xi quoted as asking fishermen whether they felt safe going out into the South China Sea.
"I am very impressed [after hearing your stories]. You guys have done a good job!" Xinhua quoted Xi as saying when he boarded the Qiong-Qionghai 09045. The 30-metre deep-sea fishing boat was stopped by Palau police a year ago in an illegal fishing confrontation and one fisherman was shot dead. "The [Communist] party and our government will make more efforts to take care of you guys … and I wish you all the best when you go fishing - have good harvests and catch more big fish," said Xi.
Wang Hanling , a maritime expert at the Chinese Academy of Social Sciences, said Xi's visit and his remarks were meant for the eyes and ears of China's neighbours that dispute its territorial claims in the South China Sea, including Vietnam, Malaysia and the Philippines.
"China's maritime interests definitely include our fishermen's fishing rights and the safety of their lives in the South China Sea," Wang said.
"Xi's visit and the PLA Navy's regular drill and patrol missions on the high seas are also an encouragement to Chinese fishermen to go to our sea territory in the South China Sea to declare our country's sovereignty by running their fishing business."
A year ago today, a dozen Tanmen fishing boats were harassed by the Philippine navy near Huangyan Island, while in April 2007, 18 Tanmen fishermen were robbed by pirates near Malaysian waters.
Xi visited the fishing village after leaving the Boao Forum for Asia, which was held just a few kilometres from Tanmen.
Naval expert Li Jie said Beijing should make the South China Sea the primary strategic focus of the country's drive to become a real maritime power.
"If the Chinese navy wants to be a true blue-water fleet, it could only make the breakthrough in the South China Sea because of its special geographic location," he said.
During the 16-day mission, crews of four South Sea Fleet warships performed a high-profile oath-taking ceremony near James Shoal, or Zengmu Reef, near the outer limits of China's controversial "nine-dash line" - which encompasses territory also claimed by the Philippines, Vietnam, Malaysia and Brunei.
This article appeared in the South China Morning Post print edition as: Xi vows to make seas safer for fishermen