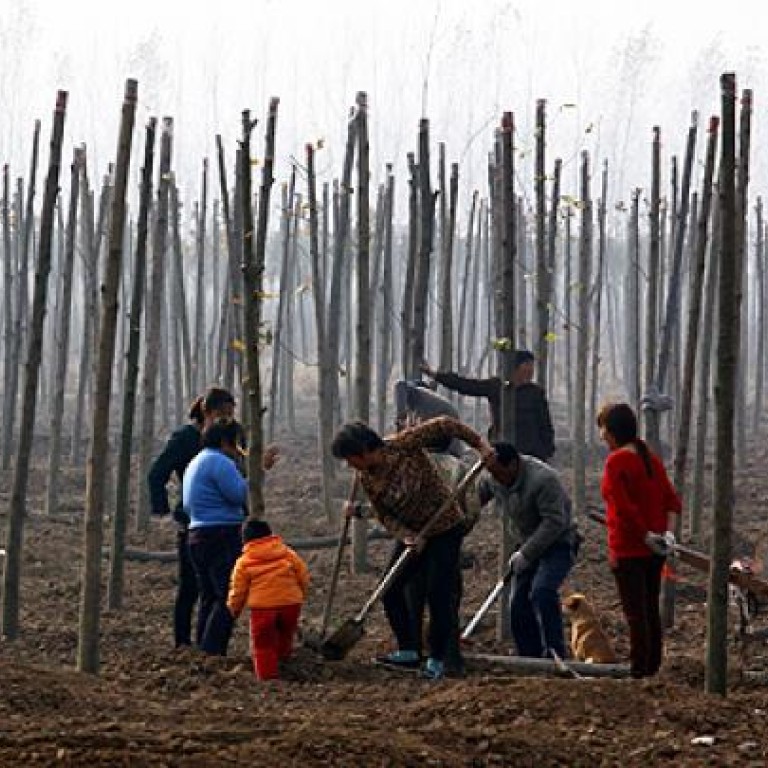 Pollution devastates rural areas, threatens farmland
Official says improper sewage treatment, high rate of fertiliser waste risks agricultural land
Rural China has paid a high ecological price for the government's decades-long drive to boost food production, leaving fields and waterways across the country severely polluted, a top environmental official said yesterday.
Zhuang Guotai, the Ministry of Environmental Protection's director of nature and ecology conservation, said the accumulation of fertiliser, pesticides and animal waste - as well governments' neglect of sewage treatment - threatened the country's vital agricultural land.
His remarks came at a press conference marking the publication of the annual "Analysis and Forecast on China's Rural Economy Report", compiled by the Chinese Academy of Social Sciences and the National Bureau of Statistics.
Zhuang said that most of the nine billion tonnes of sewage and 280 million tonnes of rubbish produced annually by rural communities went untreated because few of the country's 600,000 villages had appropriate facilities.
"Sewage is expected to evaporate and garbage to be blown away by the wind," he said, citing a popular saying.
The report faulted China's farms for using 318kg of fertiliser per hectare - more than 2½ times the world average.
It noted that China was producing less food than more developed countries on a per capita basis: one hectare of farmland yielded 5.5 tonnes of cereal in 2010, which was 20 per cent lower than typical yields in Britain, France, Germany and the United States.
"This is not only seriously threatening the quality of our food - it is having a negative impact on the sustainability of food production," the report said.
Zhuang said that only 35 per cent of fertiliser used by a typical Chinese farm actually contributed to the growth of crops, meaning the rest was washed into waterways or otherwise wasted. He urged special attention to soil pollution, since it builds up slowly and can linger for a long time, as was the case with a pesticide known as "6-6-6".
"We banned the use of 6-6-6 in the early-1980s, but today we can still find its remnants in some soil," Zhuang said.
He said central and local governments' pollution treatment projects over the last five years served only 4 per cent of communities, even though 30 billion yuan (HK$37 billion) was spent on rural administrative regions.
In January, the State Council issued a policy directive ordering local governments to "attach great importance" to soil pollution and to gain a thorough understanding of the situation within two years.
The move came seven years after the State Environmental Protection Administration, the precursor to the ministry, launched a still unreleased national survey on soil quality.
Zhuang said authorities were preparing to release the findings. He said the release had been postponed because the government wanted the public to learn about its countermeasures first.
Su Ming , deputy director of the Ministry of Finance's Research Institute for Fiscal Science, agreed that rural areas must give greater priority to environmental facilities doing things like improving drinking water quality. But he also warned about misuse of funds by low-level governments.