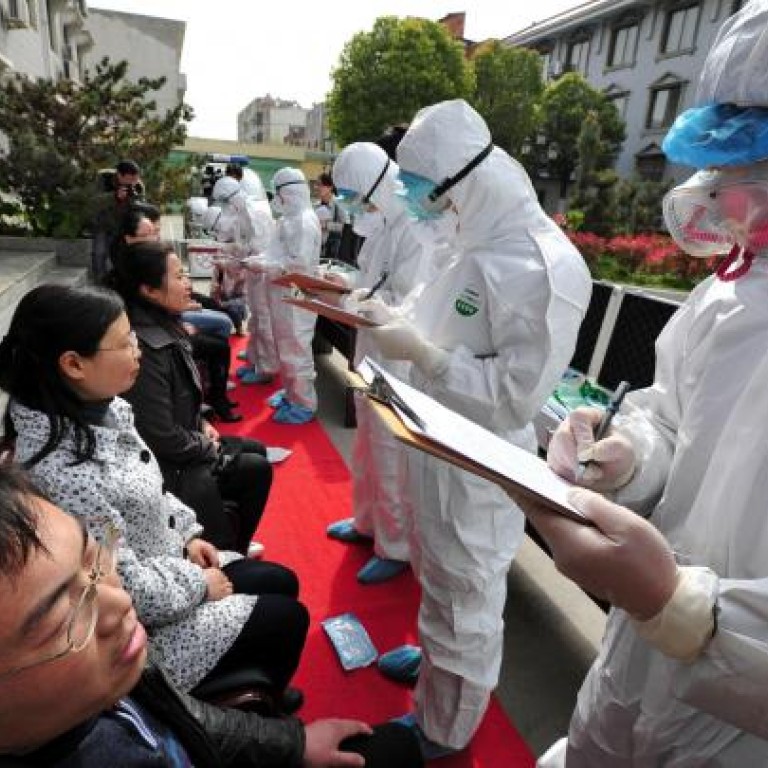 Nanjing orders livestock cull to stem spread of H7N9 virus
City tells residents to cull their domestic animals by Tuesday to stem spread of H7N9 as five more bird flu cases are confirmed
Residents of Nanjing, Jiangsu province, are now banned from raising livestock as health authorities yesterday confirmed that five more people have contracted the deadly H7N9 bird flu virus in the Yangtze River Delta.
Meanwhile, the Ministry of Agriculture said yesterday that 17 out of 2,099 samples from farms and markets in the provinces of Zhejiang, Jiangsu and Anhui had tested positive for the virus.
Eleven were from chicken samples from Jiangsu, two from duck samples from Zhejiang, and one from a poultry wholesale market in Anhui.
Researchers from the Key Laboratory of Pathogenic Microbiology and Immunology, of the Chinese Academy of Sciences, said yesterday they found that the H7N9 virus shows a genetic reassortment involving wild birds from east Asia, including South Korea, and chickens from east China, Xinhua reported.
Concerned that the virus might spread, Nanjing has issued an ultimatum to residents, telling them to cull their domestic livestock by Tuesday, and ordered the clearance of vegetables planted in public areas.
To date, the H7N9 virus has claimed nine lives following the discovery of the first human infection on March 31 in Shanghai; 33 people have been infected.
According to Jiangsu authorities, two men, aged 70 and 74, are diagnosed with the virus and are in critical and serious condition, respectively.
In Zhejiang province, a farmer in Hangzhou, aged 65, has been diagnosed with the virus. He is said to be in stable condition.
Over in Shanghai, a woman, aged 76, and a male farmer, aged 81, were being treated for the virus, Shanghai authorities said yesterday.
Fortunately, a four-year-old boy in Shanghai, the youngest of the H7N9 patients, has made a full recovery and was discharged yesterday from Fudan University Children's Hospital after a week's stay. He was found to be ill by a national flu monitoring site, Xinhua reported.
Last Sunday, the authorities ordered the caging of homing pigeons. But that left pigeon owners wondering how to keep their pets healthy.
"It is a test for me and my beloved pigeons," said an owner, who has been cleaning and disinfecting his pigeons' cage once every day. He even fed them water mixed with garlic in the belief that that would stop them from falling ill.
A chicken farm owner in Taizhou's Tiantai county, who has been raising 1,800 chickens since August, was so worried that his birds would catch the H7N9 virus that he fed them Ban Lan Gen.
The traditional Chinese medicine is recommended by the National Commission for Health and Family Planning for helping prevent people from being infected with H7N9, the said.
According to
cpd.com.cn
an affiliate website of the Ministry of Public Security, at least 14 people across the nation were detained for fabricating and spreading rumours about H7N9 outbreaks.
Guiyang police in Guizhou province said three people were held for claiming that the virus had been found at a poultry market.
Police have also detained three people in Cixi, Zhejiang, two in Kunshan, Jiangsu, two in Shenyang, Liaoning, and two in Fuyang, Anhui for spreading "false information" about the H7N9 virus.