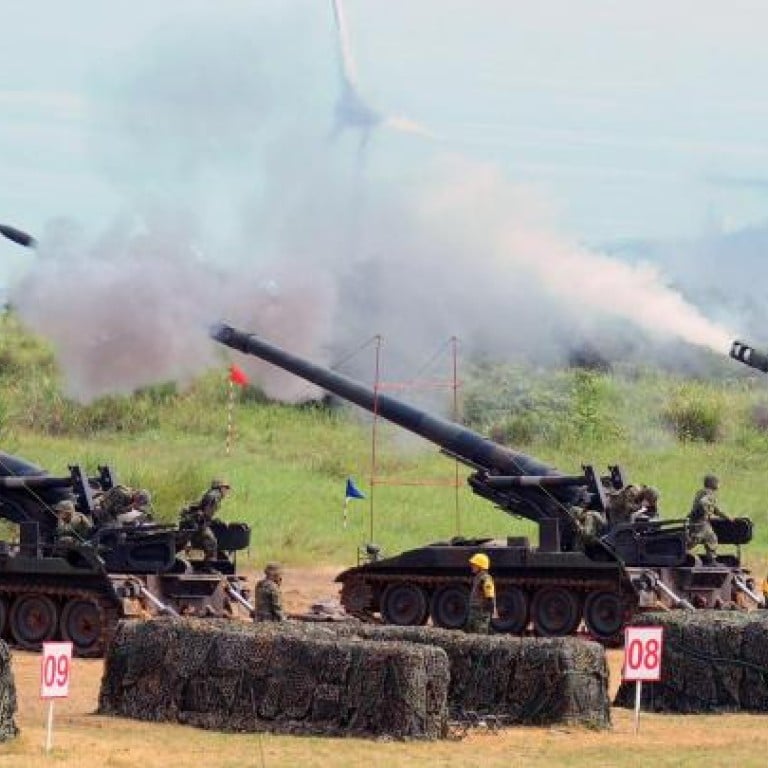 First live-fire drill in five years as part of Taiwan's Han Kuang exercises
Resumption of live firing a response to criticism that island's defence neglected, ministry says
Taiwan has begun its largest military exercises since 2008, which will today see a live-fire drill on Penghu Island in the middle of the Taiwan Strait.
The drill will review the armed forces' ability to defend Taiwan against a simulated attack by mainland forces.
It is the first time since Ma Ying-jeou became Taiwanese president in 2008 that the annual Han Kuang exercises will see the firing of live ammunition.
The exercises, which began on Monday, are the island's most important war games involving the army, air force and navy.
The holding of the live-fire drill follows the release yesterday by Beijing of its annual white paper on defence, which lists Taiwan's independence as the "biggest threat to the peaceful development of cross-strait relations".
Taiwan's Mainland Affairs Council said promoting the peaceful development of cross-strait relations was a key policy of the government.
"Our two sides should continue to make positive contributions and efforts to promote cross-strait peace through negotiations, dialogue and exchanges," the council, which charts policy towards the mainland, said.
It said Ma's government would firmly maintain its stance of promoting cross-strait peace.
In an hour-long videoconference yesterday with US academics, Ma called for the peaceful resolution of maritime disputes, including that surrounding the Diaoyu Islands in the East China Sea, which are claimed by Beijing, Tokyo and Taipei.
Accompanied by Yen Ming, Taiwan's chief of general staff, Ma is scheduled to inspect the live-fire drill today on Penghu in his capacity as the military commander-in-chief.
Since Ma replaced pro-independence Chen Shui-bian as president, he has adopted a policy of engaging Beijing, leading to the signing of 18 non-political co-operation agreements and warming cross-strait ties.
Taiwan's defence ministry noted that the resumption of the live-fire drill was a response to opinions voiced by various groups in society, including the local media and lawmakers, who have accused the military of neglecting national defence.
The live-fire drill, which involves 7,682 servicemen, is aimed at testing the military's ability to counter possible amphibious landings by People's Liberation Army troops, according to Taiwan's military.
"The military will also test the Thunderbolt-2000 multiple-launch rocket system," said Tseng Fu-hsin, assistant deputy chief of general staff for operations and planning.
He said a total of 145 pieces of equipment, including army tanks and naval frigates, would be tested during the five-day exercises.
This article appeared in the South China Morning Post print edition as: Live-fire drill in Taiwan exercises the first in 5 years