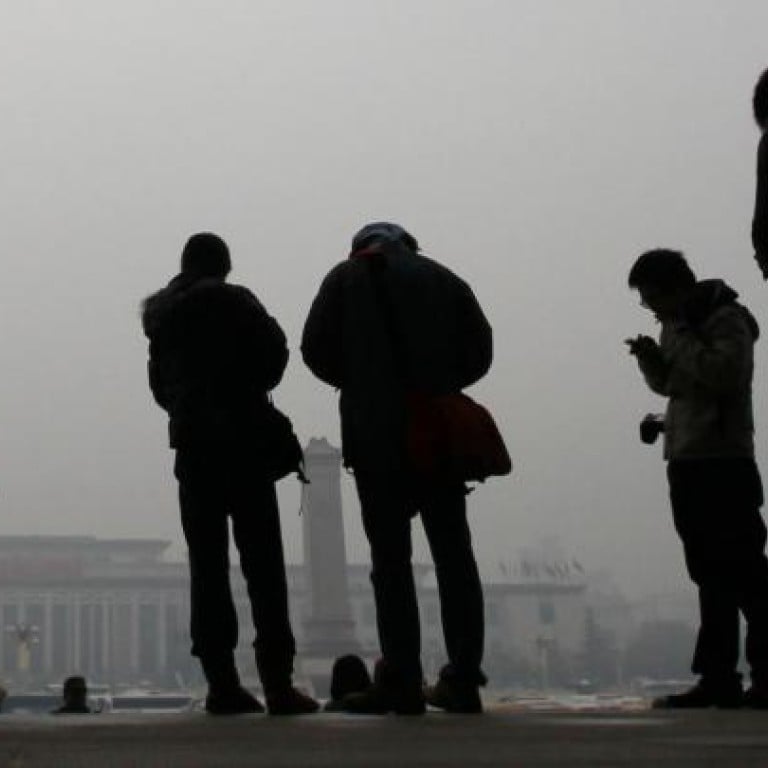 Beijing only 17th most polluted city, ministry says
Capital dropped down pollution table in March, ministry says, though activist doubts its accuracy; on average, cities had 17 days of severe smog
Beijing has a serious air pollution problem, but officially it was not even among the 10 most polluted mainland cities in the first three months of this year.
According to a study of 74 cities by the Ministry of Environmental Protection, Beijing improved from ninth dirtiest city in January to 17th smoggiest last month.
Air quality in the 74 cities on more than half the days in the first quarter failed to meet national standards; on 17 days the air was rated "severely polluted" or "hazardous", the ministry said on its website yesterday.
Notably, Beijing is surrounded by seven of the 10 most polluted cities - including Shijiazhuang , Xingtai and Baoding - in neighbouring Hebei province, the third-largest coal user on the mainland.
Rounding out the top 10 were Jinan in Shandong , Xian in Shaanxi and Urumqi in Xinjiang .
The cities that recorded the best air quality were Haikou in Hainan , Lhasa in Tibet and Zhoushan in Zhejiang .
The ministry, which began issuing monthly air quality reports in January, says the major causes of air pollution are fine particles with a diameter of 2.5 microns or less (or PM2.5), and slightly bigger ones with a diameter of up to 10 microns (PM10).
The reports, available on the website of the China National Environmental Monitoring Centre, show the average monthly concentration of PM2.5 in the 74 cities fell from 130 micrograms per cubic metre in January to 85 in February, and 73 last month.
The national annual average for PM2.5 is 35 micrograms per cubic metre. The World Health Organisation says an average concentration of more than 25 micrograms per cubic metre over 24-hour period is unsafe.
Since February the centre has used data submitted by local reporting stations as opposed to figures uploaded directly to the national platform.
Zhou Rong , a climate and clean-energy campaigner at Greenpeace, said the national platform for direct data collection was designed to avoid the manipulation of air pollution data by local governments.
Local authorities have been caught "improving" air-quality readings or making them appear worse so they can get more clean-up funds. "The environment ministry attached high importance to the accuracy of air pollution data, but changing the data collection method definitely leaves some loopholes for manipulation," said Zhou.
She said the decline in PM2.5 levels in February could also be due to weather patterns.
The centre could not be reached for comment yesterday.
This article appeared in the South China Morning Post print edition as: Despite Beijing's shocking smog, 16 cities' air is worse