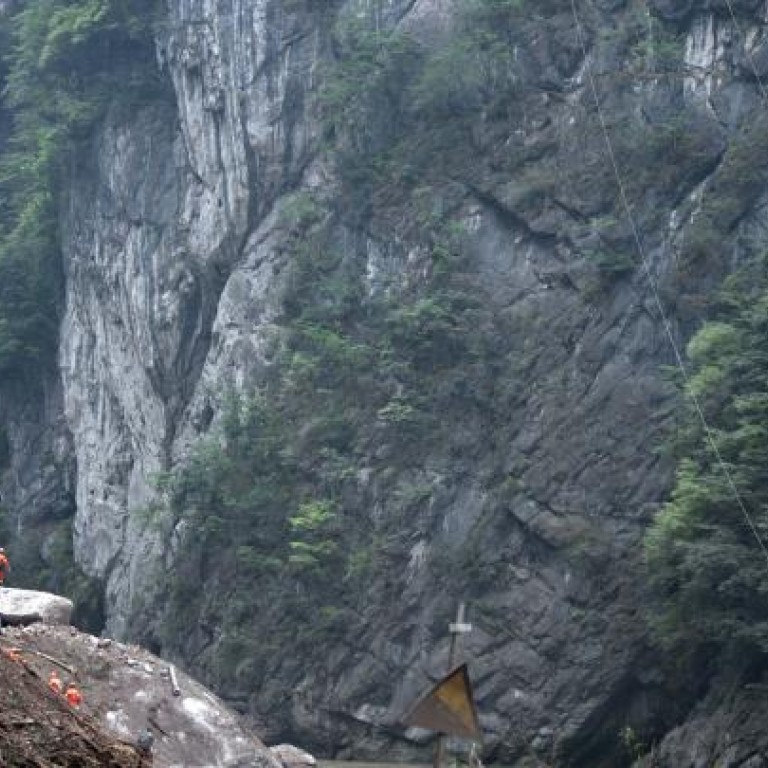 Aftershocks from Sichuan earthquake pose threat of secondary disasters
Authorities issue warnings amid potential for mudslides, damage to dams and nuclear plants
Secondary disasters such as mudslides and dam-related crises may occur in the days or even months after Saturday's earthquake, threatening the safety of residents and rescuers, geologists warn.
Fan Xiao, chief engineer at the Sichuan Geology and Mineral Bureau in Chengdu, said yesterday the banks along the Qingyi River, in one of the most geologically unstable regions of the province, had taken a big hit.
Known for its high mountains and deep valleys, the area was already unstable before the earthquake, with villages and roads sitting almost in the path of potential landslides, Fan said. And shockwaves from the earthquake could profoundly increase structural instability in the region.
"Residents and rescuers must be highly alert to the dangers of mudslides, especially after rain," he said. "There will be lots of rain in the coming months."
Like all major rivers in Sichuan, the Qingyi has been heavily dammed by hydropower projects. Though none collapsed during the quake, the biggest threat to the dams' structural integrity will come during the summer flood season, Fan said.
Yang Yong , an independent geologist based in Chengdu who is familiar with hydropower projects in the region, told that he was worried because of the large number of dams in the quake zone.
"The closest dam was just 10 kilometres from the epicentre," he was quoted as saying. "Communications and transportation were both cut off. We don't know the situation there."
The Ministry of Water Resources said on its website yesterday that 14 large dams affected by the shockwaves remained stable, but two medium-sized dams were damaged. Authorities did not give the extent of the damage, or the locations or names of the dams. Additionally, 52 small dams were damaged, and states of emergency were issued for five of them, resulting in downstream residents being evacuated.
More than 3,000 hydropower engineers, workers and military personnel had been sent to examine all dams in the region and carry out repairs, it said.
The Ministry of Land and Resources said more than 10 landslides had occurred on roads deemed critical to search-and-rescue work, while monitors at five possible mudslide sites in Yaan city sounded alerts.
The ministry issued a red alert for mudslides and landslides in towns in Lushan county.
The China Meteorological Administration warned that rain was expected in the quake zone in the three days following the earthquake, increasing the risk of secondary disasters.
Sichuan is also known for its nuclear facilities, many of which are for military purposes. The China National Nuclear Power Corporation announced on its website that its nine nuclear facilities in Sichuan experienced various levels of shockwaves at the weekend, prompting safety checks. There had been no reports of leaking pipes or collapsed buildings at the facilities.
As of 6pm yesterday, the quake zone had experienced 1,642 aftershocks - the strongest with a magnitude of 5.4.
This article appeared in the South China Morning Post print edition as: Aftershocks pose risk of secondary disasters