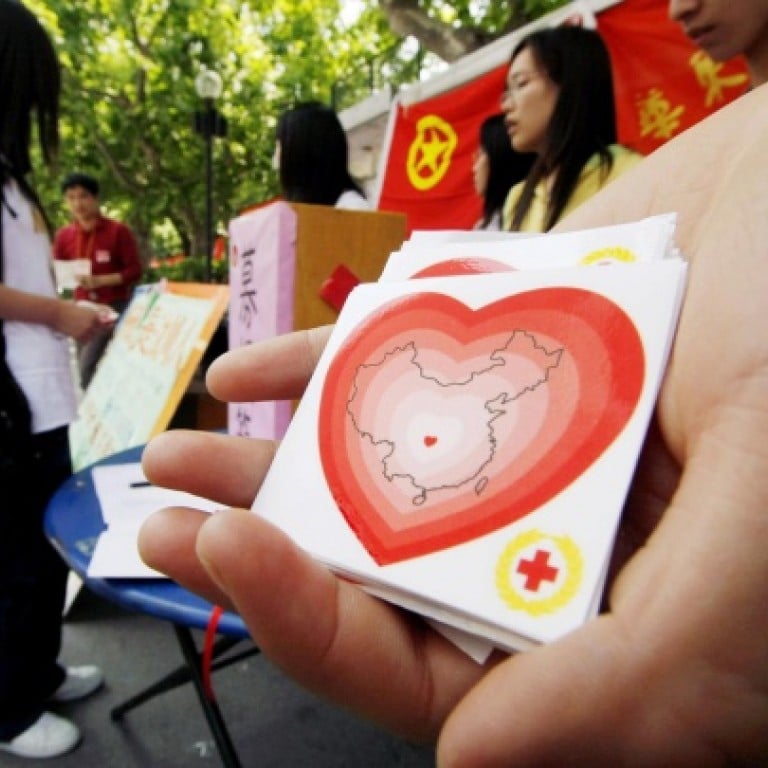 China Red Cross admits it redirected huge donation
Diversion of artists' 85m yuan gift again raises doubts about troubled organisation's integrity
The scandal-plagued Red Cross Society of China has admitted that more than 80 million yuan donated (HK$100 million) by more than 100 Chinese artists to build an art school and fund other reconstruction work after the 2008 Sichuan earthquake was spent on other projects.
But the mainland's largest charitable organisation, which is closely associated with the government, denied it had "misappropriated funds", insisting the donations "were not used as intended but largely in line with donors' wishes".
A number of artists have asked questions about the whereabouts of the 84.7 million yuan since Saturday. The money was raised at a charity auction of paintings five years ago and was supposed to be spent on projects in Qingchengshan, an important early site of Taoism that was extensively damaged in the quake. Five million yuan was earmarked for an art school in the city, but it was not built and the society had never explained where the money went.
The artists' queries have once again raised questions over the society's integrity and prompted the organisation to release an online statement on Tuesday saying the donation had been redirected to building " [Universal Love] Family" projects in about 240 communities including 148 in Sichuan and the remainder in Shanxi , Gansu , Ningxia and Chongqing . The projects are meant to foster community development "in terms of disaster prevention, health and livelihood improvement and promoting humanitarianism".
It said the decision was based on the "post-disaster construction trend and the actual needs of quake-zone residents".
Each project received an average of 350,000 yuan to spend on construction and "livelihood development" programmes, while the rest was spent on other services, organisational development and campaign expenses.
The society apologised for its "inadequate communication and service to donors".
It said: "[We] apologise to our donors and shall improve our work in future."
The lack of transparency and accountability in Sichuan reconstruction projects has triggered a flood of mainland criticism, and sparked debate in Hong Kong about whether the city should donate to the Sichuan provincial government to aid survivors of last month's smaller quake.
Tsinghua University professor Jia Xijin , an NGO studies specialist, said the statement was insufficient because it showed the organisation had betrayed donors' wishes by redirecting donations, which could be labelled "misappropriation".
"The Red Cross Society of China must strictly respect and honour the wishes of donors, especially when it involves such a large donation for a clearly designated purpose," Jia said.
"They think they have the right to direct funding as long as it's not been misused corruptly, but this is a gross misunderstanding of charitable donations."
Last week the Red Cross Society of China received 570 million yuan of the just over one billion yuan donated to help survivors of the April 20 quake centred on Lushan county, with the rest split among 115 other charity groups.
This article appeared in the South China Morning Post print edition as: China Red Cross admits it redirected huge donation