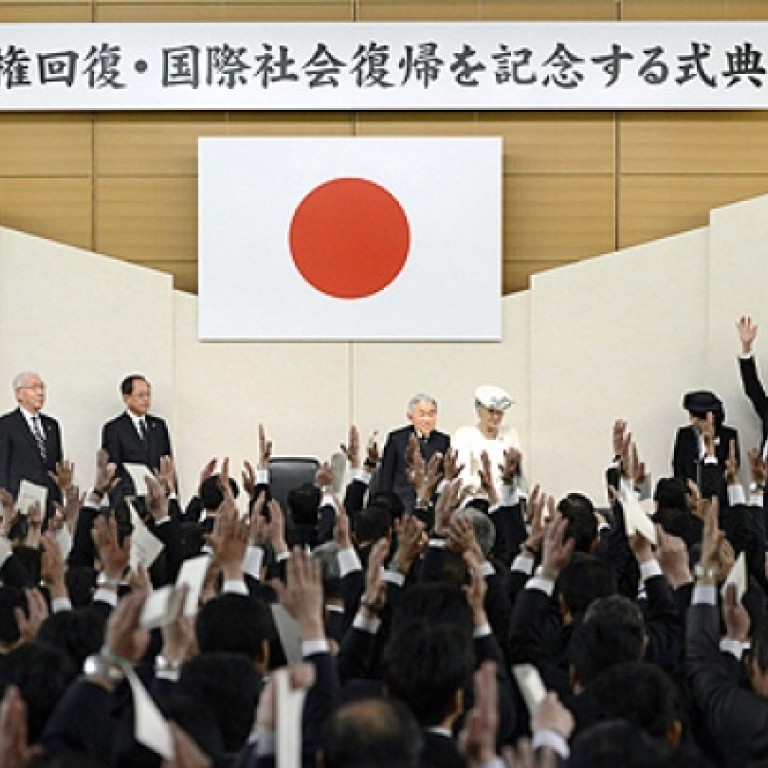 China baulks at 'long live emperor' chant by Japan's Abe
Photo of Shinzo Abe throwing his arms in the air while chanting 'long live the emperor' makes national headlines in China
Japan's hawkish Prime Minister, Shinzo Abe, has apparently upset China when he attended a ceremony last week, the first time the country marked the anniversary of the day it regained sovereignty after its defeat in the second world war.
The Restoration of Sovereignty Day event drew great interest from media and political analysts worldwide, but state broadcaster CCTV said most of its international peers missed one detail.
Towards the end of the event, Abe and other guests, mostly men in dark suits, "threw their hands up in the air and cried ' !' (long life) to send the royal couple off," Reuters said.
, or "long live the emperor", was commonly chanted by Japanese soldiers in the second world war, said CCTV, adding that it was "extremely unusual" for a top government official to use it after the war.
Accusing Abe of "hijacking" the emperor for his own nationalist agenda, CCTV cited criticism of the chant from within Japan, quoting media, scholars and opposition party members. "It felt like we were back in pre-war times," CCTV quoted a Japanese citizen as saying.
Japan denied that the chanting was planned, said CCTV.
Mich Maruyama, a former journalist and independent business owner who lives in Niigata, told the that was a Japanese expression commonly used in celebrations and other happy occasions. "We say it when a kid passes an entrance exam or when a candidate wins an election," he said.
Maruyama said the Japanese would also chant to the emperor in gatherings at the Palace Plaza on New Year's Day.
The report made headlines in China on Wednesday, as relations between the two countries have deteriorated in the past few months after territorial disputes over the Diaoyu Islands, known as the Senkakus in Japan.
Some others drew a parallel between Abe and China's Maoists. "If you are still chanting 'long live Chairman Mao' then you are in no position to criticise Abe," said a blogger.