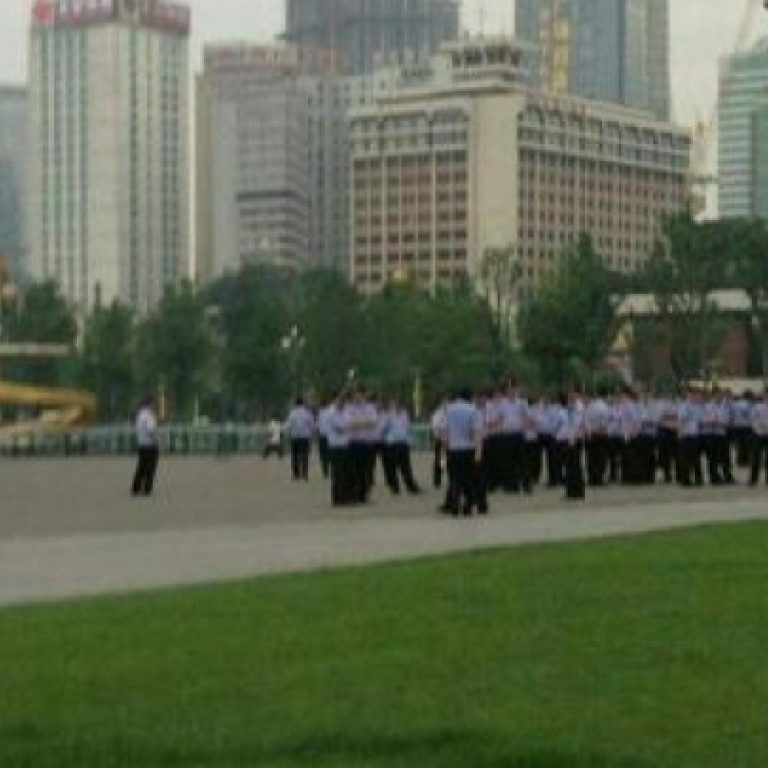 Unable to walk the walk, Chengdu residents talk the talk
Forbidden to demonstrate, Chengdu residents protest the controversial petrochemical plant on Weibo
The presence of thousands of police officers and security agents in Chengdu on Saturday brought back memories of a  "peaceful stroll" in May, 4, 2008. Back then, residents of the city, known as "the land of abundance", protested construction of a 40-billion yuan petrochemical plant in Pengzhou, a country-level city 20km away from the Sichuan capital.
On Saturday, the 5th anniversary of the 2008 protest, a "walk" against the same controversial project - now in its final construction phase - was planned.
Many good-natured Chengdu residents would later argue the "walk" still happened - only it was done by police officers.
It seems that the authorities have resorted to every possible measure in the past week to "scare away" a "real" protest. Official flyers have been posted in neighbourhoods to warn residents about "spreading rumours about the Pengzhou project.
Rewards were offered to printing shops for tips about customers making flyers for the project or planning protests. Emergency meetings were called at the weekend in offices of private and state-owned enterprises, where employees were told to stay to keep off the streets. Even schools were opened on Saturday to keep students out of "trouble".
Many say they were shocked these efforts still failed to give the authorities peace of mind.
On Friday evening, the city's police department published a lengthy letter on its Weibo, claiming that a "virtual combat exercise" would be held the next day to "assist earthquake rescue" and"help build a peaceful Chengdu."
The letter drew fierce criticism from local residents.
"Who are your combat enemies? The Chengdu people?," wrote one angry resident.
"What are you so afraid of?" asked others, "the people or the  truth?"
With anger and discontent seething online,  protests, taking different forms, exploded on Weibo on Saturday.
By early morning, photos were posted of a heavy police presence in the city's central Tianfu Square and Jiuyan Bridge, where the protest occurred five years ago. They were reposted hundreds of times in minutes, drawing support from bloggers in and outside Sichuan.
Pingan Chengdu, the official Weibo of the city's police department, was flooded with angry remarks on Saturday, when it posted photos of the "virtual combat exercise. "
"Shame on you, pitiful liar," wrote a blogger.
Others dared the authorities to move their own offices to Pengzhou - if the project was as harmless as claimed.
"I am willing to donate 310,000 yuan to the city government if they were willing to move to Pengzhou," said one blogger.
In soon-to-be-censored photos posted on Saturday morning, a supportive overseas activist was seen holding a poster that read: "Go to Jiuyan Bridge, do whatever you love to do."
Distrust and Tension
An increasing number of  the city's 14-million population became anxious about the Pengzhou project after a magnitude 7 earthquake struck Sichuan and killed at least 196 people in April.
Concerns over the plant's proximity to an earthquake fault line and the pollution it would cause, drove many residents to urge the government to shut it down.
Chengdu responded last week by issuing a letter, promising to impose strict tests before production to minimise the plant's environmental impact.
Meanwhile, a resident was detained after inviting people to take part  in a "government -approved" protest on Weibo. She was later made to apologise publicly on local TV for "spreading rumours," after the government denied approving such a protest.
Yet the threats and official explanations failed to quell people's doubts. Many questioned the legitimacy of the plant and refused to believe it would be "harmless".
The authorities' crackdown helped spread the message. More people learned of the controversial plant in the past week, before posting their concerns and criticism on Weibo.
"The officials who call the shots will get promoted and move to Beijing," wrote a frustrated resident, "And we are left with cancer with our homeland ruined."
A spokesman from China's oil and gas giant, China National Petroleum Corporation, a major investor of the Pengzhou project, said on Thursday they have adopted new technology to reduce pollution.
The Pengzhou plant, when complete, will process 10 million tons of crude oil annually. 800,000 tons of ethylene will also  be produced, said CNPC.