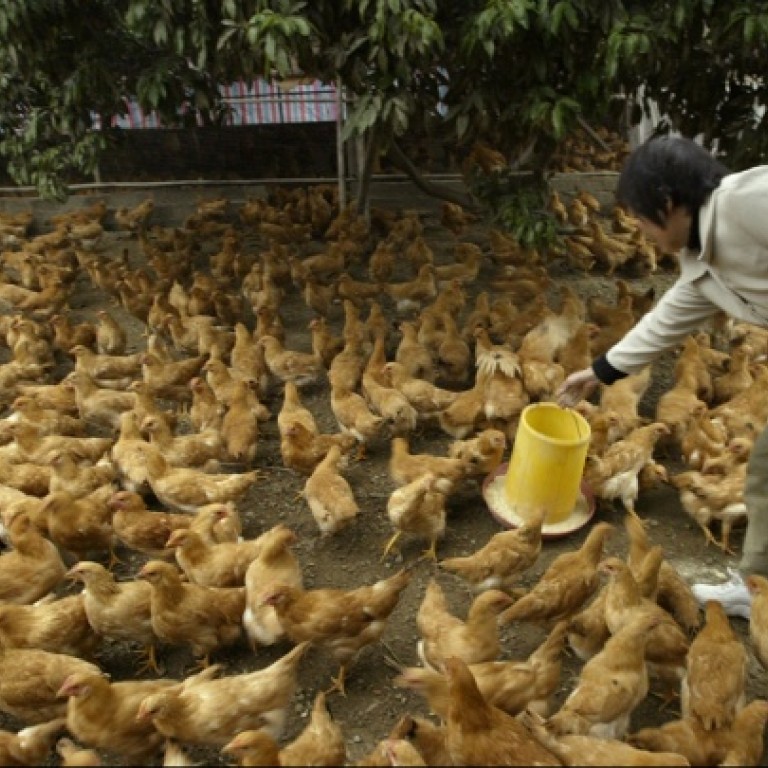 Poultry trade may be spreading killer H7N9 virus
Expert called in by WHO recommends a review of market practices in China and Asia
Poultry workers moving between wet markets and farms are probably responsible for the wide geographical spread of the deadly new bird flu virus on the mainland, says a Hong Kong expert invited by the World Health Organisation to investigate the outbreak.
Cages, vehicles and personnel handling birds were likely to be taking the H7N9 virus with them as they moved around, spreading the disease to many provinces, Malik Peiris, a professor of virology and medical science at the University of Hong Kong, told the .
"It is likely that the spread is predominately through the poultry trade … it seems much more practical [that it spreads] with the route of poultry movement."
In 2002, contaminated poultry cages carried from markets to farms proved to be a key factor behind the H5N1 outbreak in Hong Kong. Peiris said such traffic was likely to be "one important risk factor" in how the new virus is spreading.
Since H7N9 was first identified on March 30, 127 cases have been detected in 10 provinces, the latest being a 69-year-old farmer in Fujian . Twenty-seven people have died.
The Ministry of Agriculture said yesterday that a chicken sample from a wholesale market in Dongguan had tested positive for the virus - a first in Guangdong, although there have been no human cases in the province. The finding highlights the growing risk of the disease spreading to Hong Kong.
Peiris said: "It may be a good time for China and Asia to review their poultry practices … and Hong Kong can act as a model in terms of its good biosecurity measures."
The most practical step to reduce health risks was to close wet markets, as this would not only stop human infections but also stop the disease from spreading among farms, he said.
"There are still many unanswered questions, such as the mechanism [in] the virus that allows it to attack humans, the mutation responsible, [and] what it takes to make human [-to-human] transmission possible."
Peiris said a large-scale study of blood samples would be conducted on the mainland to check whether there have been hidden "silent infections" of H7N9 in the larger population - a key factor in determining if the virus can be spread between people.
"As time passes, there may be a bigger chance of the virus changing and adapting, and transmitting human to human."
Peiris said the survey intended to find out if it was possible for people to be infected with H7N9 and develop only mild symptoms - cases that are never detected or reported. But he would not disclose more details of a report the WHO submitted to the mainland authorities. He said the evidence so far suggested that wet markets were where the new virus had mutated and jumped to humans.
But he said if H7N9 stemmed from chickens rather than other poultry or wild birds, it might be "extremely difficult to get rid of it" on the mainland due to the popularity of chicken as a food.
This article appeared in the South China Morning Post print edition as: 'Poultry trade spreading killer virus'