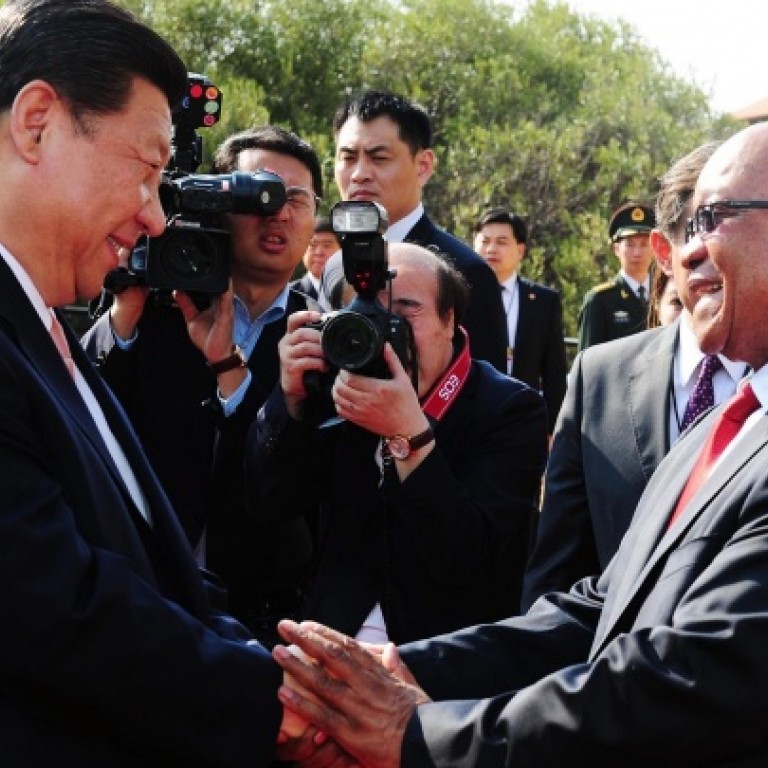 African companies in fear of China's corporate invasion
Local companies welcome the investments but fear being overrun by state-owned juggernauts
Bafana Ndendwa has conflicting feelings when he sees the increased presence of Chinese companies in Africa.
On one hand, the managing director of a construction company in South Africa believes companies such as his can learn from their Chinese counterparts who are doing business in the continent. On the other hand, those companies are cutting into his profits.
"I have lost many projects to Chinese companies because they offer much lower construction costs," Ndendwa said.
Even though Ndendwa said he thinks co-operation between African countries and China should continue, he fears the possibility of being put out of business, and he has called on African governments to better protect the interests of the local people.
"You have to set the rules of the game," he said.
Ndendwa's problems may have been difficult to foresee a decade ago. But trade between China and Africa reached a new high last year, totalling US$198.5 billion, and there are now about 1 million Chinese people in Africa.
As a result, that stronger presence in Africa has sparked controversy, mainly via questions about whether China is exploiting Africa for its resources, and a series of legal missteps by Chinese companies.
Those concerns have intensified in recent months, particularly with Nigeria's central bank governor, Lamido Sanuisi, saying that China was "colonising" Africa. In turn, Chinese officials have tried to emphasise that the Asian giant has improved Africa's international status.
During a trip to three African nations in March, President Xi Jinping vowed that China would respect Africa's interests.
Simon Shi, who moved to South Africa from Shanghai in 1992, said that the surge in Chinese investment in Africa highlights China's growing influence in the region. He said he believes this will benefit the African people, but sometimes even he feels the heat, particularly from state-owned enterprises (SOEs).
Shi, whose business involves trading in furniture from Shanghai, is excited that sales have reached about 50 million yuan (HK$62.4 million) a year, but he knows that is a fraction of what SOEs can bring in.
"Some of the Chinese projects here are by large SOEs, which bring with them billions of dollars and [many] workers. Smaller businesses such as my company fear these large Chinese SOEs are going to put us out of business," he said. "If I have this feeling, imagine how the Africans feel."
Other issues, including labour-law violations and companies bringing Chinese workers to the continent instead of hiring locals, have made the situation even worse, Shi said.
"Sometimes the companies ignore regulations and take advantage of loopholes," Shi said.
China has been a major player on the continent since 2000, when the Forum on China-Africa Co-operation was established. And in July last year, Beijing pledged US$20 billion in loans to African states.
Sanusha Naidu, a senior researcher at the South African Foreign Policy Initiative think tank, said Chinese investment grew as African nations became uncomfortable accepting western aid that carried conditions on improving governance. By comparison, Chinese aid, provided on a no-strings-attached basis, is more appealing.
"The Chinese came at a very appropriate time," she said, adding that they were fulfilling the needs of African governments.
However, Professor Peter Eigen, a member of the Africa Progress Panel, that was formed to keep the focus on the international community's commitments to Africa, said the no-strings-attached model has triggered controversy because it could lead to oversight of corruption and poor governance.
"When you come and say you have no conditions, then the temptation is great for African governments to fall back into old habits," he said.
Another issue is the lack of transparency involving Chinese aid because Beijing has not officially disclosed where its money goes in Africa.
A project-level database - based on different sources such as media reports - released last week by the Washington-based Centre for Global Development and the AidData group, features information on 1,673 Chinese-backed projects across 51 African countries from 2000 to 2011. Most of the projects, valued at US$75 billion, went to transport and storage sectors, as well as energy generation and supply, while about US$676 million went into the health sector.
The lack of transparency, combined with trade figures indicating that almost 80 per cent of Chinese imports from Africa are mineral products, has led to allegations that Beijing is only interested in extracting resources.
"We don't know about the quality of the Chinese investment," Naidu said. "Even if China sees Africa as an equal partner, it does not mean that the terms of trade are equal."
Naidu called on African governments to take the upper hand in negotiating with China, particularly in terms of getting better value out of resources trade.
Eigen said that the Chinese government and companies should step up the push for clean governance, by punishing businesses for corruption, and that African nations should force Chinese companies to hire local people at managerial level.
"If you want to invest in natural resources, you have to do it in a way that helps the local people," he said.
This article appeared in the South China Morning Post print edition as: Corporate China's Africa invasion