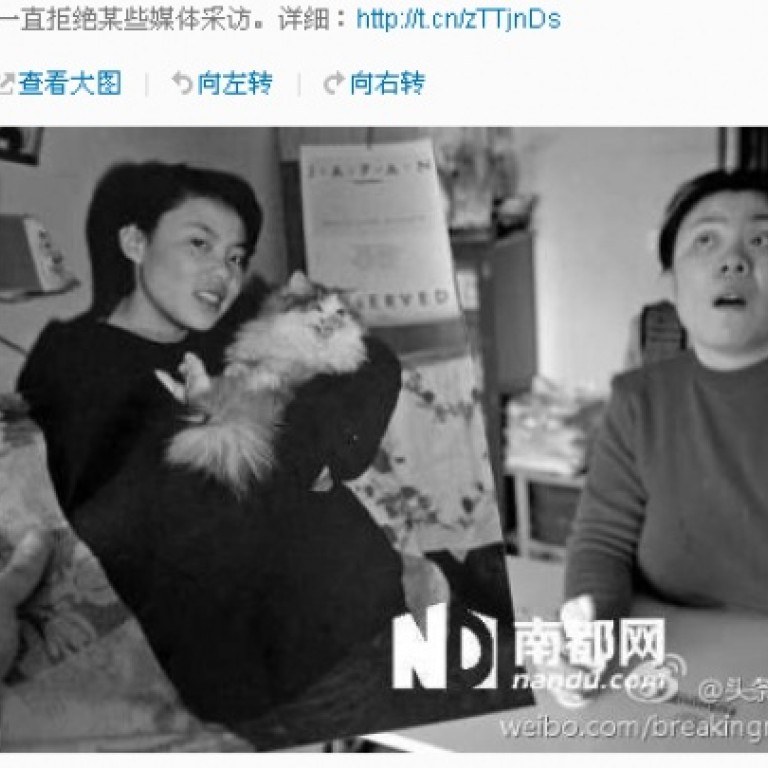 Zhu Ling petitioners await response from Obama on 19-year-old poisoning case
A White House petition signed by many Chinese netizens gets enough signatures
Apparently frustrated by their own judicial system and wary of censorship, members of China's online community, in a rare move, have appealed to US President Barack Obama to help seek justice on a 19-year-old cold case of poisoning.
Fraught with grammatical errors, a
petition on Whitehouse.gov
asked the US to track down Jasmine Sun, or Sun Wei, who many believe poisoned her university roommate, Zhu Ling, with a deadly chemical in 1995 and is now living in the States.
"Invest [investigate] and deport Jasmine Sun who was the main suspect of a famous Thallium poison murder case (victim:Zhu Lin) in China," reads the title of the petition.
"To protect the safety of our citizens, we petite [petition] that the government investigate and deport her," it said.
The appeal, created on May 3, has received more than 120,000 signatures by Tuesday, mostly from Chinese netizens. They now await a response from the White House. Under the website's rules, a petition must get 100,000 signatures in 30 days to get a response.
The story of Zhu Ling's poisoning
has been heart-wrenching from the beginning. Zhu was a talented Tsinghua University student in Beijing before she suffered from what later turned out to be thallium poisoning. The excessive amount of thallium did not kill her, but it destroyed the life of a promising young woman - and the lives of her ageing parents.
Zhu is now 40 years old, overweight, paralysed, diabetic and almost blind. She also has the mental capacity of a six year old.
The police failed to make any arrests after ruling out the possibility that she poisoned herself. But they did bring in a roommate, Sun Wei, for questioning. Sun was let go and never charged. Many believed she was the only undergraduate student with access to the deadly chemical, which Sun had later denied.
Rumour also had it that Sun's family had powerful connections and had intervened with the investigation, allegations that Sun also denied.
The story was rekindled by the online community and national media after Huang Yang, a doctoral student at Shanghai Medical College at Fudan University, recently died from drinking poisoned water in his dorm. One of his roommates was later arrested and charged. 
For the past weeks, angry netizens have been playing detective, discussing scenarios and speculating on motives. "Human flesh" searches revealed pictures of Sun and several other roommates and their families - who were called "accomplices".
Many online users have called the White House petition a desperate move for justice, even though it's unclear whether Sun is a US citizen or indeed resides in the US.
In the statement, Sun denied poisoning Zhu. She also criticised Tsinghua's labs for not managing dangerous chemicals properly, implying she was the scapegoat for a blunder made by the renowned university.  
She might have a point. Sun's brother slipped into a Tsinghua lab and successfully stole restricted chemicals without getting in trouble. He recorded the whole process and submitted the tape as evidence.
The case, which closed in 1998, has only been a nighmare for Sun, she said. She had even on many occasions volunteered to take a lie detector test, only to be turned down by the Beijing police.
"Suspicions and speculations are not facts," Sun wrote, pleading the online community to be "responsible" for their comments and accusations.
On April 18, when the case was regaining interest from media and China's online community, a person believed to be Sun Wei posted again on Tianya.cn, a popular online forum.
"For all these years, I have been waiting for truth to emerge like many others," reads the two-line post. "It's up to other people to laugh at or attack me," she added, quoting a Chinese poem.
On Monday, Zhu Mingxin, Zhu Ling's 72-year-old mother, appeared in a national radio interview.  
"I hate the person who poisoned my daughter," she said on the programme.
Zhu's mother also said she would continue to appeal for access to information on the investigation. The police had in 1998 denied the Zhu family access, citing "relevant laws and regulations".