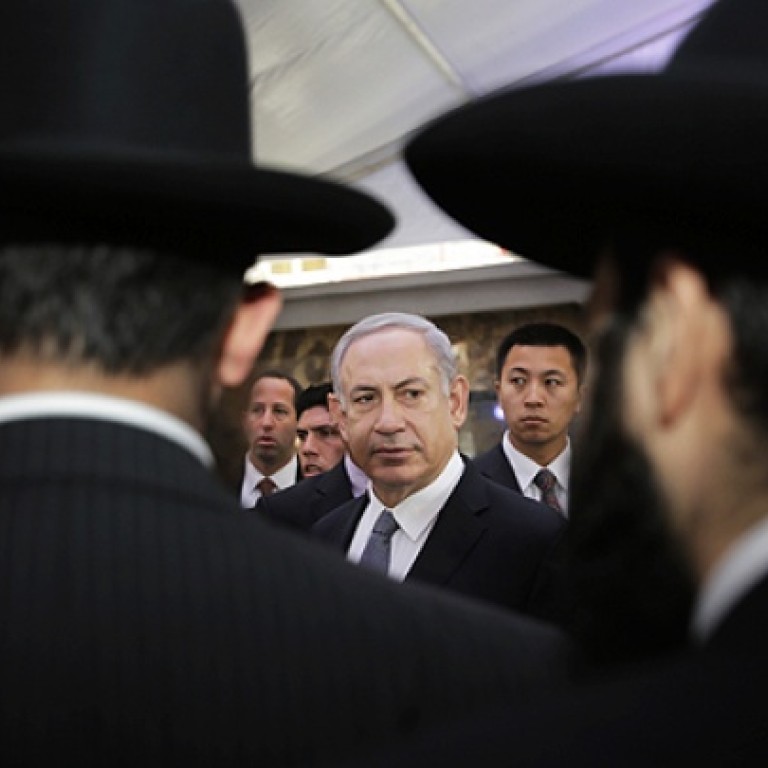 Israeli PM Benjamin Netanyahu salutes 'haven' of Shanghai
City's role in providing a sanctuary for Jews fleeing the Holocaust in second world war is a source of pride, says Netanyahu on official visit
Israeli Prime Minister Benjamin Netanyahu lauded Shanghai for its past role as a haven for Jewish refugees fleeing Nazi persecution on a visit to the city's former ghetto yesterday, as questions loom over the area's future.
Netanyahu, who arrived a day earlier for an official visit to China, toured the Shanghai Jewish Refugees Museum, which includes the Ohel Moshe synagogue that once served the community, a museum official said.
"Seventy years ago, only Shanghai opened the door to provide a sanctuary to Jewish refugees," Netanyahu was quoted by Shanghai's newspaper as saying. From the early 1930s, tens of thousands of Jewish refugees who fled Europe made Shanghai their home.
In 1943, the Japanese authorities who had occupied Shanghai ordered an estimated 20,000 Jewish refugees into a "designated area" in the northern district of Hongkou, where they lived alongside Chinese residents.
Their movements were restricted but they were never targeted for extermination, despite requests from officials of Nazi Germany, Japan's ally at the time.
"We hope to develop closer co-operation with China, so we can take pride not only in 70 years ago, but also in the future," Netanyahu said.
The Israeli prime minister will meet President Xi Jinping and other top officials in Beijing today and tomorrow, following a visit by Palestinian leader Mahmoud Abbas.
China supports Palestinian statehood, but at the same time Beijing has built business links with Israel since the two countries established diplomatic ties in 1992.
Wang Jun Jin of Tongji University, which has a programme with Tel Aviv University to explore redeveloping the ghetto, said the link between Shanghai and the Jewish people could serve as a base for future Sino- Israeli co-operation.
"Shanghai protected tens of thousands of Jewish refugees. For Israel, for the Jewish people, the significance is exceptional," he said.
Although the former ghetto area is marked for historical preservation, individual buildings there have fallen victim to Shanghai's race for modernity.
During his museum visit, Netanyahu had a coffee at Cafe Atlantic, a newly opened recreation of an establishment from the 1940s when the area, was known as "Little Vienna" for its many coffee houses and shops.
Shanghai demolished the cafe's original home in a road-widening project in 2009.
Israeli architect Oded Narkis, an organiser of the programme with Tongji, said he hoped Netanyahu's visit might prompt the city government to develop a comprehensive plan to both redevelop and preserve the area.
"That's the big question, how to do it - to preserve what we can preserve and somehow symbolise the connection between Israel and China," he said.
This article appeared in the South China Morning Post print edition as: Israeli PM salutes 'haven' of Shanghai