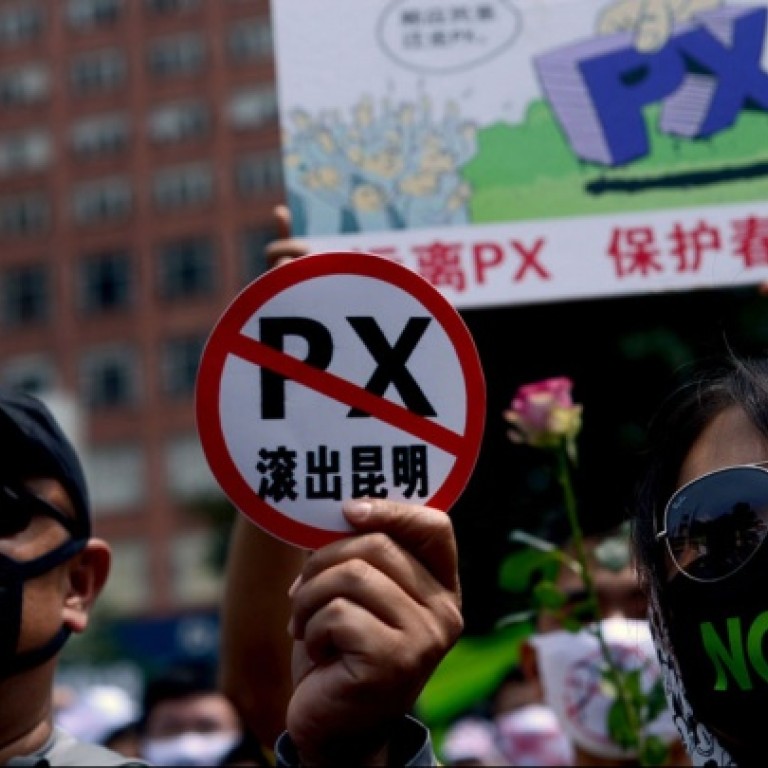 Kunming residents sceptical after 'chemical plant still at planning stage'
Kunming authorities say they are still deliberating on plans to build PX plant, but doubts are raised by papers contradicting them
Kunming moved to allay public anger over a controversial chemical project yesterday by claiming it was still in the planning stage. But the announcement was met with scepticism, with residents planning a large protest next week.
An unnamed official in Yunnan's provincial capital told Xinhua that the government was still deliberating on the project, which involves the production of paraxylene (PX), a potentially hazardous petrochemical used to make fabrics.
"No decision has been made yet," the official said.
Mandy Zhou, a 30-year-old of Kunming, said the public remained wary and were rallying others to join a May 16 protest.
"There is very little public confidence in the government," she said. "They are just trying to disorganise our appeals and protests, so that they can move forward with the project."
The official announcement also seemed to contradict at least two official documents posted on government websites indicating that the project owner, the Yunnan-based Yuntianhua Group, was seeking approval for plans and environmental reviews.
The documents also said the project, with an estimated budget of 7.6 billion yuan (HK$9.5 billion), is designed with an annual production capacity of 650,000 tonnes of PX and 1 million tonnes of purified terephthalic acid, which is used to make clothing and plastic bottles.
And not only have all the elements of a comprehensive environmental review been completed, according to the documents, the project owner has even drafted a relocation plan for residents living near an industrial zone in the county-level city of Anning , under Kunming.
"The project is feasible if relative pollution-treatment measures are carried out," one document says, referring to possible environmental effects, without addressing any public concerns among Kunming residents who fear that the pollution from PX production could be carcinogenic.
Though some experts argued that the chemical is not as dangerous as many people believe, PX has been an extremely sensitive term since 2007, when residents in Xiamen , Fujian , successfully stalled a related project in the city.
Since then, plans involving PX - an important building block in the production of plastics - have led to large-scale public protests in mainland cities, including Dalian in Liaoning and Ningbo , Zhejiang .
At least 1,000 Kunming residents protested in the city centre on Saturday against the PX project after a massive oil refinery with an annual capacity of 10 million tonnes, by China National Petroleum Corp, was approved.
"Once construction of the oil refinery begins, production of toxic PX will follow," Zhou said. "Kunming is not suitable for such a big plant because it has been suffering from worsening drought and pollution."
This article appeared in the South China Morning Post print edition as: Chemical plant vowmet withscepticism